That's right. These protein snacks are a mash-up of tacos and Pop-Tarts.
You can make them out of store-bought pie crust or make your own crust.
They can be vegetarian or meaty. Or in our case, both.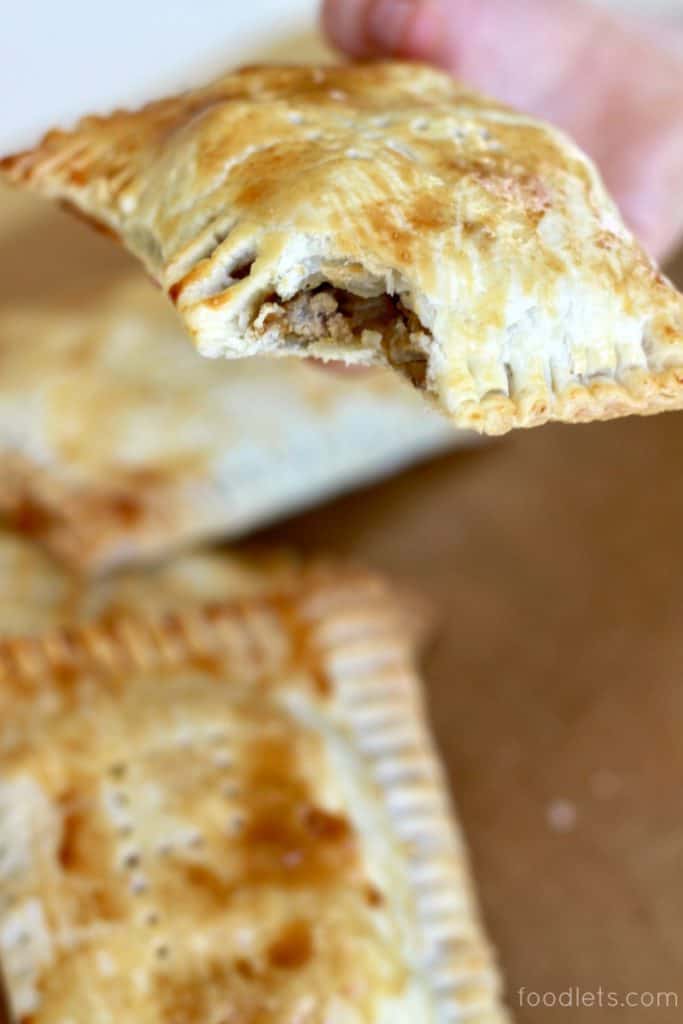 The whole thing can be served for lunch or dinner but if you're looking for a hearty snack full of protein to get your kids through a long day, taco Pop-Tarts are the make-ahead, travels-easily, use-up-the-leftovers snack you need.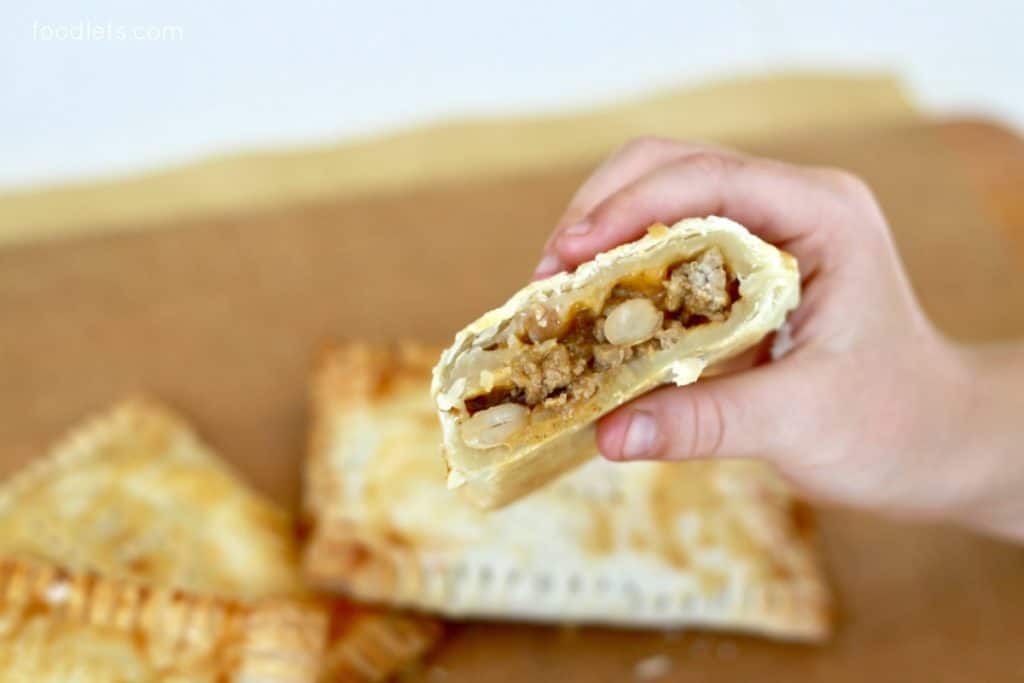 How to Make Our Favorite Protein Snacks: Taco Pop-Tarts
Start with leftover taco fixings. This is ideal to make the day after Taco Night but if you need to make a batch from scratch, here is what I always include:
1 pound ground turkey
1 diced onion
1 can beans (any kind), rinsed
The onion adds flavor and the beans make the meat go further. Then I add taco seasonings like cumin, paprika, garlic powder, salt, pepper and chili powder. (Or you know, just get a packet from the store.)
Next comes to the pie crust.
Make your own or start with a store-bought crust like I did. You'll get 3 taco Pop-Tarts out of each crust: two come easily but you'll have to roll out the scraps to get the third.
Put a dollop of your protein mixture on one side. Top with cheese. Fold one half down and crimp the edges with a fork.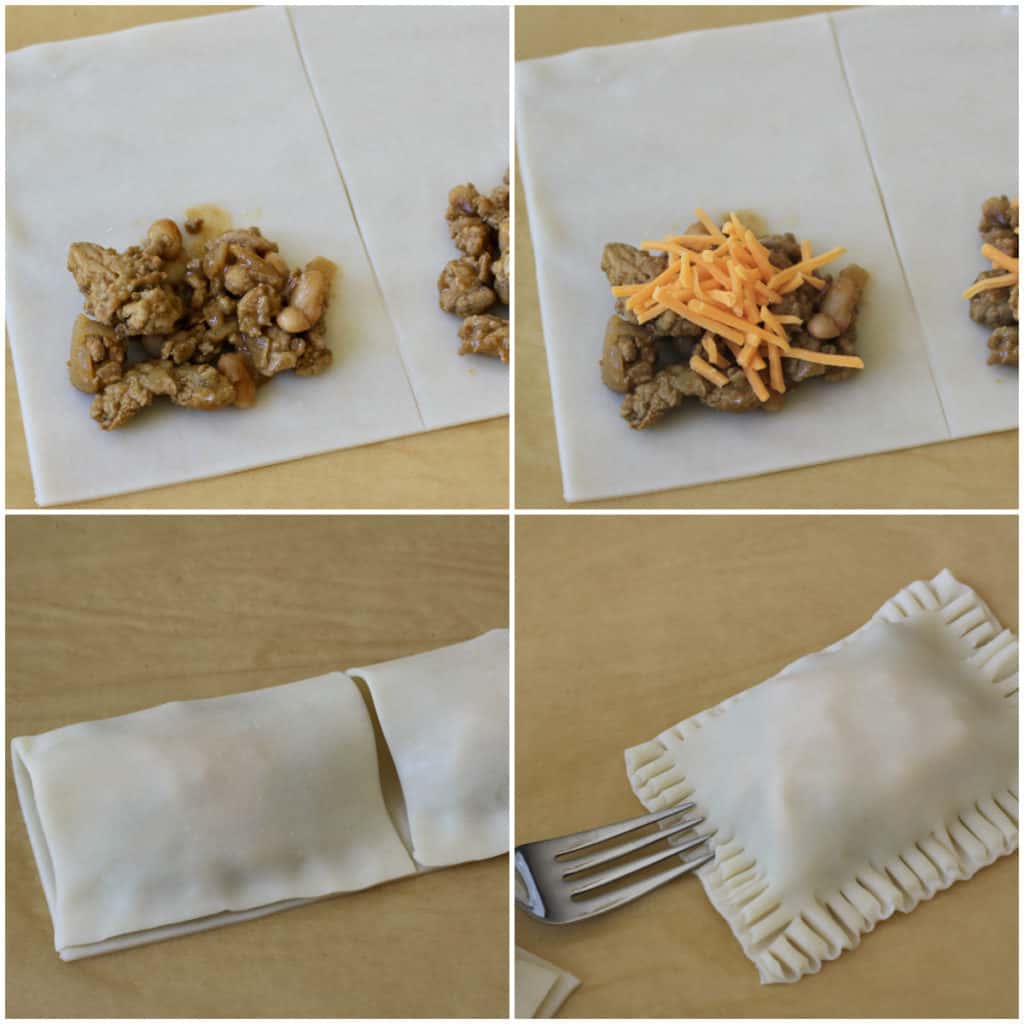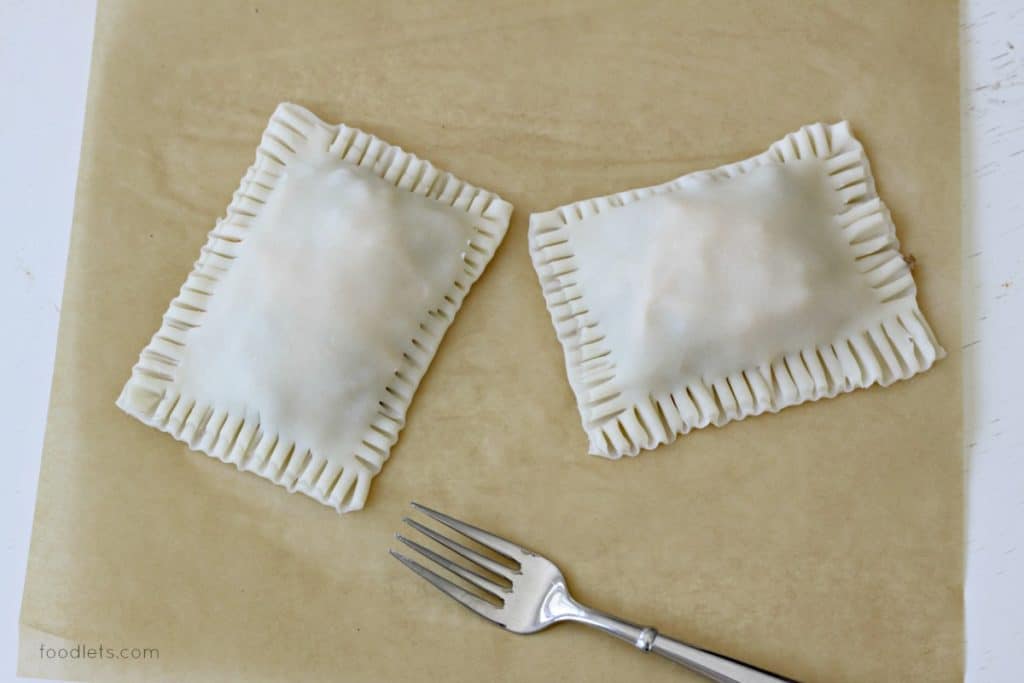 Tip: I like to work with dough on a sheet of parchment. You can buy them already pre-cut in packs of 22 or if you use them a lot like I do, get a bulk order of 200! 
So your taco Pop-Tarts don't explode in the oven, you'll need to give them a poke with a fork. Maybe in the shape of kids' initials.
If you want them to be toasty brown, brush your Pop-Tarts with egg wash like we did. Or just throw them in the oven as-is. That's 425 degrees F for about 15 minutes, on baking sheet (these are my favorite) with a sheet of parchment or non-stick liner like Silpat.
This is how they look when they're done. Trust me, they're delicious at room temperature, or even cooled with an ice pack. All the kids came home with nothing but empty containers.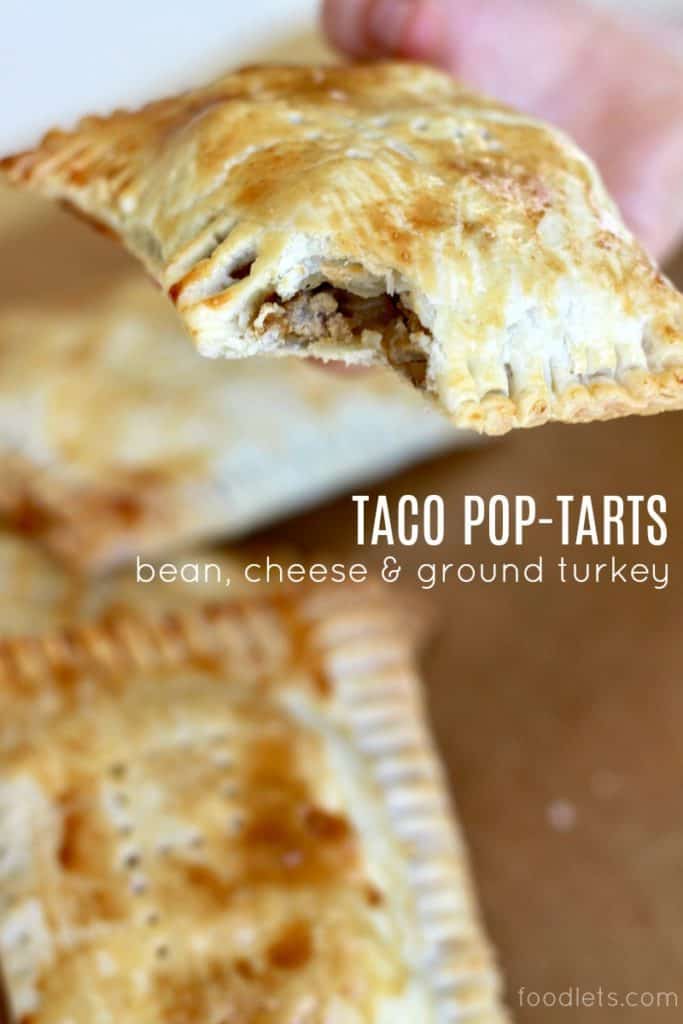 And this is how you can make your own.
Print
Protein Snacks To Go: Taco Pop-Tarts
This recipe assumes you're using leftover taco filling and a store-bought crust but the techniques are the same if you're starting from scratch either way.
Author:
Prep Time:

15 mins

Cook Time:

15 mins

Total Time:

30 mins

Yield:

6
Ingredients
1 1/2 cups taco meat/bean filling
1 cup shredded cheddar cheese
2 pie crusts
Instructions
Unroll pie crust and cut into long rectangles, trimming off the edges of the circle: You'll easily get two rectangles from one crust. Gather and roll out the trimmed edges to make the third rectangle from one crust.
Add about 1/4 cup of taco filling to one side. Top with a sprinkle of cheddar cheese.
Fold one side of the rectangle over your filling and crimp with a fork.
Brush with a beaten egg, if you want a golden top. Otherwise, skip this step.
Poke air holes in the top of your Pop-Tart.
Bake at 425 degrees F for 12-15 minutes until crispy.
Store in an air-tight container in the fridge.
P.S. If you're serving these protein snacks on the go, put them in a small plastic container or bento box so they won't get damaged in the backpack/learning vessel/bottomless pit.