With after-school activities breathing down my neck coming up, I'm experimenting with tons of healthy snacks. Portable snacks. Really just any good snack for kids that will stay with them until dinner.
And somehow I arrived here.
At pancakes.
But these are not just your average pancakes. You can bake TWO WHOLE PANS of these pancakes in 15 minutes flat.
When was the last time you stopped cooking at the griddle that quickly? I didn't think so.
That's actually what I hate about making actual pancakes. The literal standing over a hot stove.
And the sticky syrup.
Ladies and gentlemen, tired moms and frazzled dads, I've solved both problems for all of us.
Enter: Pancakes to go! These sheet pan pancakes come in two varieties but it's really just a base that you can make your own with every single combination your family enjoys.
And guess what. The syrup's baked right in.
You're welcome.
Here's how we made them.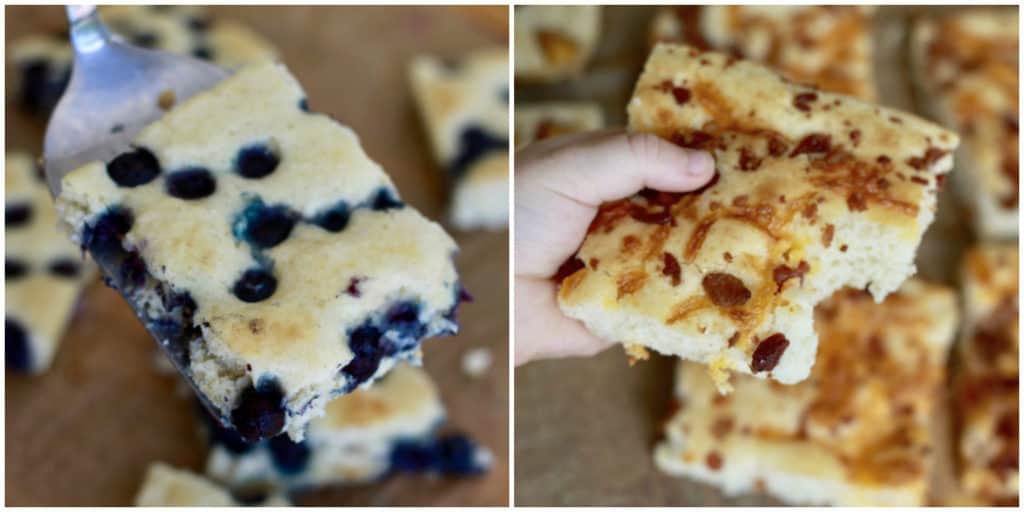 Sheet Pan Pancakes 2 ways
Start with a simple pancake mix. BUT slide in a few pro moves as you go. Step 1: add 1/4 cup of ground flaxseed (fiber!).
Throw in the juice of a lemon (fluffier!)
Add an extra egg and consider substituting milk if your mix only calls for water (protein! and fluffy, again!)
Mix until JUST incorporated then separate your batter between two prepared 9 x 13″ pans (non-stick spray or butter work perfectly). Now sprinkle on those toppings.
If you're using frozen fruit (which is always in season) add a tablespoon of batter mix or regular flour to a bowl and mix the fruit around before putting it on the pancake batter. This will help soak up extra moisture from the freezing and thawing process.
Sprinkle.
Bake at 425 degrees F for 12 minutes on the bacon and cheese and 15 minutes for the blueberry version.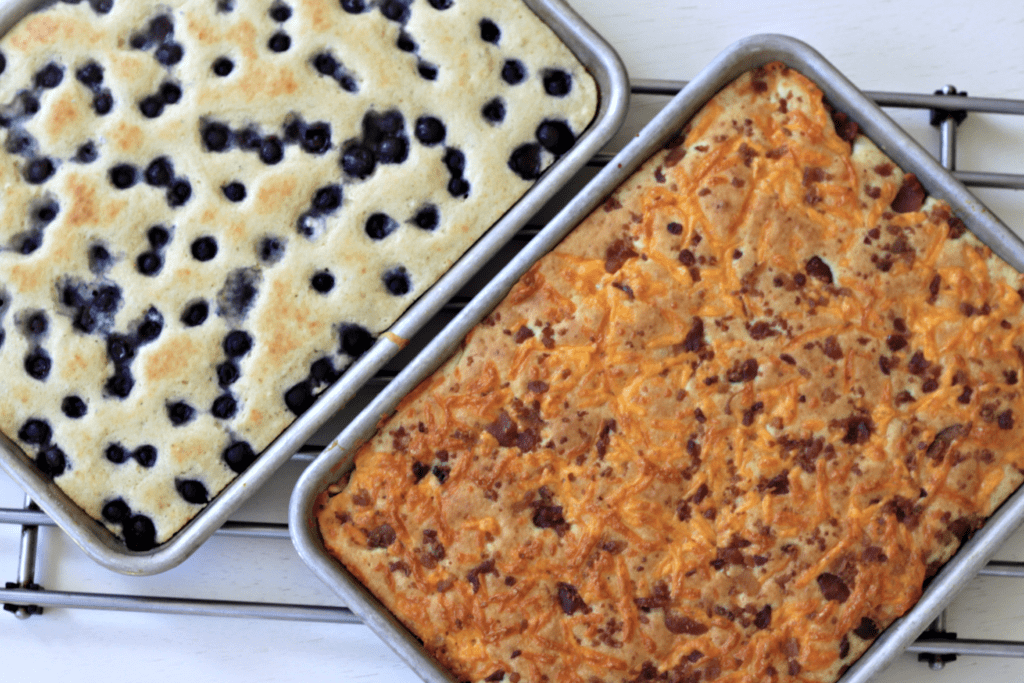 Wait until they're cooled to cut. Serve on the spot OR throw each one in foil and freeze those babies for grab-and-go snacks that will work for a month or so to come.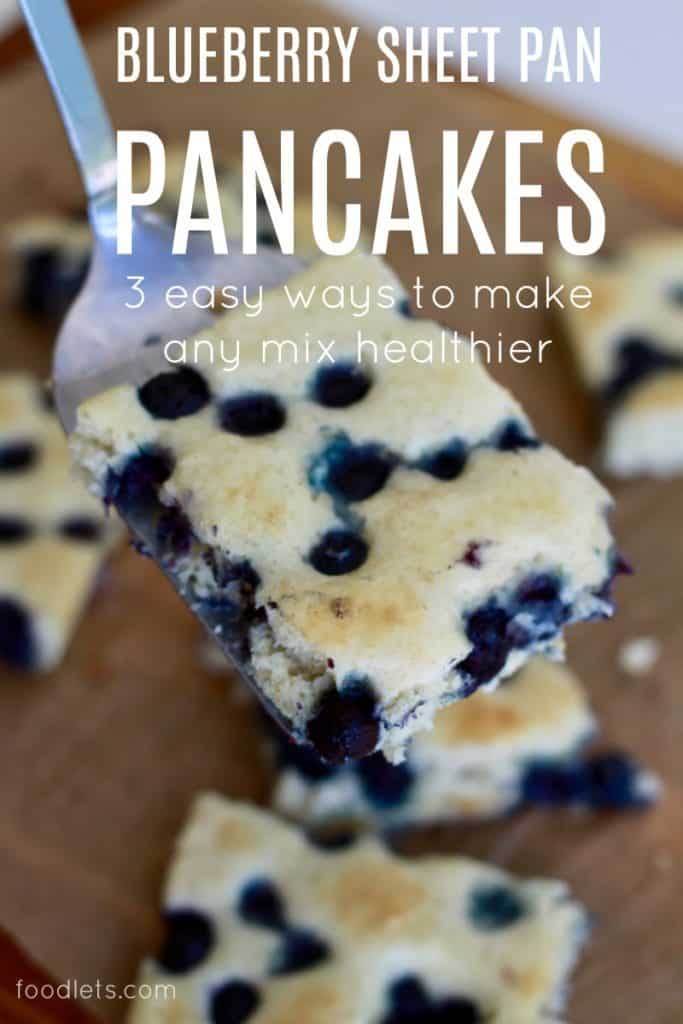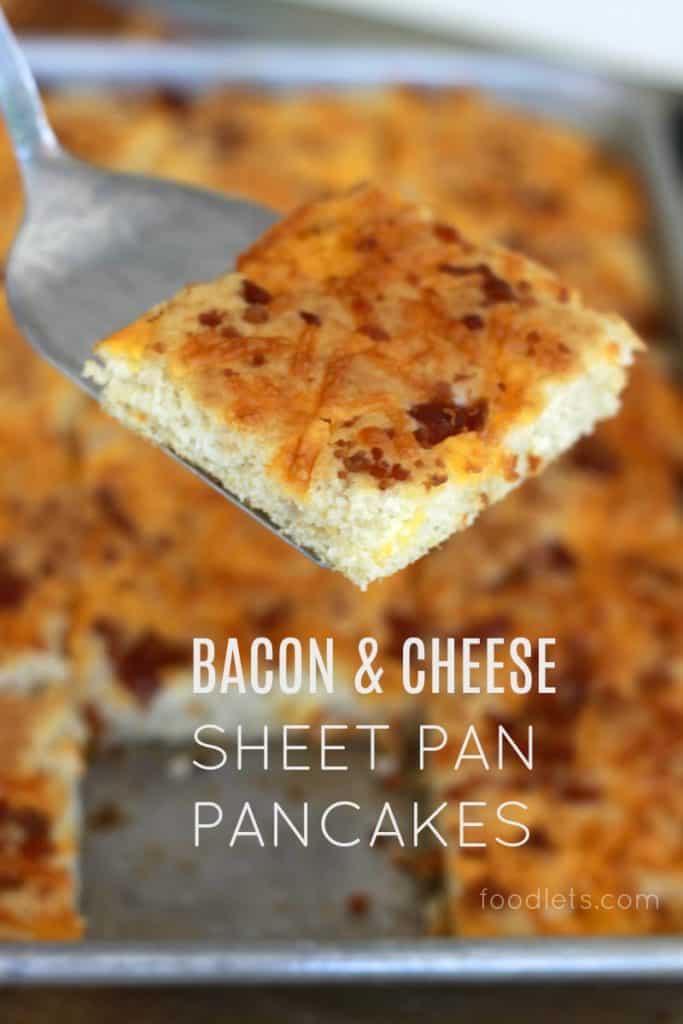 And how you can make them too.

Pancakes To Go! 2 Kinds of Sheet Pan Pancakes Made Healthier (And Yummier) from a Mix
Ingredients
3 cups pancake mix
¼ cup ground flaxseed
2 cups water
2 eggs
¼ cup maple syrup
½ cup shredded cheddar cheese
½ cup cooked bacon, diced
1¾ cup blueberries (If using frozen blueberries, add 1 tablespoon of powdered mix or flour in a bowl before sprinkling on the pancakes. It'll help soak up excess moisture from the freezing process.)
Instructions
Combine pancake mix, flaxseed, water, eggs and maple syrup in a large mixing bowl.
Stir until JUST incorporated. Even a few lumps is fine.
Pour batter between two 9x13 pans, each coated with non-stick spray or butter.
Sprinkle toppings on each pan: cheese and bacon on one then blueberries on the other.
Bake at 425 degrees F for 12-15 minutes (I found the bacon and cheese cooked faster, especially when using frozen blueberries.)
Allow to cool before slicing.
Store refrigerated in an air-tight container.