People always seem surprised that I cook so often but the truth is, I don't!
I use shortcuts to get a fresh dinner on the table and transforming leftovers is one of my favorites.
This matters because there are four small children at my house.
Four rascals casually opening the front door while naughty puppies shoot straight out, racing across rolling fields toward neighbors who aren't interested in a visit. Four kids with the uncanny ability to turn the calm of watching a video into a wrestling match because one of them won't stop making squeaking noises. And one child who keeps sneaking out to the garage, piling our nine new baby chicks into the basket of her tricycle and taking the whole group for a joy ride.
It's basically a sustained high alert around here these days, so I do not have time/emotional energy to be chopping, planning, shopping and starting from Square One every night.
Shortcuts are the way to go. And this Tortilla Soup is possibly the easiest in my whole collection of 2-in-1 Dinners.
At the beginning of the day, just throw all the ingredients into your trustworthy slow cooker and let it do the work. Here's the super easy recipe for Slow Cooker Shredded Chicken Tex-Mex.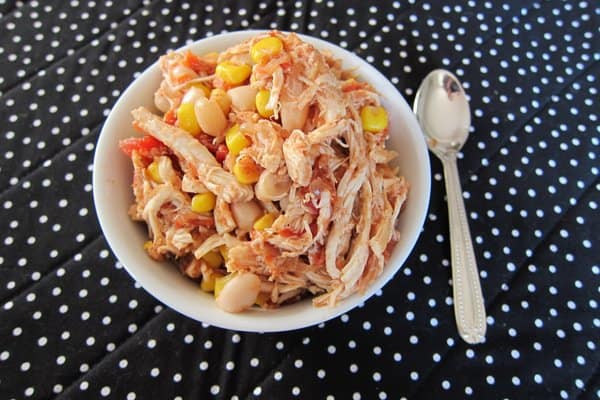 When you're done, you'll have a giant pot of warm, flavorful chicken to shred. Serve it straight up, over rice or in between fluffy tortillas. That's dinner number one.
But whatever you do, don't toss those leftovers!
How to make the easiest tortilla soup ever
For your second dinner, you'll need at least 3-4 cups of your leftover shredded chicken. If you have a little less, or you want to make a very big pot of soup, add one or more of these to get more milage:
a large sweet onion, chopped and sauteed in butter
a bell pepper (any color), shopped and sauteed in butter
a can of beans (any kind), rinsed and drained
an extra cup of sweet corn (frozen)
Combine your leftover shredded chicken with one or more of your extra ingredients in a big stock pot. Here's the only ingredient you MUST have: Add a quart (4 cups) of chicken stock and simmer for about 20 minutes until the flavors start to melt together and the soup reduces just a bit.
(If you need more stock, add more! Or throw in an extra can of tomatoes. Just be sure to test for seasoning as you go. A pinch of salt can bring a pot of soup to life.)
Serve with shredded cheese and tortilla chips, plus a salad on the side.
Done!
Want more ideas for cooking once and eating twice? Start with our Cheeseburger Hand Pies/Sweet Potato Cottage Pie combo or grilled chicken that becomes Peanut Ginger Stir-Fry one night, and Pasta with Chicken in Creamy Lemon Sauce the next.