We'd just moved to the U.S. from Rome.
After four years in Italy, where three of our babies were born, my husband and I packed it up and moved to a small town outside of Chapel Hill, North Carolina.
From cobblestones to rolling hills. We loved it instantly. Our historic small town came complete with great schools, a local co-op and a clock tower downtown. What better place to grow roots?
As Americans abroad, I'd often felt out of place. Confused by the holidays (Wait, why is there a Virgin Mary being held up on stilts in the streets? Ah. Right. Assumption.) One of the things I looked forward to about returning to the States was being fluent in the culture.
No more bumbling around for me. After living in America nearly all my life, I practically have a Ph.D. in all things Easter Bunny, Santa and of course, Halloween.
But when our first Halloween came around, our little imports were four, two and one year old. I looked at those faces and realized that three giant bags of candy might not be the answer. What would they even do with it? Eat some. But what about the rest? The little guy didn't even eat candy at all.
That's when I had an idea. Actually two.
What we did instead of trick-or-treating
1. Host a Halloween lunch party for preschoolers
We shifted the focus of Halloween from trick-or-treating to a casual Halloween lunch for moms and kids. I invited half a dozen friends from my oldest daughter's preschool class.
They wore costumes, ate mummy dogs and witches brooms, made Halloween crafts and did it all with "The Monster Mash" cranking in the background.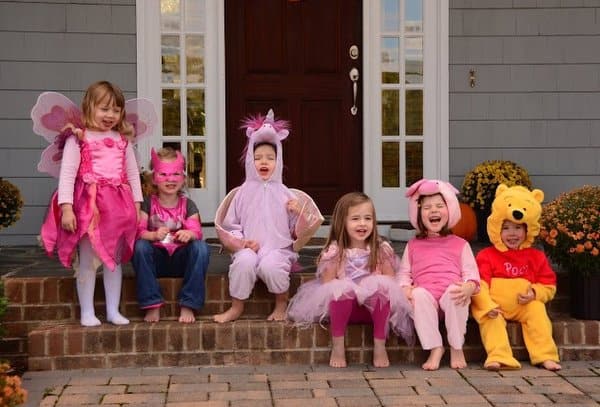 MVP Party Rule: Never Forget Good food for Parents
For the moms I cooked a simple pasta dish with goat cheese and fresh spinach, making sure to have plenty of sparkling water and chardonnay on hand. Tricks I learned in Italy.
We sat around our big dining table while the kids scampered through the living room and just enjoyed the afternoon.
2. Trick-or-Treating for Beginners
Then on Halloween night, I set up a miniature version of trick or treating.
I bought one small bag of candy. An assortment of chocolate bars.
We dressed the kids up and my husband took them around the doors of our own house. "Trick or treat!" they'd squeal every time I opened a new door. The garage door. The back door. The door to the shed. Inside, I'd run around to the next location, hearing them giggle outside, scurrying to the next one.
It was perfect.
They couldn't believe their luck. Costumes? Candy? You know it's been a good Halloween when even the bathtub is chocolatey. And that night, it sure was.
But there was no running around in the dark, crossing roads or keeping toddlers up late. They have so much time for that. Years and years of it to come. For us, this was the best way to start.
Halloween for Beginners.
ps. Since our first Halloween, we've been making special Halloween treats all week every year. Not too sweet but still super special. Here are a few of our favorites: Spooky Smoothies and Mummy Fruit Pies.