If there's an easier Thanksgiving food craft to make, you'll have to convince me because these 3-Step Chocolate-Peanut Butter Pilgrim Hats are the simplest treat we've ever done.
Seriously. I made one, then went to check on our chickens outside (they're new to the coop after spending a month in the garage.) When I came back inside after about three minutes, my preschooler had whipped one up all by herself.
Without any help. That's how easy they are.
Plus, what a yummy treat to add to any Thanksgiving dessert buffet. My kids aren't big fans of pumpkin pie but every single one of them will happily eat a peanut butter cup any day. And in this case, they get two: one big, one small, with an M&M bonus.
What you need to make chocolate-peanut butter pilgrim hats
Full size peanut butter cups
Miniature peanut butter cups
Melted chocolate chips
Yellow M&Ms
How to make chocolate peanut-butter pilgrim hats
Melt: 1/4 cup of chocolate chips in a microwave-safe bowl, in 30-second intervals.
Unwrap: 1 peanut butter cup, 1 mini peanut butter cup and grab a yellow M&M.
Glue: Place a little dollop of melted chocolate on the largest end of a mini peanut butter cup, then gently place on top of a full-size upside-down peanut butter cup. Finish by adding the yellow M&M with a tiny bit of melted chocolate.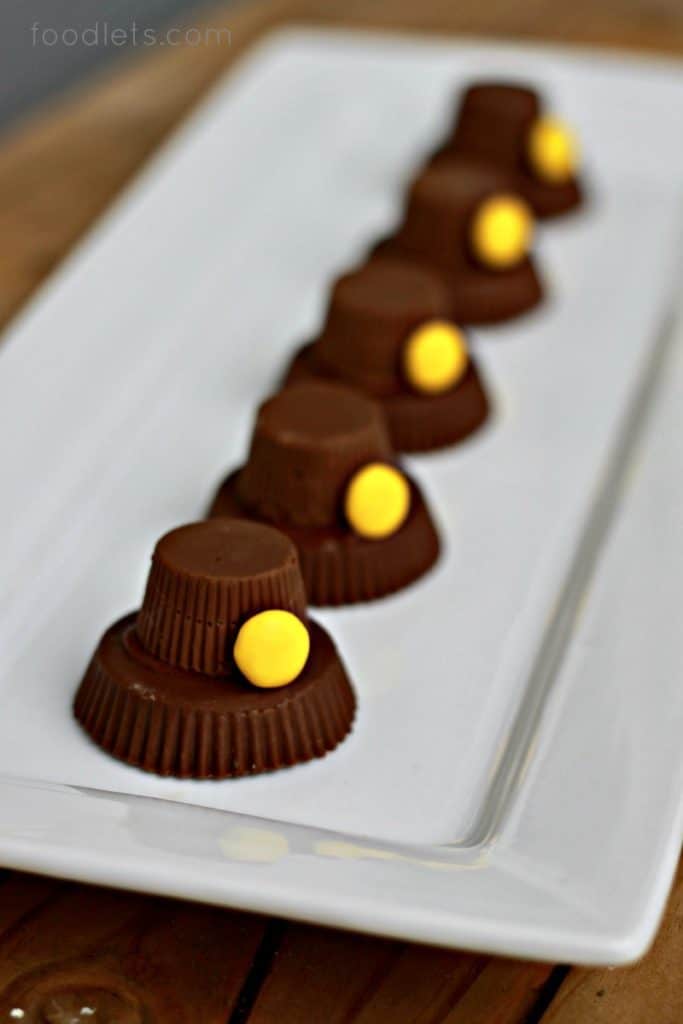 That's all there is to it! If my 3-year-old can do it herself, your crew can have a great time too.
ps. Want more fun Thanksgiving ideas for kids? Check out our whole collection here.