With all the rich and sweet food served on Thanksgiving, I love setting a huge platter of vegetables out early in the day for kids (and you know, adult guests) to snack on.
We've been shaping the whole thing like a Turkey every year, and every year, the kids squeal.
That's a pretty easy win.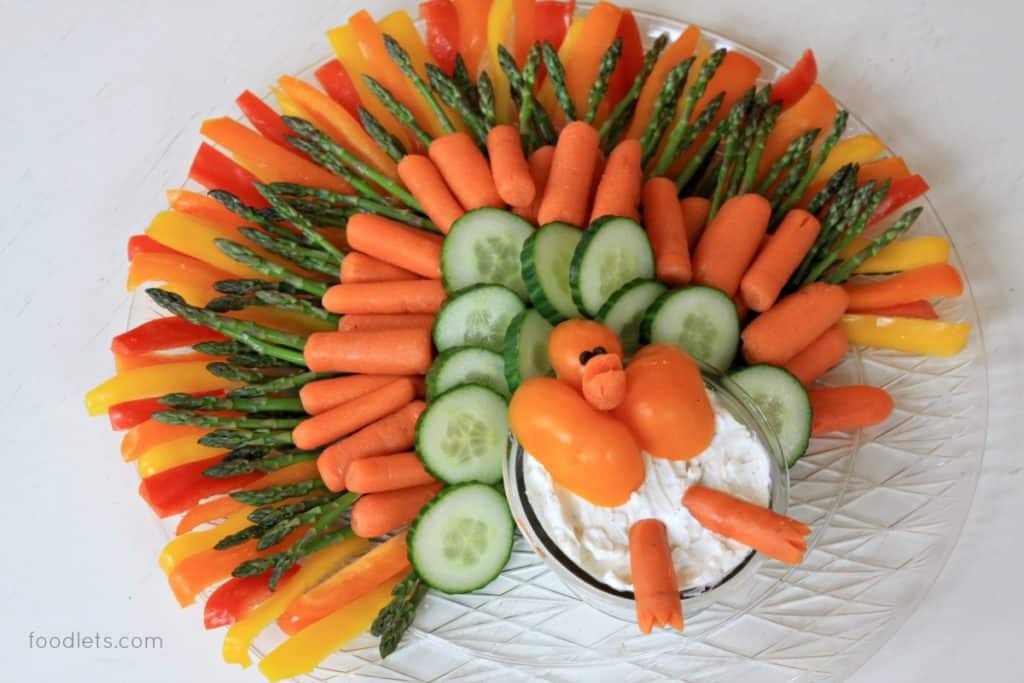 What you need to make a veggie platter shaped like a turkey
A round clear tray is ideal but any round tray will work. (I got a couple of these at a Dollar Store after my nice trays kept going missing when I'd send treats for bake sales at school. Perfect!)
A small round bowl, again, ideally clear but anything could work.
Veggies: the real trick is finding things you can cut into long shapes. We used a combination of bell peppers, asparagus and baby carrots. Then a pile of cucumbers.
Tip: Try to find a bell pepper with 3 lobes instead of 4 to make the turkey's face.
2 mini chocolate chips (or candy eyeballs)

How to make a veggie platter shaped like a turkey
Slice your veggies into long strips.
Fill your dip bowl and place near the base of your platter. Tip: I like to use plain Greek yogurt with a big dollop of Ranch dressing for a healthier version of everyone's favorite dip.
Start with the "feathers" on the outside layer. Add a second layer on top and so on until you have a pile of cucumbers nestled next to the dip bowl.
To make the turkey "body": Cut the very end of a bell pepper and place at the top of your dip bowl. Cut two baby carrots to make the beak and legs. Add mini chocolate chips for eyes.
Tip: The feathers can be arranged ahead of time and stored covered in the fridge. Assemble the turkey body and face once you've put the platter in place.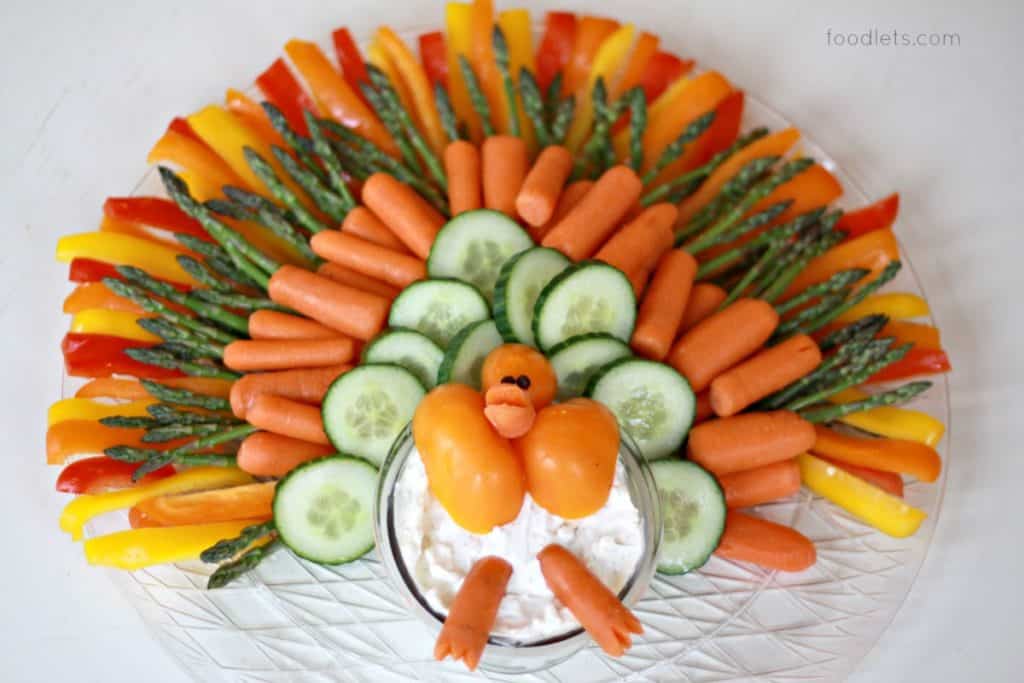 ps. Want more fun Thanksgiving ideas for kids? Check out our collection here.