My kids love cornbread. I make a honey-whole-wheat cornbread that's packed with good-for-you ingredients and every time I do, everyone squeals. With de-light.
But I don't always have time to bake all the things from scratch. And I'm guessing you don't either.
That's why I love these Instant Lunchbox Cornbread Muffins because drumroll please… You start with a mix. No need to be a martyr here. The fine folks at Jiffy know exactly what they're doing. But then you add the magic: Put a little turkey sausage and fresh baby spinach in there and bam! You've got (at least) a week's worth of lunches halfway done.
Want to pack in a little more nutrition? Add a couple tablespoons of ground flaxseed or chia seeds. That's your call but trust me, the results are delicious any way you do it.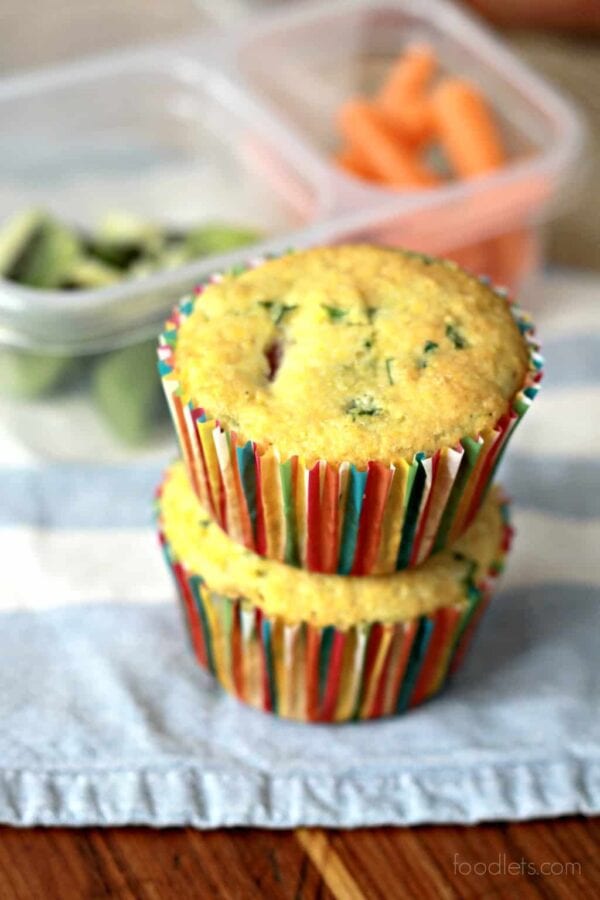 Foodlets Review
Foodlets Reviews are real comments from my 4 very real kids–and I never add recipes to Foodlets without at least 3 Thumbs Ups. Here's what they think:

Phoebe (8) "Delicious. Can you please pack that in my lunch again this week?"
George (6) "Yummy. Yum. Basically, I want to have this again."
Violet (3) "Mmm. It's good!"

Estelle (6) "They're too muffin-y."
Fair enough, girl.
Anyway, here's how you can make Instant Cornbread Lunchbox Muffins with Turkey Sausage and Spinach: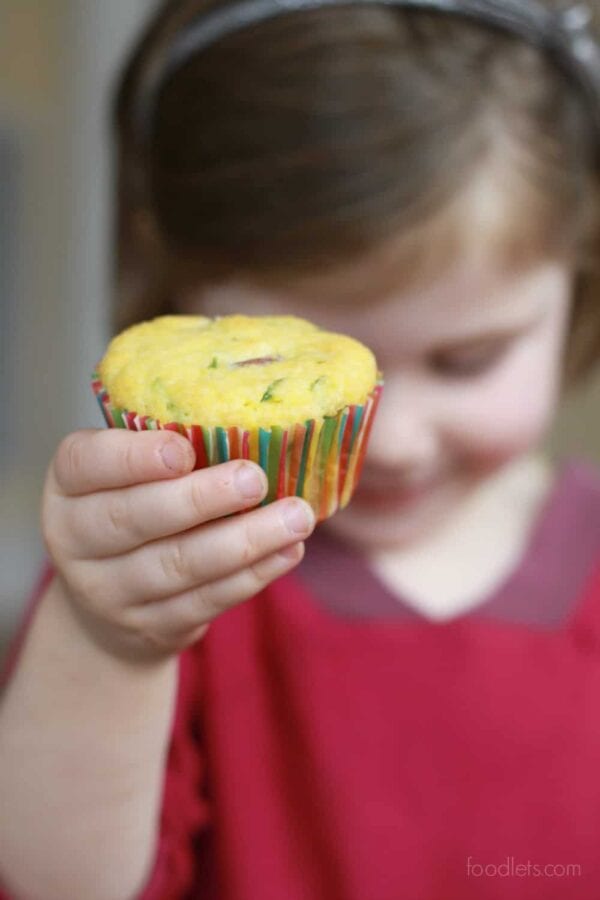 Print
Instant Lunchbox Cornbread Muffins with Turkey Sausage & Spinach
Start with any mix you like. Trader Joe's, Jiffy, but look for a package that makes 12. For example, you'll need 2 boxes of Jiffy. Plus, the options for add-ins are endless: ground flaxseed, frozen sweet corn, shredded cheddar cheese…
Author:
Prep Time:

10 mins

Cook Time:

15 mins

Total Time:

25 mins

Yield:

12
Ingredients
Cornbread mix + ingredients called for per the box (usually eggs and milk).
8 ounces of turkey kielbasa sausage, diced
1 cup fresh baby spinach, chopped
2 tablespoons ground flaxseed, wheat germ or chia seeds (optional)
1 cup frozen sweet corn (optional)
1 cup shredded extra sharp cheddar cheese (optional)
Instructions
Stir all ingredients together.
Use an ice cream scoop to ladle one uniform scoop into each cup in a cupcake pan, either lined or greased.
Bake at 350 degrees F for 15 minutes.