I love a good Valentine's Day treat, but the last thing I want on a busy morning is four kids hopped up on sugar.
Enter, this 3-ingredient silky strawberry milk. Not one of those ingredients is sugar.
But all of them are delicious.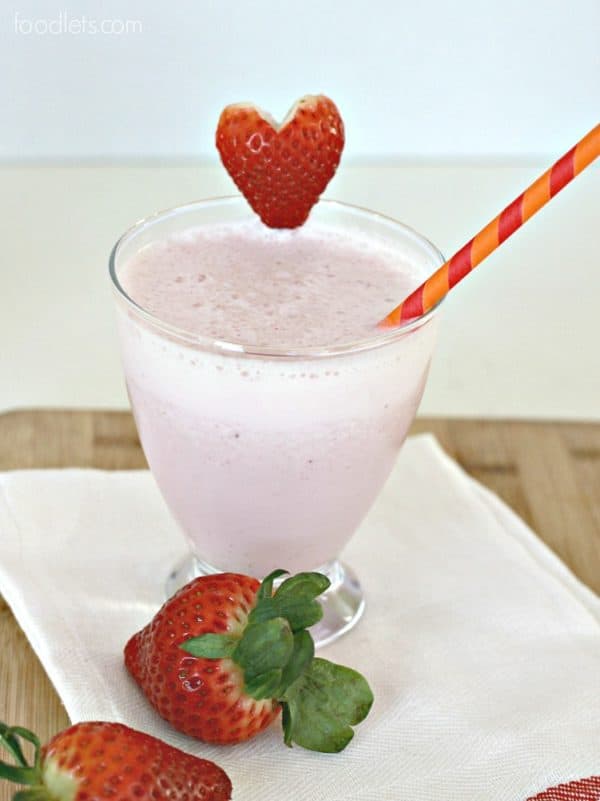 What you need to make 3-ingredient strawberry milk
Milk
Strawberries (frozen or fresh, but if you want the garnish you'll need a few fresh)
Banana
How to make 3-ingredient strawberry milk
Pour milk, a banana and strawberries into a blender and blend!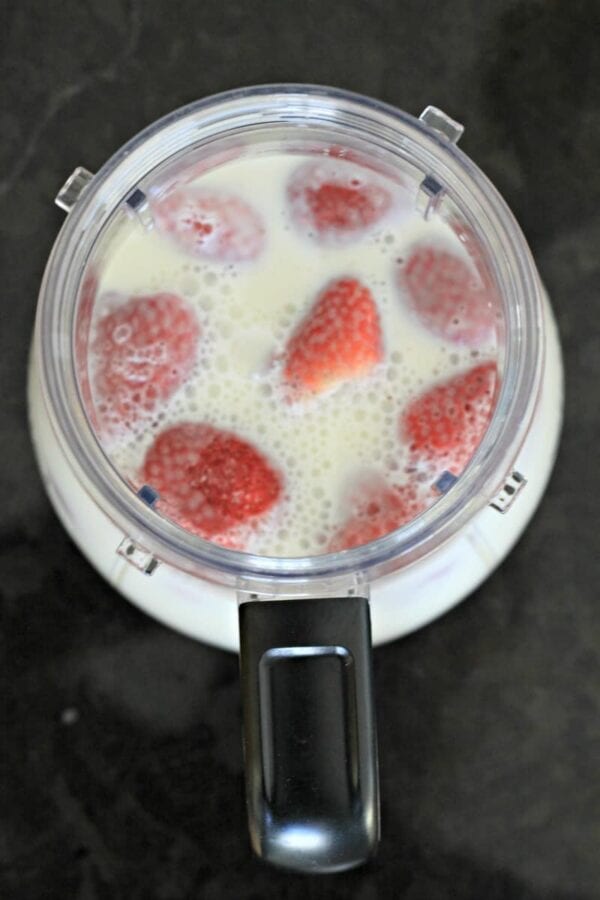 2. To make the heart-shaped garnish, use a paring knife to trim the tops off fresh strawberries. Here's a super simple photo tutorial for making hearts. Cut a small slit in the bottom of each berry so it rests on the rim.
3-Ingredient Silky Strawberry Milk (None of them is Sugar)
This makes four big glasses. Adjust according to your crowd.
Ingredients
4 cups milk, any kind
2 cups strawberries, fresh or frozen plus 4 more fresh for garnish
1 banana
Instructions
Put everything except the fresh strawberries for garnish in the blender, and blend!
Want a quick tutorial on making the strawberry hearts? See link in post above. It's easier than you think.
Foodlets reviews
Foodlets Reviews are real comments from my four very real kids. I never include a recipe that doesn't have at least three THUMBS UPS. 

George (5): "Oh, Mommy! I can't believe you made this!"
Phoebe (8): "YUM! Thank you, thank you."
Violet (3): "Mmm. This is good! How did you make this?"
*Estelle (6): "Way too banana-y."
*Estelle doesn't like bananas in any form. The only recipe we've been able to agree on is our Double Chocolate Fruit & Veggie Muffins, which technically include a banana, but also two kinds of chocolate. I usually look for recipes I can adapt without bananas and the biggest hit has been these 3-Ingredient Blueberry Blast Fritters that use applesauce instead of bananas.