Nothing to see here. Just lasagna you can HOLD IN YOUR HAND!
These lasagna cups are one of the coolest new things we've started serving for Foodlets Lunch, the North Carolina-based school catering service I launched last year.
My new partner Katie, who heads up Dining Wisely, suggested serving lasagna cups but since most of the other recipes for Foodlets Lunch come from this very site, I was a little hesitant.
Until I tried them. And the kids tried them.
S-O-L-D!
Mostly.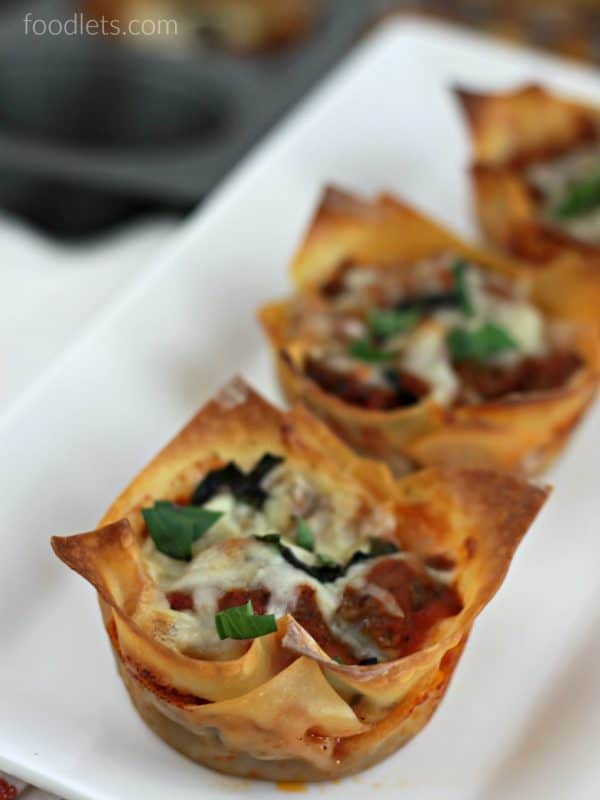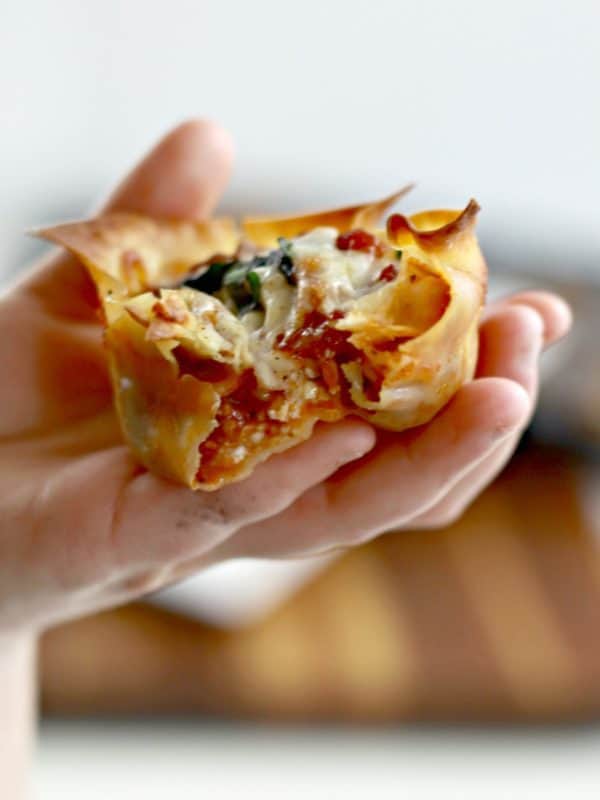 Foodlets Reviews
Foodlets Reviews are real comments from my four very real children. And I never include a recipe that doesn't get at least 3 THUMBS UPS.

Phoebe (8): "I really like how the crispy edges give way to the gooeyness inside. Really, these are the best things since chocolate donuts. The best thing-a-ma-jiggies in the world!"
Estelle (6): "I love everything about it."
George (5): (Groans) "Ah, Mommy. These are the things I don't like."
Violet (3): "Yum! These are so good! I love pajama cups."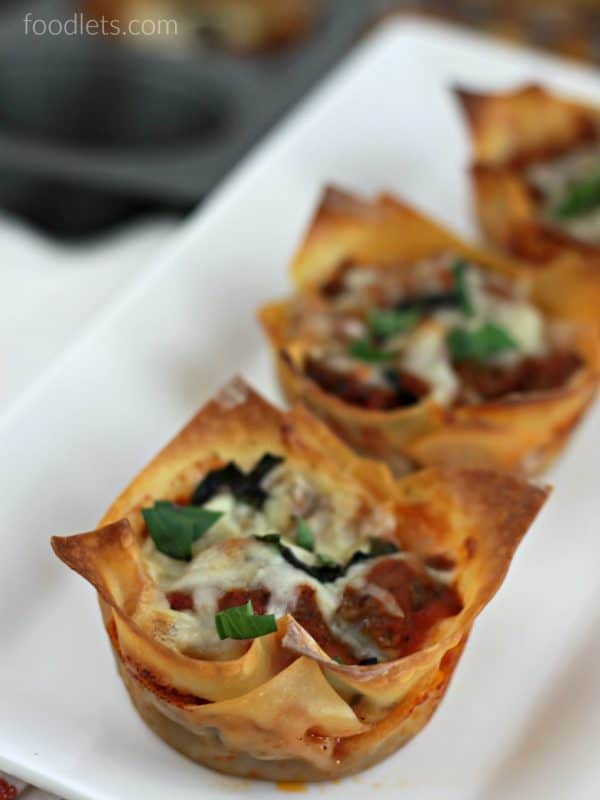 What you need to make lasagna cups
Ground beef (chicken or turkey) or sausage
Ricotta cheese
Mozzarella cheeese
Wonton wrappers
*Marinara sauce (homemade or store-bought ; *We use homemade for Foodlets Lunch.)
Fresh basil (optional)
How to make lasagna cups
Start by browning your meat, then draining off any excess fat.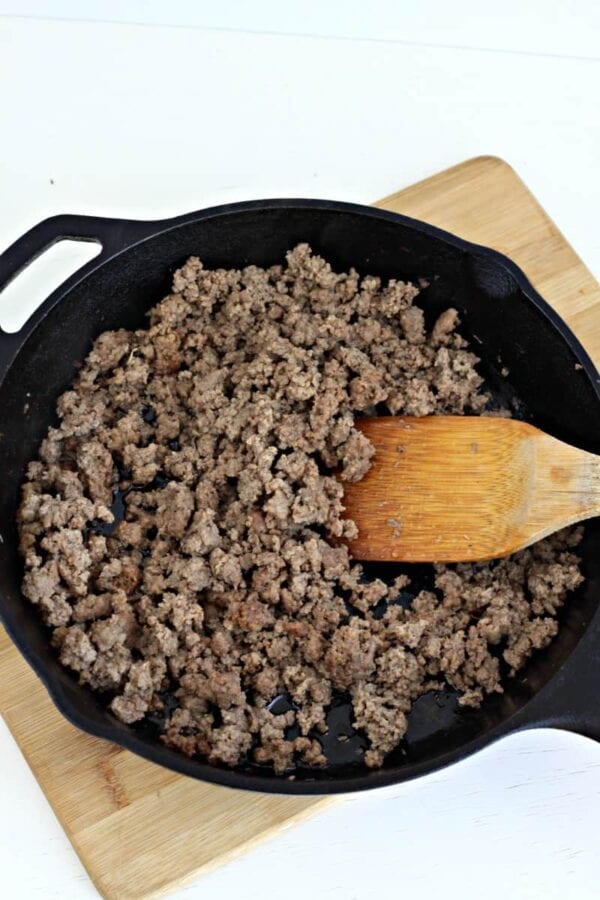 Now here comes the genius…
Use wonton wrappers as the pasta. Put them into a greased cupcake pan, then proceed to layer like you would a lasagna.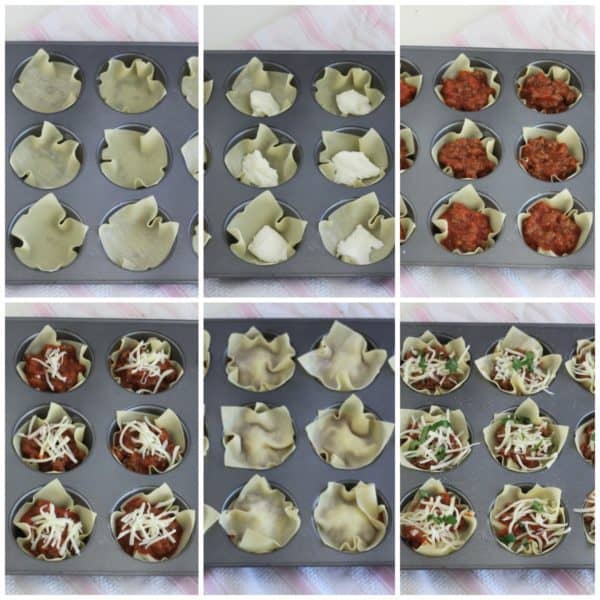 But what you end up with is…the perfect food for kids.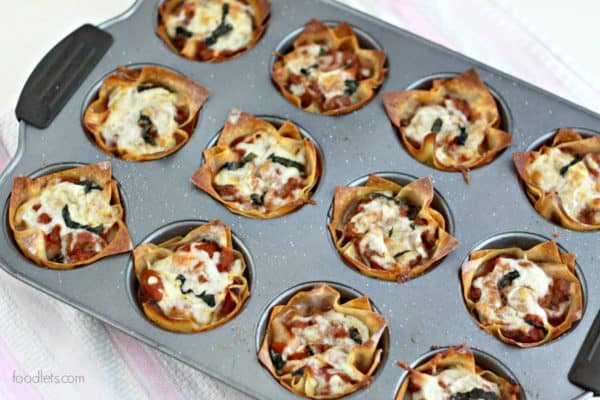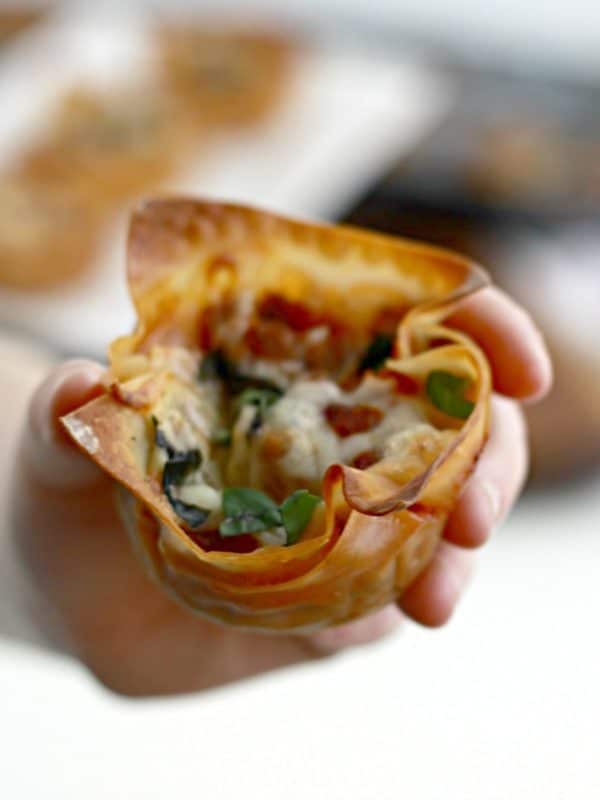 The Best Lasagna Cups in the World
Ingredients
1 pound ground beef (chicken or turkey) or sausage
1 cup ricotta cheese
1 cup mozzarella cheese
48 wonton wrappers
32 ounces marinara sauce (homemade or store-bought)
¼ cup fresh basil (optional)
Instructions
Brown your ground beef/chicken/turkey/sausage until cooked through. About 8 minutes. Drain off any excess fat. Add marinara sauce to your cooked meat and set aside.
Preheat your oven to 350 degrees F and grease 2 cupcake pans with butter or oil.
Assemble lasagna cups: Place one wonton wrapper in the bottom, add ½ teaspoon ricotta cheese, topped with 2 teaspoons of the marinara meat mixture, plus 1 teaspoon of mozzarella cheese. Top with a second wonton wrapper and repeat with marinara mixture and mozzarella.
Bake for approximately 15-18 minutes, until the edges are crispy and the insides gooey.
Top with fresh basil.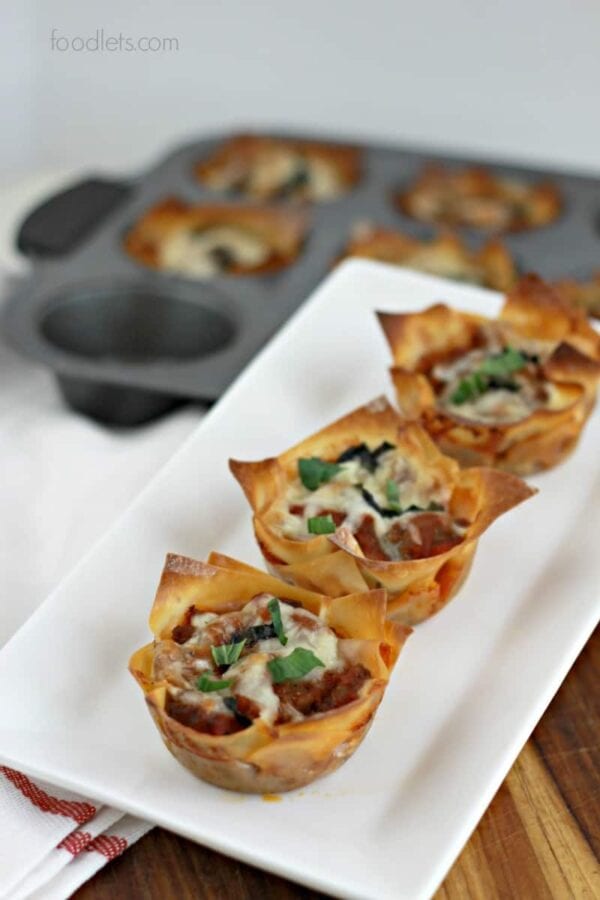 p.s. Twelve lasagna cups fed my family of six (mostly small people) along with a big salad for dinner. I saved the second half of my marinara-meat sauce mixture to make another family favorite: Italian Summer Casserole. It may be January, but as long as there's still zucchini to be found, I'll still be making this one!