Making this colorful layer cake is not hard.
But let's just say that I watched 3 episodes of The Crown while making it.
The results are adorable and the technique nearly foolproof, so if you have a few hours (and a hot British import on demand), I say go for it!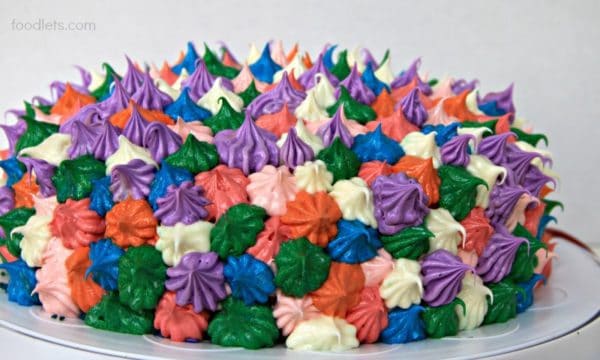 How to make this color burst layer cake: The Cake
Start with any recipe for white or vanilla layer cake. Prepare as directed.
Divide batter into 4, 5 or 6 smaller bowls. Add gel food coloring (not the liquid drops — you'll have to use too much to get a vivid impact).
Inside prepared cake pans, pour half of each color into the pan. The blobs will just arrange themselves next to each other.
Use a knife to make a gentle swirl three times around the batter.
Bake as usual.
How to make this color burst layer cake: The frosting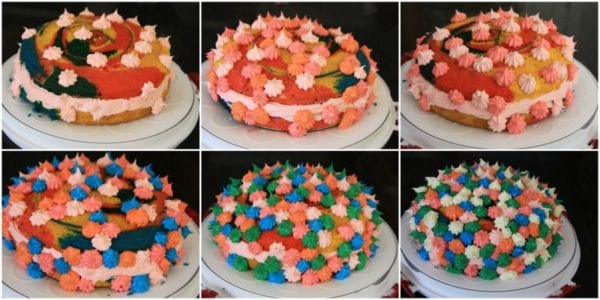 You'll need a recipe for white frosting (or 2 store-bought containers of frosting — 1 white, 1 purple — PLUS an 8-ounce bar of softened cream cheese and 1 stick of butter, also softened.)
If using store-bought, mix the white icing with the cream cheese and butter. (This will give you more to work with and make it less sweet.)
Separate into 4,5 or 6 bowls again and add food coloring to all but one. Mix well. I made: pink, dark pink, blue, orange, green and white. Then I used the pure store-bought purple because I've had trouble mixing colors to make purple. If you're more talented, you could just make it out of the white!
Add one rim of frosting where the two layers meet.
Add stars one by one until the whole cake is covered.
Tip: Put your cake in the fridge in between colors so it can stay as firm as possible (especially if you've got hot weather like ours.)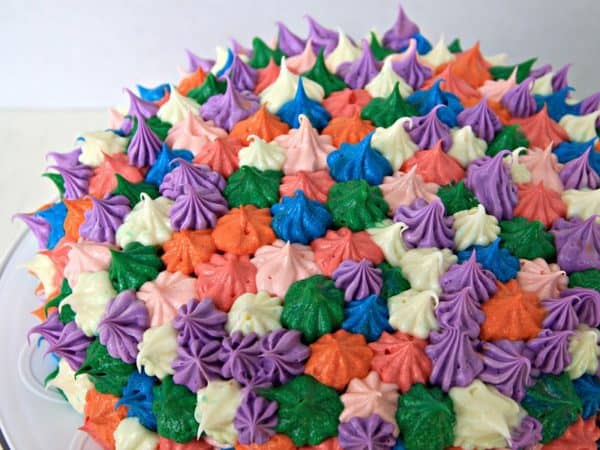 That's it!
Store in the fridge, preferably in a covered cake dish like this one that I'm using. It'll keep the air out and protect the cake from any bumps.
It doesn't take a lot of skill, just time.
In the end, the results are pretty dazzling. And creating happy memories around good food is the whole goal here.