This simple sautéed corn is one of my favorite summer side dishes for kids–and the whole thing starts with a bag of frozen corn.
It's easy to make and a total crowd-pleaser. You know my rule. I never post a recipe here unless three of my four small kids likes it.
Full of fresh bell peppers, flavorful feta with just enough mayo to make it creamy, you finish this dish with a squeeze of lemon and a generous sprinkle of fresh basil. The result is a rainbow for the eyes and a treat for the lips.
That makes this sautéed corn a winner you'll make all summer long.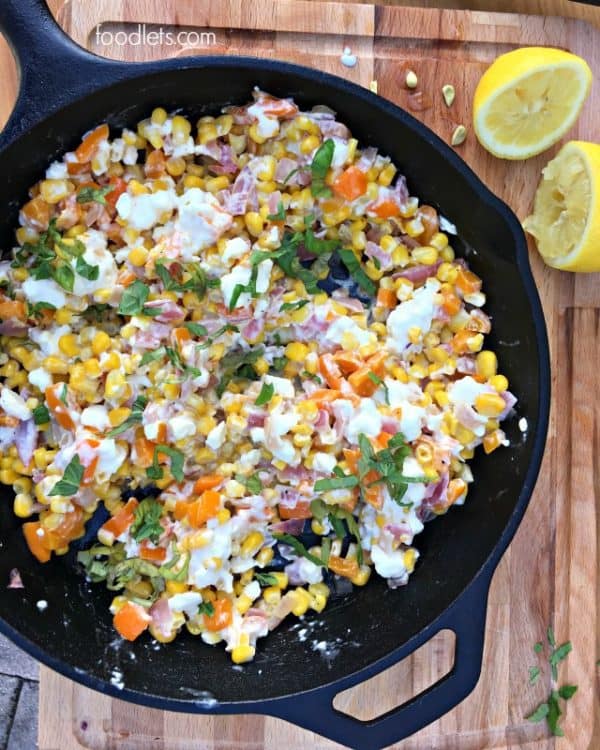 Simple Sautéed Sweet Corn with Feta: Rainbow Corn!
Ingredients
2 tablespoons butter
½ red onion, diced
⅓ cup Feta cheese, crumbled
juice of 2 lemons (about ⅓ cup)
½ teaspoon salt
¼ teaspoon pepper
1 bell pepper, diced
10-ounce bag of frozen sweet corn
2 tablespoons mayonnaise
½ cup fresh basil
Instructions
Melt butter in a large pan over low heat. Add onions and occasionally stir for about 2-3 minutes.
While the onions start to cook, prepare the sauce: in a small bowl combine mayonnaise, Feta, salt, pepper and lemon juice. Set aside.
Add peppers and stir for 2-3 more minutes.
Pour in the bag of frozen corn and cook for a final 2-3 minutes, stirring to cook evenly.
Remove from heat. Stir in the Feta sauce.
Top with basil. Serve immediately.