We're blackberry farmers now.
If you count two blackberry bushes.
And I think we do. So…
Ours are brimming with fruit and every morning when I shoo the rascals outside, their first stop is our awesome new blackberry crop. A few cups of fresh fruit later and it's off to figure out what to do with these gorgeous berries (other than eat them straight up, which don't worry, we've done our fair share of.)
That brings me to one of our simplest, yet yummiest desserts of the summer: Easy Blackberry Crisp.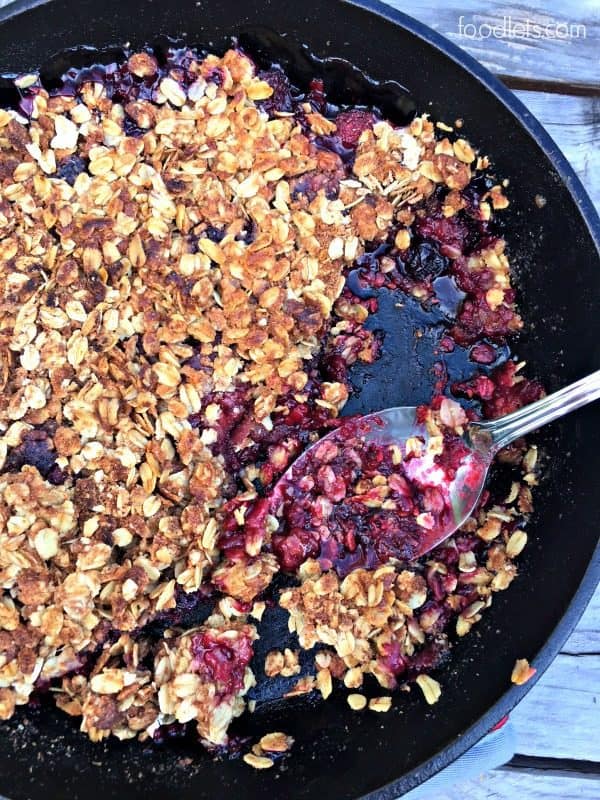 All you need is a handful of ingredients I'm sure you have at home.
Best of all, this blackberry crisp cooks in the oven alongside your dinner, politely waiting to be devoured when everyone's done.
Print
Easy Blackberry Crisp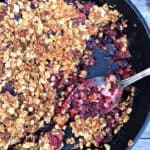 Tip: Put a baking sheet under your casserole pan to catch any possible drips. That way you'll only clean a pan, not your whole oven!
Author:
Prep Time:

5 mins

Cook Time:

40 mins

Total Time:

45 mins
Ingredients
2 cups fresh blackberries
1 teaspoon granulated sugar
juice of half a lemon (about 1 tablespoon)
1 tablespoon plus 1/4 cup flour (divided)
3/4 cup whole oats
1/4 cup brown sugar
2 teaspoons cinnamon
4 tablespoons butter (half a stick)
whipped cream, Greek yogurt or ice cream to serve
Instructions
Preheat oven to 375 degrees F.
In a large bowl, mix blackberries with sugar and lemon juice, plus 1 tablespoon of flour. Pour into an 8×8 casserole dish, cast iron skillet or similar.
Using the same bowl (no need to rinse out), combine the 1/4 cup of flour plus oats, brown sugar, cinnamon then use your hands to incorporate the butter.
Pour granola mixture over the fruit and bake for about 40 minutes, until the top is brown and the fruit is bubbly underneath.
Top with whipped cream, ice cream or Greek yogurt (it works for breakfast too!)