peaches & cream fruit leather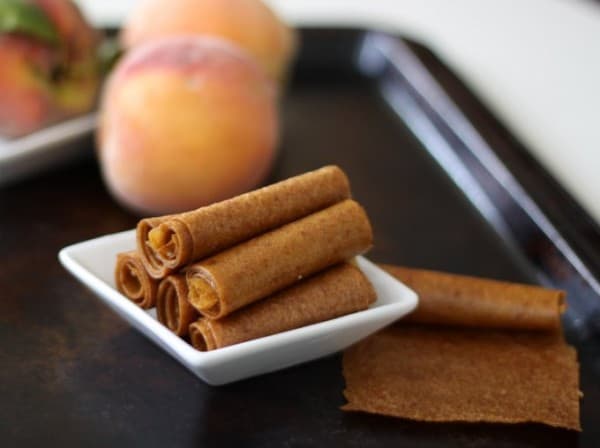 4 ripe peaches (about 4 cups) with skins on, cut into chunks
1-2 tablespoons pure maple syrup (depending on the ripeness of your peaches)
1 teaspoon pure vanilla extract
Preheat oven to 200 degrees F.
Puree all 3 ingredients in a blender until smooth (if you see flecks of skin, that's fine).
Pour onto a cookie sheet lined with a silicone baking liner. Smooth as much as possible
Bake for approximately 3 hours, until the fruit is firmer than jam but still pliable. It should not turn brown, nor get crispy. Remove, let cool, then cut into strips. Store in an air-tight container for up to a month.
Recipe by
Foodlets
at http://foodlets.com/2014/07/15/peaches-cream-fruit-leather/