Whole-Wheat Cheddar Biscuits With (or Without) Bacon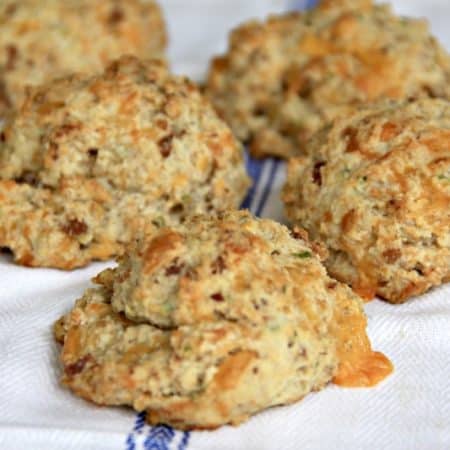 1½ cups whole-wheat flour
2 teaspoons baking powder
2 teaspoons garlic powder
½ teaspoon salt
dash of freshly cracked pepper
6 tablespoons butter, cut into cubes
¾ cup buttermilk
8 ounces extra sharp cheddar cheese (about 2 cups)
Optional: ½ cup bacon, chopped (about 4 slices)
Optional: ½ cup shredded sweet potato, raw
Preheat the oven to 400 degrees F.
In a food processor, or using a pastry knife with a large bowl, combine flour, baking powder, garlic powder, salt and pepper. Pulse or cut a few times to combine. Add butter and sweet potato (if using), pulsing or cutting again. Then add bacon (if using). Mix with your hands until it comes together.
Use the ice cream scoop (about 4 ounces) to drop equal biscuits onto a parchment lined baking sheet.
Bake for 20 minutes until the edges are brown.
Serve immediately.
Recipe by
Foodlets
at http://foodlets.com/2018/07/24/whole-wheat-cheddar-biscuits-with-or-without-bacon/