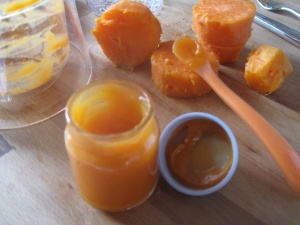 PACKED WITH NUTRITION, you never have to feel bad about giving these to baby as often as you both want.
1 >>Sweet potatoes
Roasting in the oven is easiest. Just rub the skin with a little olive oil, poke a few times with a fork and roast at 350 for about 45 minutes, depending on the size of your sweet potato.
2 >> Bananas
Mashed, sliced or frozen, it's hard to go wrong with a food that's basically a stick.

3 >> Prunes
Considered a delicious treat in France, give prunes a chance. Remove the pit and tear the soft flesh into bit-sized pieces for baby. Or squeeze the fruit from the skin to mash into cereal, or yogurt.
4 >> Pears
Sliced, diced or whole. Phoebe loves holding the whole pear in her hands now (she's just turned one)–though she always holds it upside down.

5 >> Applesauce
Try adding cinnamon. It's got health — and taste — benefits. Also, take this chance to mix in pureed veggies for a nutrition boost. Carrots, squash and roasted beets work beautifully.
6 >> Carrots
For some babies, carrots will be a texture do or don't. Phoebe enjoys mashed carrots but isn't interested in steamed carrot sticks (at least not right now). Either way, try adding sage plus a nice bit of olive oil and roasting the whole thing on a cookie sheet at 375 for about 20 minutes, depending on how large or small your carrot pieces are.
7 >> Cottage cheese
Calcium here we come. Add fresh peas, soft, sliced fruit like peaches, pears or apricots.
8 >> Whole wheat bread
Half a slice makes the perfect snack on the go.
9 >> Rice cakes
Really. Chances are, rice was one of the first things your baby ate as cereal. Now the puffy rice cake is the perfect thing to munch on, gum on while teeth come in. Make sure there is no salt added and try different grains; we've enjoyed kamut and millet.
10 >> Beans
For a fiber and protein fix, try whole beans–pinto, navy, kidney, white. Little fingers love pinching each bean plus it's hard to make a mess…but not impossible.