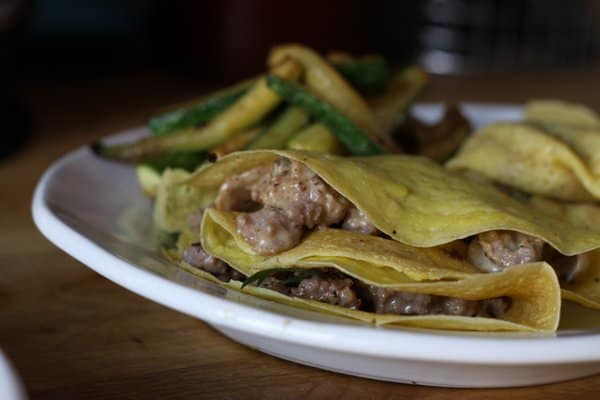 I HAD MY FIRST CREPE a long way from France. Instead, I was sitting in a high school French class. This was Arlington in 1990, a two-stoplight town in the northwest corner of Washington state. Like many in the area, it's full of dairy farms and lumber mills but Francophiles are few. Ms. Weingarten, our brave soul of a French teacher, had organized a crepe competition for us, the third-year class. Despite our puffy bangs and tight jeans we all thought we were so French by then, we were practically citizens (none of us ever having set foot in France) and couldn't wait to dazzle each other with the exotic flavors we'd dreamed up: strawberries with whipped cream or melted chocolate. But the winning combination was such a surprise to my lips. It wasn't berries or the predictable chocolate we'd all drooled over earlier…it was savory. Chicken and mushrooms in a rich cream sauce. I had no idea that crepes could be dinner.
I'd never had anything like it and thanks to a series of lucky coincidences I've been to Paris many times since then–yet not once had a crepe there. (You really can eat crepes in Paris, freshly made from carts on the street, but I just haven't done it for some reason.) And when I saw the ready-made crepes at our Italian grocery store this week, I had to grab them with a smile.
So it was in the name of variety at an early (earlier?) age that I served crepes to the kids last week. To my surprise they weren't wild about the crepes themselves, bread lovers that they are, but both girls gobbled up the filling, savory sausage, mushrooms and cream. Phoebe even ate a little parsley. C'est vrai!
Since my time there, a cute little restaurant has opened in downtown Arlington, The Bistro. I wonder if they serve crepes.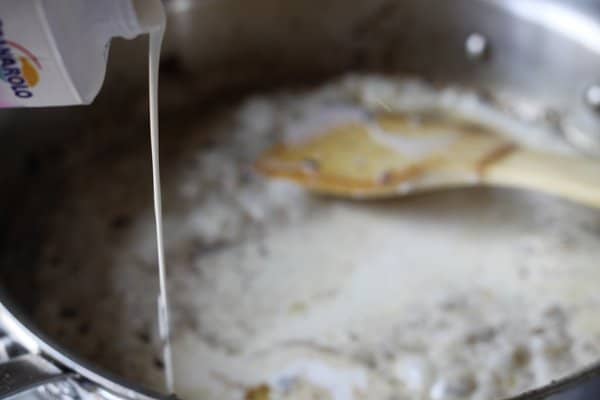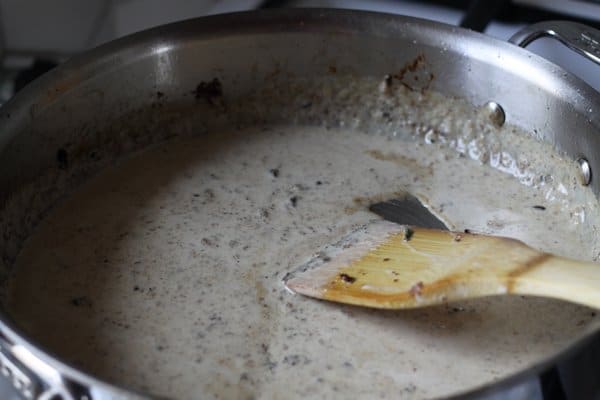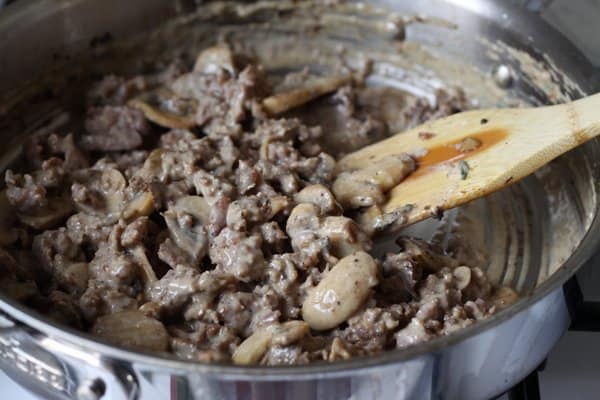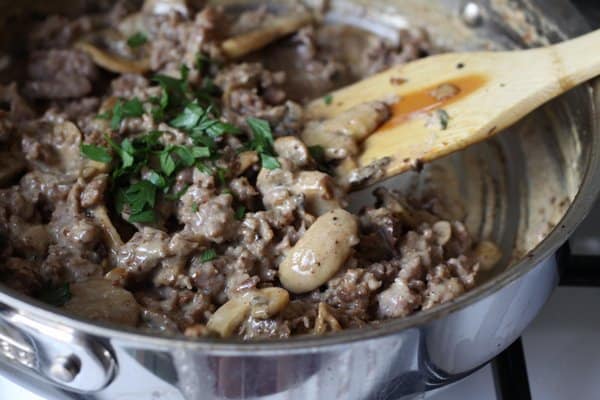 CREPES WITH SAUSAGE, MUSHROOMS & CREAM
ingredients
¾ pound turkey or pork sausage
2 cups sliced mushrooms
¾ cup cream or milk
2 tablespoons butter
2 tablespoons flour
2 tablespoons parsley
Ready-made crepes
instructions
Brown sausage in a large skillet, breaking up clumps, for 2-3 minutes. Add mushrooms and cook together, stirring occasionally. When both are cooked through (sausage should be browned and a little crispy in places, mushrooms should be soft and dark in color), remove sausage combination and set on a bowl or plate. Drain the pain of all fat (use a paper towel if there's not much to pick up).
Now make the roux (You'll see the step by step photos for this above. It's an easy and delicious way to thicken any dish or sauce, nearly any time.). Melt butter in pan and add flour. Cook the flour for 2 minutes (not longer), stirring to ensure even cooking. Then add cream, drizzling it in the pan. Stir until the whole mixture is thick, scraping bits from the bottom of the pan. Return sausage and mushrooms to pan, mix. Sprinkle on parsley.
For adults, feel free to add salt and pepper but this should be plenty flavorful for kids as is.
Heat crepes according to package instruction, then lay crepe flat on plate. Put one two scoops of filling on one side then fold the other side down over the top. Fold the whole thing over again. Voila.
PS. If you have spare crepes leftover, you can certainly serve them for dessert with strawberries and whipped cream or chocolate (Nutella is delicious) but freshly squeezed lemon juice is also wonderful. Or cinnamon sugar with a little butter.