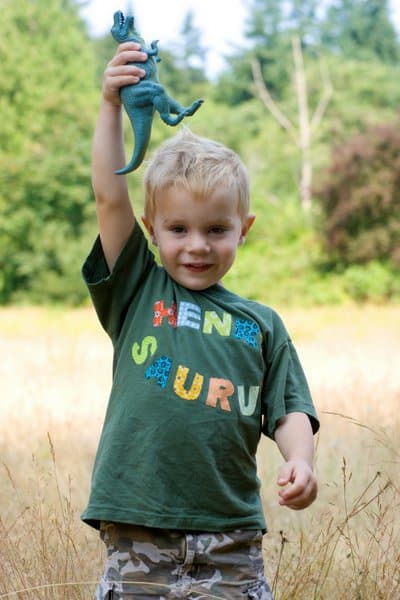 IT'S A LUCKY LITTLE BIRTHDAY BOY whose mom is an event planner. When Henry turned three, Sara (of Sara's Soirees in Seattle) pulled out all the stops for her dino-loving little guy, starting with the invitations. "Each child was mailed or hand delivered a small green plastic shovel with a tag tied to it that said 'Henrysaurus is turning 3.  Please join us for a dino dig.' The whole thing was placed in a clear cello bag and tied with a piece of brown twine." And that was just the start. Find out how she pulled the whole thing off right here.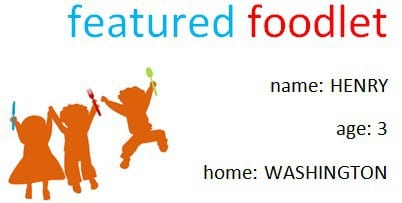 Number of party guests: 70 (including parents and family)
Where was the party? We had Henry's 3rd birthday party at our favorite park, just about 2 blocks from our house.
On the menu: The party ran from 10am to noon so I went with a kind of brunch-y theme and served:
mini "dino" bagels with three kinds of whipped cream cheese: veggie, mixed berry and plain
a rustic fruit platter
mini yogurts
water
green "dino-ade" (lemonade that I tinted green)
Starbucks coffee with cream and sugar
The cake: For parties I like to have a cake and either cupcakes or cake pops. I looked online everywhere and the one I ended up using for inspiration was this one. I made the cake out of 2, 9 inch round cake pans, a lot of toothpicks and extra frosting.  It it covered in fondant (my first time with fondant!) I also made 40 or so cupcakes of different sizes and flavors and frosted them with butter cream.  I ordered the fondant dinosaurs and number cupcake toppers from etsy, and placed them on top the day of the party.
I always use a box cake mix.  I have tried scratch recipes for these kinds of birthday cakes and the box cake seems to have the perfect recipe for cakes that you need to cut apart, shape and put back together again. The key is to under bake a tiny bit. Dry cake is the worst! However, I do make a killer homemade frosting with butter, powdered sugar, vanilla and milk, or coffee creamer, or soy, or coconut milk but always homemade frosting.  I bought the fondant and tinted it myself, but am going to try homemade marshmallow fondant next time to save money and to see if I can do it.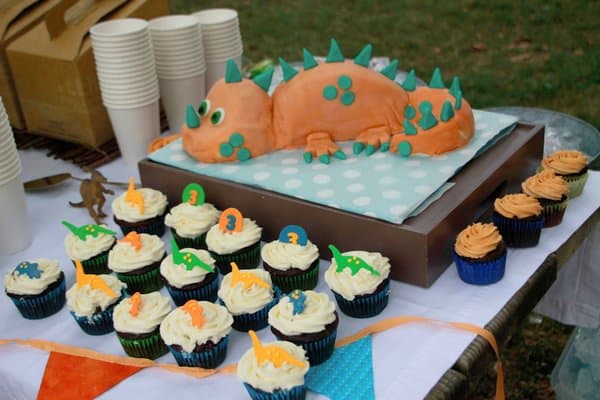 Decorations: The color scheme was orange, turquoise, apple green and brown — and there were dinosaurs everywhere!
The cups had a "3" stamped on them in party colors.
One big stone tray and various wood trays worked great for the food, and rustic place mats from Crate & Barrel also added to the theme.
I spent the past couple of months purchasing plastic dinosaurs of various sizes whenever I saw them (Target's $1 section, etc.) and put them around on the table along with a framed photo of the birthday boy (by photographer Jenni Sandmeyer).
My scrap paper stash came in handy for all sorts of punches and stamps.
I painted the signs on scraps of wood that I found in my neighborhood, and my husband nailed them for me.
The bunting was sown using inexpensive fabric from JoAnn Fabric and I appliqued the t-shirt myself too. The yellow scroll of fabric is left over from Henry's 1st birthday party–I re-use the circles every year and just make new themed letters and animals, or Legos, or pirates, etc…
We ordered the dinosaur sticker pages, blow-up dinos, dino skeletons and eggs from Oriental Trading Co.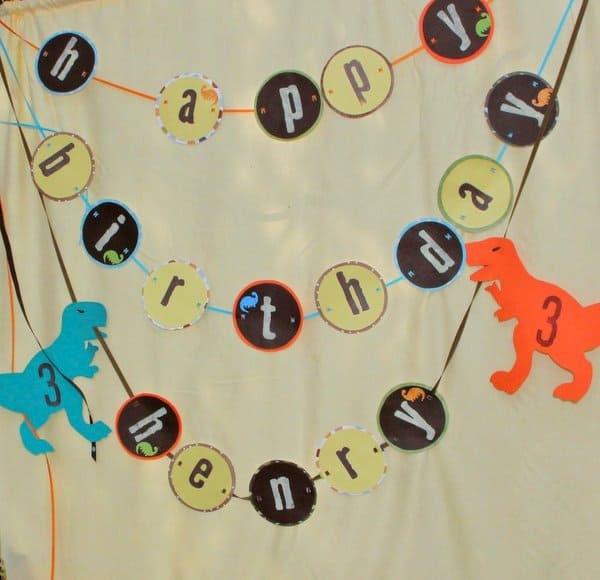 Activities:
Art table: dinosaur coloring pages, crayons and sticker pages.
Dino "egg" toss: I made 8 large dinosaur egg-shaped bean bags out of felt and filled them with dried beans. Kids tossed them back into their "nest".
Dino dig: before the little ones got there, my husband and the birthday buried dinosaur eggs, skeletons and little plastic dinosaurs in the sandbox.  Each child had been asked to bring their shovel for the dig (we had extra on hand!)  They got to keep what they dug.
Pinata: We got a T-Rex pinata from Party City and filled it with fruit snacks and dinosaurs.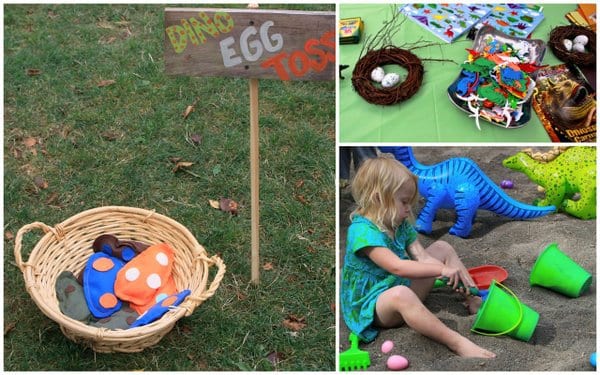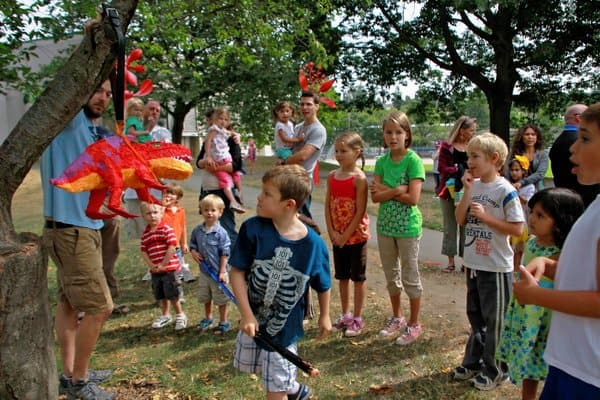 What was the biggest hit on the menu? The kids freaked over the cake (I thought it was cute, but in my opinion it looked more like a big lizard than a dinosaur!) The parents LOVED the coffee, which was a to-go box from Starbucks. Since it was a morning park party, I think they liked having a nice cup of Joe.
Any misses? I think this one was pretty darn good. I would like to have started a little earlier in the day, but it went fairly smoothly.
How long did it take to prepare everything? A couple of months, because I worked in little fits and starts. I was 4 months pregnant at the party and had a very active 2-year-old plus I was working too, so I did bits here and there.
What was the hardest part? First of all, although we live in an amazing place, our house is pretty small and has almost no storage so finding somewhere to put all of the party planning  items is a huge challenge. Especially when you get down to the days leading up to the party with cakes, cupcakes, favors, etc. And getting all of the items lugged to the park in one piece, with a 3-year-old and a prego belly…
And the easiest? It was all fun. I love planning and executing parties. I think the easiest was coming up with the party concept as a whole. Henry loves dinosaurs, and the ideas just kept coming (I've had parties where I was reaching for themed ideas and this was not one of them!)
Most expensive? The invitations and favors.  The invitation shovels were $1 each plus printing and postage. For the favors I think there were 30 in all: The 2 to 8-year-olds got plastic sand buckets with dinosaurs, egg candy, stickers, pencils and dinosaur pads of paper, etc. All babies left with a felt T-Rex doll that I sewed, and the oldest kiddos got teenaged dinosaur treats.
If you threw this party again what would you do differently?  I would have started earlier in the day! There never seems to be enough time, and although the party usually ends up looking pretty darn good, I feel like I look like a train wreck when it starts. (Is more "me" time the morning of the party a selfish answer?) DIY is super fun, but can wreak havoc on your appearance! I also usually have several ideas that get left behind, there are just never enough hours in the day!
 What did the birthday boy enjoy the most? I think the pinata is always the hit (no pun intended) but he loved being at the park with his friends and family, playing with digging for dinosaurs, and the dinosaur cake.