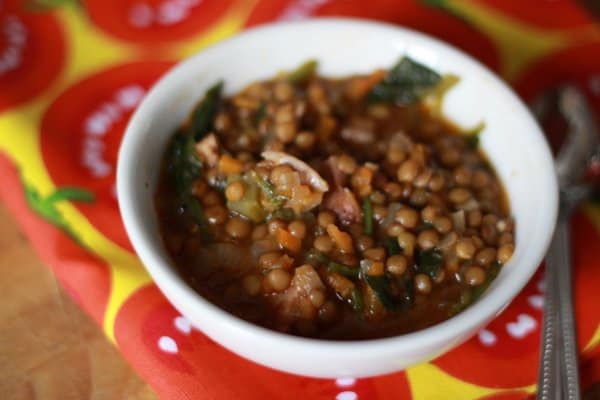 IT'S HERE! I LOVE SOUP SEASON. Even though the Roman weather keeps playing tricks on us–one day it's cool and crisp, the next is so hot and humid that everyone is sweating before we leave the house–we've started making soup. And even better, we've started freezing soup too. This recipe makes more than enough to enjoy as a meal, twice.
For this Barefoot Contessa makeover, I added a few things to her original recipe for lentil vegetable soup — which is an update from this failed lentil sausage soup attempt — and took out a few more, just to simplify. With three kids under four, I don't have time to slice and dice more ingredients than I absolutely have to. Plus, I want to use each meal as a chance to introduce more nutrition (spinach), more flavor (sausage) and ultimately more enjoyment (a delicious meal that doesn't leave mom tired out).
Even though this one takes a long time (about an hour and a half) it's easy to make in advance and leave on the stove, covered for a couple of hours. It also freezes beautifully. In fact, we're having it again tonight. And don't forget, crusty bread is a must and you can freeze that too. Either use half a loaf and freeze the rest or buy two in the first place. It's so much easier than trying to remember to pick up bread again when you have your soup, again.
Oh, also, this one was a success. Estelle loved it, Phoebe liked it. Good enough.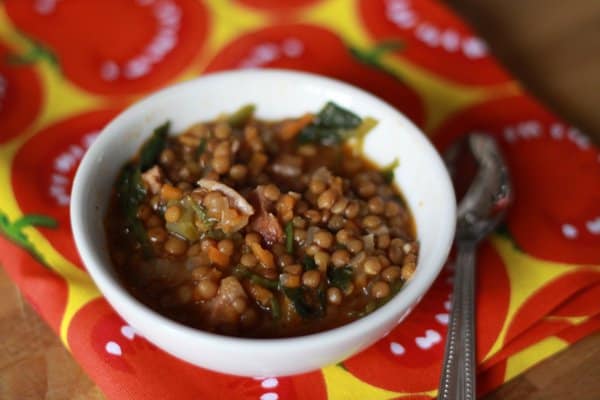 LENTIL SAUSAGE SOUP WITH SPINACH
adapted from Ina Garten's Lentil Vegetable Soup
ingredients
1 pound lentils
3/4 pound turkey or pork sausage
2 cups chopped yellow onions
1 tablespoon minced garlic (3 cloves)
3 tablespoons olive oil
1 tablespoon salt
1 1/2 teaspoons freshly ground black pepper
2 teaspoons dried thyme
1 teaspoon ground cumin
1 cup small-diced celery
3 cups small-diced carrots
3 quarts chicken stock
1/4 cup tomato paste
2 cups frozen spinach (If frozen in cubes, leave frozen; if frozen in a large block, defrost first.)
2 tablespoons red wine or red wine vinegar
Freshly grated Parmesan cheese, optional
instructions
Place lentils in a large bowl covered with boiling water and let sit for 15 minutes, covered with a kitchen towel. Drain and set aside.
Meanwhile, brown the sausage in a Dutch oven. Turn it several times to ensure even cooking but don't worry about cooking completely through. After all sides are browned, remove to a plate. You need about 3 tablespoons of juice in the pan to cook the onions.  If there's more, pour it off or use a paper towel to dab it up. If there's less, add olive oil. Then place onions in pan, along with the garlic, salt, pepper, thyme and cumin and cook for 15 minutes, stirring every couple of minutes. Add carrots and celery and cook for an additional 10 minutes. Pour in the chicken stock, tomato paste, lentils and sausage. Bring to a boil then lower heat: simmer uncovered for about 1 hour.
Just before you're ready to serve, add the spinach plus wine or vinegar. Top with Parmesan cheese if you like…and I'm sure the kids will!