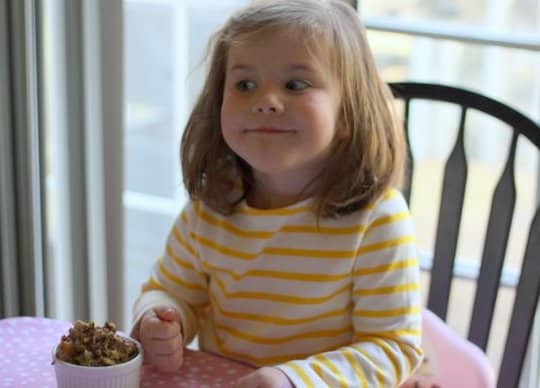 IT STARTED WITH A DINNER FAIL. I tried to spice up what was a delicious quinoa dish full of sweet potatoes and roasted chicken–except this new version was terrible. Instead of chicken and sweet potatoes, I used pork and apples (you know, pork chops and applesauce?) and tried to combine everything into a handy one-pot dish. The kids sort of picked at it, like they often do. Then the comedy started: I asked Paul whether he'd rather have regular pork chops and apple sauce, or this creatively re-invented version before him…and he picked the first one. And you know what, I did too! That's when I turned to Facebook for help.
It turns out that tons of you are already cooking with quinoa, and doing it deliciously! Below are several ideas shared. I haven't tried them all yet, but I will. Then I'll post the results. In the meantime I thank you, and Paul thanks you as well.
With Grilled Peppers. "This is a great recipe for quinoa and grilled pepper salad from Epicurious. I have made it 4-5 times with no problems. Terrific with salmon and this fantastic horseradish sauce to accompany it." – Bethann
As Cakes. "We make quinoa cakes, and call them Cammy cakes. They are so good! "- Sarah
On Autocook. "Throw it in the rice cooker." – Nicole
With Broth. "Yes, rice cooker with chicken broth!" – Sharon
Mixed with Fresh Flavors. "Quinoa, avocado, tomatoes, olive oil and lemon juice" – Cari
In Black Bean Salad. "I like quinoa and black bean salad – with chopped peppers and onion, corn, chopped parsley, garlic, oil, and apple cider vinegar. Good served warm or cold!" – Amy
In the Morning. "I make it for breakfast. Last minute or two of cooking, add a tablespoon or two of almond butter. In your bowl, add frozen pineapple, blueberries, raisins, nuts of choice and when you put the hot quinoa on it, it makes it cold and hot…fantastic! My kids love it too!" – Janine
With Corn and Green Onions. "Quinoa with corn and scallions: Bring 2 cups of water to a boil. Add 1 cup quinoa, the milk from 3 corn on the cob scrapings, and 1/2 tsp. salt. Cover, simmer for 15 mins. Turn off heat and let stand 5 minutes. While quinoa is cooking, add 1 Tbs. butter to a small skillet, corn kernels and 1/2 cup of thinly sliced scallions. (including some greens.) Cook for about 3 mins. Toss them in with the quinoa. Season with salt and pepper and garnish with crumbled cheese, feta or cheddar. Great for potlucks and picnics, as a side dish or meal." – Jennifer
Like Lasagna. My mother in law recently made what I refer to as a quinoa lasagna. She made the quinoa with chicken broth and chopped up leftover chicken into bite size pieces. Mixed both with tomato sauce. Then layered with cheese and baked. It has been my favorite way to eat it so far! – Vanessa
In Your Chili. We add quinoa to our veggie chili and eat it as a side dish, too. When my kids were younger, they though it was a funny looking cous cous. We also mix it into meatballs and they give them very light texture. – Tribeca Nutrition
Vanessa, we tried this and it did work well, pretty well. I liked it. I added spinach. Phoebe and Estelle ate some with chicken and a drizzle of olive oil on top but Baby George ate the most of anyone here. So soft and tangy, he ate a bowl full of quinoa lasagna several nights for dinner. Thanks for the idea!
We'll try more of your ideas but in the meantime, this is our kid's favorite way to eat quinoa: Roasted Sweet Potatoes & Chicken with Quinoa.