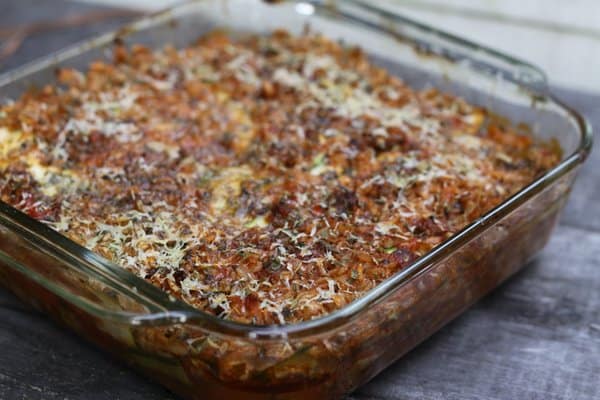 PHOEBE WASN'T EXACTLY PLEASED. Suddenly my four-year-old is opposed to everything being combined into a one-pot dinner. "Only one thing?", she asks as incredulously as only a preschooler can. And to that I say (at least in my head), "When you start doing the dishes my dear, we can use all the pans for every meal. Until then, everyone who wears fairy wings will eat whatever makes the least amount of work for Mom!" And with that, I am quite pleased to present a dish that worked overtime: This dinner includes fresh veggies, brown rice and half the marinara sauce I used earlier in the week with penne pasta (which then became baby George's lunch for 3 days). Ta-da!
My husband is working late a lot these days and that's not even the tricky part. I've noticed that having three small children means having three opportunities to be woken up during the night, sometimes one after the other. I don't have a newborn but somehow still haven't had a full night of sleep in several weeks. People have been sick, people have been traveling, people are in the midst of moving. This means I am even sleepier than usual. So I need dinner to do some of the work.
In an effort to make things run a little more smoothly, I actually started planning ahead.
At least a little.
Estelle loves zucchini. That was my starting point. I love riffing on a family favorite and since this baked zucchini dish is a surefire hit with her, I adapted it. Earlier in the week I'd browned some sweet Italian sausage and combined it with plain ol' pasta sauce from Kroger (I love the Simply Organic stuff). I saved half of it, actually stored it in the same sauce jar and put the whole thing right back in the fridge.
Because I'm making a bunch of baby food for George, who just turned one, I often make a pot of brown rice (or quinoa or millet or any other grain I have handy) to use for the week. But it's also a good move for any busy mom who needs something to fill out weeknight dinners in a hurry. I've started using chicken stock instead of water and the flavor difference is definitely worth it.
So I simply made layers: 1. strips of zucchini (cut into thin ribbons with my vegetable peeler) 2. rice sprinkled with garlic powder and dried oregano 3. a handful of shredded mozzarella cheese 4. a ladle of marinara sauce with sausage. I grated Parmesan cheese on top, a little salt, pepper, more oregano and drizzled with extra virgin olive oil (Made by our friends at their family's villa outside of Rome! How's that for extremely indulgent? We are amazingly lucky to have that connection but their olive oil, Osco, is actually for sale in the US now. I don't get a cut of the proceeds, only bragging rights for introducing you to the best oil I've ever tasted.)
Since I know that Miss P is really into having a few things on her plate these days, I'll just cancel the debate before it starts by giving her a few slices of cucumbers, a couple cubes of cheese or a handful of crunchy red peppers in slices. Someday she'll see the method but for now I'd just like to avoid the madness.
Print
italian summer casserole: baked zucchini, brown rice and tomato sauce with sausage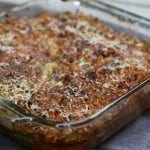 Use half of your sausage and sauce mixture for another dinner this week. Stuffed peppers? Pasta? Up to you!
Ingredients
3/4 pound sweet Italian sausage
1 jar of your favorite pasta sauce
2 cups cooked brown rice
2 medium zucchini, cut into long thin strips (with a knife, mandolin or vegetable peeler)
2 tablespoons dried oregano
1 teaspoon salt
1/2 teaspoon pepper
1- 1 1/2 cups shredded mozzarella cheese
1/4 cup shredded Parmesan cheese
Instructions
Preheat oven to 400.
In a large skillet, brown sausage and add sauce. Set aside half for another dinner another night. Use the remaining sauce with sausage and cooked rice for the recipe below.
In a 9×9 glass pan, add a small dollop of tomato sauce to the bottom of the pan, just to prevent sticking. Layer zucchini, completely covering the bottom of the pan. If your ribbons are very thin, add two layers of zucchini. Top with rice then sprinkle with oregano, salt and pepper. Sprinkle a handful of mozzarella cheese on top then add enough red sauce to cover the whole thing. Repeat until you've used everything, probably 3-4 layers total. Sprinkle the top layer with the Parmesan cheese, a bit of salt and pepper plus oregano. Cover with foil and bake for 30 minutes.
Remove foil and bake for 15-20 minutes. Let sit for 10 minutes before serving.
Like this idea? Sign up for the Foodlets newsletter (at the top of this page) and follow us on Facebook and Twitter so you'll never miss a thing.
And check out our most popular posts for even more simple recipes your kids will love.