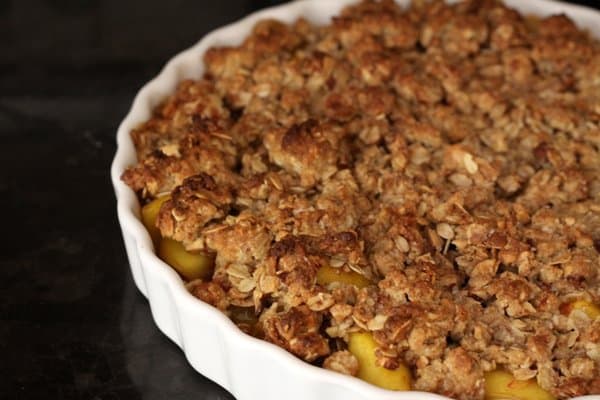 IF YOU WANT TO SCORE POINTS WITH THE RASCALS, serve them dessert for breakfast. Make it this dessert and you won't even have to feel weird about it. It's basically fresh fruit, oats, nuts, a little honey  and yep, wheat germ.
This was actually dessert for our first dinner guest, the same one who shared a tomato salad and the general chaos that is dinner with us last weekend. You could certainly top it with a dollop of whipped cream or ice cream but our kids don't even know about those options yet and still scarfed it all down with wild abandon.
One more thing. Originally this was an Ina Garten creation (as the case is so often I'd devoted a whole section to makeovers of her recipes: Barefoot for Babies) but we made a bunch of kid-friendly health reasons. Here's what we did.
Ina Garten's Peach and Raspberry Crisp gets a…FOODLETS MAKEOVER
Reduced the butter from 2 sticks to 4 tablespoons, and added coconut oil
Cut the sugar from 1 1/4 cups granulated and 1 cup brown sugar to 1/2 cup brown sugar and 2 teaspoons granulated
Added honey and applesauce, 1/3 cup of each
Used whole wheat flour and replaced 1/4 cup with wheat germ
Added 1/2 cup of chopped almonds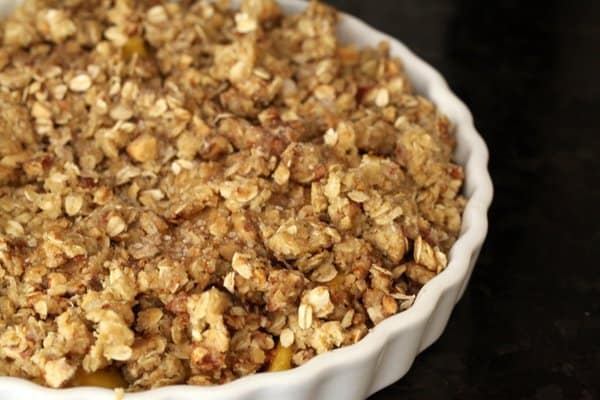 There was just enough left over to have a few tasty bites in the morning.
Here's the Foodlets recipe:
HEALTHIER PEACH CRISP
ingredients
4 to 6 ripe peaches
1 orange, zested
2 teaspoons granulated sugar
1/2 cup light brown sugar, packed
3/4 cup whole wheat flour + 1 tablespoon
1/4 cup wheat germ
1/4 teaspoon salt
1 cup whole oats (not quick cooking)
1/2 cup almonds, chopped
1/3 cup honey
1/3 cup applesauce
4 tablespoons cold unsalted butter, diced
1/4 cup coconut oil
instructions
Turn on the oven, 350. Butter a round or square pan about 9×9.
Peel peaches and slice into bite-size chunks or wedges, then add orange zest, granulated sugar, and tablespoon of flour. Pour the mixture into the baking dish and let the juices start to come out of the fruit as you make the crispy top.
Just use the same mixing bowl again and combine the crisp: 3/4 cup flour, wheat germ, salt, whole oats, almonds and stir. Then add honey, applesauce butter and coconut oil. Use your hands to quickly squeeze everything together until you get clumps. (Or use a mixer with a paddle attachment until everything is pea sized.) Spread over the peaches and bake for 40 minutes or until the juices are bubbly and the top is golden. Allow to cool before serving. (I made this a couple of hours in advance and just left it on the counter to cool and wait for its debut. Worked perfectly.)