RIGHT AROUND 5PM THINGS GET ROUGH at my house, maybe even 4.
There's too much whining and not nearly enough wine.
That's why I love to make dinner earlier in the day and let it just hang out — or in this case, roast away — until we're ready.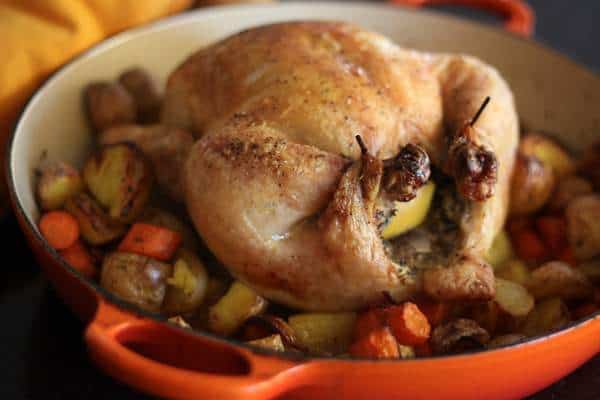 When the cranky hour arrives I can sit with the kids and read a book, watch one of their awesome videos (Veggie Tales, I think you should know we're in a love/hate relationship right now.) or play games instead of running around the kitchen, sputtering things like, "Yes, I know you need help with those scissors George, just a second."
This is one of our favorite make-earlier dinners, and it's a Barefoot Contessa makeover. Love, love.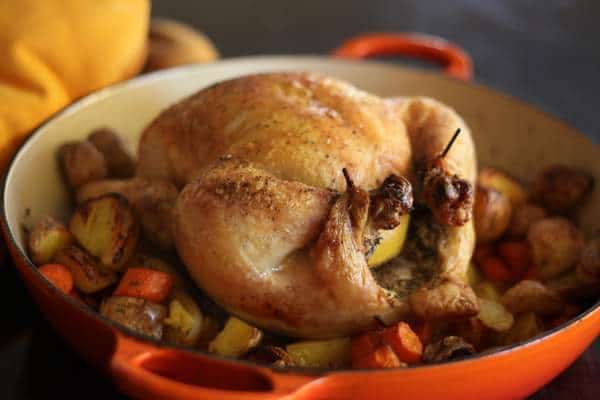 Print
roasted lemon chicken with vegetables, the perfect make-at-nap-time dinner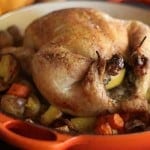 Ingredients
1 5-6 pound whole chicken
4 medium/large carrots, peeled and cut into bite-size pieces
3 medium/small potatoes, cut into bite-size pieces
3 lemons: slice one, quarter the second lemon then reserve the juice and zest of the third lemon
1/4 cup olive oil
1 teaspoon salt
1/4 teaspoon pepper
1 teaspoon dried thyme or 2 teaspoons fresh
3 cloves garlic
Instructions
Preheat oven to 425 degrees F. Rinse chicken with water and pat dry with paper towel.
In a small bowl combine the lemon juice and zest plus olive oil, salt, pepper and thyme. In a large roasting pan, arrange the carrots, potatoes and lemon slices, then pour on half the olive oil mixture. Mix with your hands and arrange evenly around the edges of the pan.
Sprinkle the inside of your chicken with a bit of salt and pepper then fill the chicken with the lemon quarters and garlic.
Coat the chicken with the remainder of the olive oil mixture, just slather it all over the bird.
Secure the legs with 2 toothpicks.
Set the chicken in the middle of the pan, with the veggies all around it, and it's fine if there are some under the chicken too.
Roast for 1 1/2 hours, and let sit for 15 minutes before carving.
adapted from two recipes: Ina Garten's Perfect Roast Chicken + one-pot lemon chicken with potatoes and green beans