THERE ARE TWO WAYS TO MAKE THESE–one involves chocolate while the other is packed with chia seeds, flaxseed and dried cranberries–and believe it or not, both are delicious. We're focusing on the second option here, but you can zip right over to eHow to get our chocolate version too.
In a long line of yummy ideas coming from Florida (including easy baked eggs, zucchini lasagna and whole wheat jam tarts) this is a recipe from Paul's mom. And once again, it's amazing.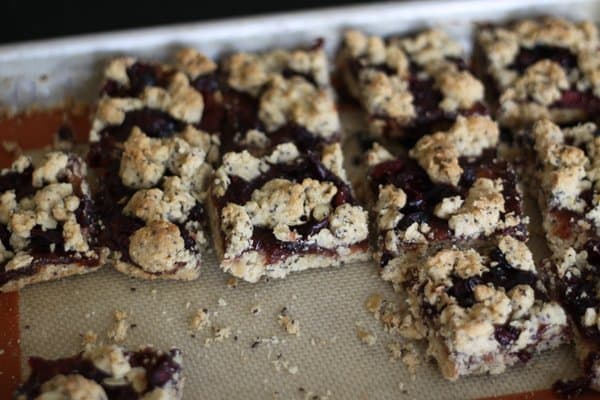 They're easy to make, nutritionally dense (meaning, each bite is pretty darn healthy) and low in sugar. A shoe-in for preschool snack day. So how did they go over with the under-six set? Like our sandwiches on a stick, there were a few leftovers as I walked through the doors to collect the tray. But by the time I had it outside, a little herd of preschoolers had gathered around to push, shove and "hey, I want some" over the remaining bars…before moving on to the crumbs and doing the same thing. It was the cleanest pan I've ever brought home, if you don't count dozens of little fingerprints. I can't say whether your crew will be the ones who left their bars or angling for every last bite but I will give you the recipe right here.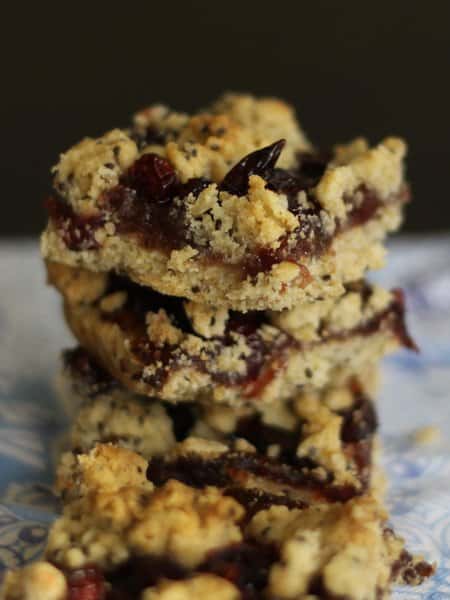 Buttery-But-Healthier Oatmeal Bars with Jam
There's a lot of butter in this recipe and I've tried substituting half for applesauce. The bars weren't nearly as good and for my money, I'm happier to include real, organic butter than a bunch of sugar any day.
ingredients
1 1/2 cups whole oats (not quick cooking)
1 1/2 cups whole wheat flour
1/2 cup brown sugar
1/4 cup flaxseed
1/4 cup chia seeds
1 teaspoon baking soda
1/2 teaspoon salt
1 cup butter, softened
1/2 – 3/4 cup low-sugar jam or fruit spread
1/3 cup dried fruit, such as cranberries
instructions
Preheat oven to 375 degrees F. Grease a 13 x 9 pan or use a silicone liner.
In a large bowl combine everything EXCEPT the jam and cranberries and use your hands to kneed everything into a big ball (or let the kids do it). Set aside about a cup of the oat mixture. Pour the rest onto your prepared pan and push it down, to the edges and everywhere so you have a flat layer of oat mixture covering the bottom of the pan completely. Bake for 10 minutes.
Remove from the oven and allow to cool for about 10 minutes. Then smear the strawberry jam on top, coating the oats completely. Sprinkle on dried cranberries. Finish by breaking up the remaining oat mixture into little chunks and distribute evenly but don't worry about making it a full layer. The jam and cranberries should peek through. Bake for 25 minutes. Allow to cool and cut into bars.
Store in an airtight container at room temperature.