"Are there any more?" That's the only question my third grader has when I make these Instant Pot Italian Beef Sandwiches for dinner.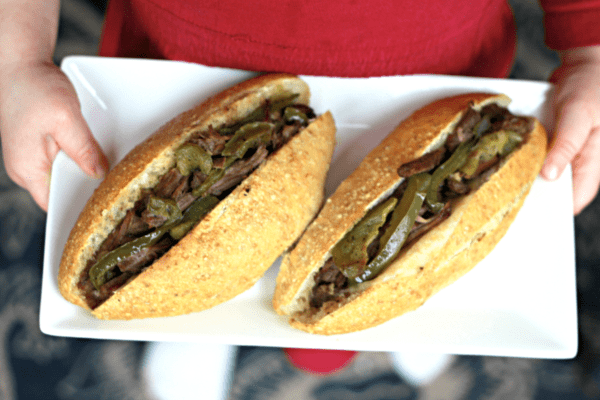 Lucky for her, this recipe makes enough to feed our family of 6 at LEAST twice. If you're cooking for a crowd without spending a fortune–or want to freeze leftovers for an instant dinner on another night–this is your recipe.
Plus, these Italian Beef Sandwiches are a one-pot recipe and great for Instant Pot newbies.
And the green peppers? Non-negotiable. I haven't been a big fan in the past but these MAKE THE WHOLE SANDWICH. Just trust me.
Foodlets Reviews
These reviews are real comments from my four very real children–and I only add recipes to Foodlets with at least 3 Thumbs Ups. Here's what they think: 
George (6) "I like the cheese."
Phoebe (8) "I would like more. Yum."
Violet (3) "Mmm. Thank you for making this, Mommy. You the best sister in the world!"
Estelle (6) "I like that it's big and warm."
How to make Italian Beef Sandwiches in an Instant Pot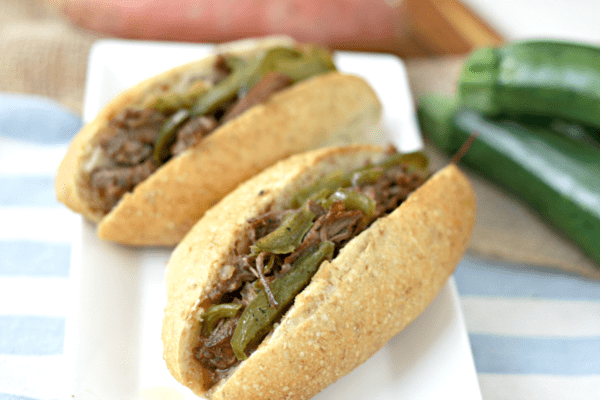 Print
The Instant Pot Italian Beef Sandwiches My 8YO Can't Get Enough Of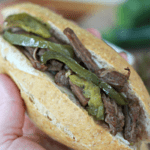 Don't be put off by the number of ingredients; they're mostly spices and you probably have all of them at home already. But DO slice your buns from the top, rather than the side, to get your cheese perfectly melted.
Author:
Cook Time:

65 mins

Total Time:

1 hour 5 mins
Ingredients
4 teaspoons olive oil
2 medium green bell peppers, cored and sliced
2 teaspoons dried oregano
1 teaspoon dried basil
1 teaspoon onion powder
1 teaspoon paprika
1 teaspoon freshly ground black pepper
1 teaspoon kosher salt (plus more for the peppers)
1/2 teaspoon dried rosemary or 1 teaspoon fresh
1/2 teaspoon dried thyme
1 teaspoon garlic powder
3 pounds beef chuck roast, trimmed and cut into 2-inch cubes
1 tablespoon olive oil
1 medium onion, thinly sliced
3 cloves garlic, minced or put through a garlic press
2 cups beef broth
6 (6-inch) crusty sub or sandwich rolls
Sliced provolone cheese
Instructions
Sauté the green peppers: Turn your IP to "Sauté" and heat 2 teaspoons of the oil until shimmering. (Save the last 2 teaspoons.) Add your sliced bell peppers and sauté until tender. Season with salt and pepper to taste. Set aside until the sandwiches are ready to be assembled.
Cook the onions and garlic: Add 1 teaspoon of olive oil to your IP and cook the onions and garlic until tender, about 2-3 minutes.
Make the beef: Turn the Sauté setting off. Place your cubed beef inside. Sprinkle with all the spices — oregano, basil, onion powder, paprika, black pepper, salt, rosemary, thyme, and garlic powder — tossing to combine and coat the cubes evenly.
Add the beef broth. Lock the lid into place. Cook on high pressure for 35 minutes.
Finish the beef: Once the cooking time is complete, turn IP off. Do NOT allow it to switch to warm. Allow the pressure to release naturally (takes about 20 minutes). Unlock the lid and test the meat. It should be fork-tender; if it isn't, replace the lid and cook for an additional 5 minutes under high pressure, followed by a 10-minute natural release.
Transfer the beef to a large bowl and shred with 2 forks. Return the shredded beef to the pressure cooker insert.
Make the sandwiches: THIS IS IMPORTANT: Split the rolls from the top. Fill with 1-2 slices of cheese. Place the split rolls topped with cheese under the broiler until the cheese melts, about 1 minute. Spoon the shredded beef onto the sandwich. Top with sautéed green peppers.
Ladle on some of the cooking liquid or serve with the cooking liquid in individual bowls for delicious dunking.
P.S. These reheat like a dream. Just assemble all the ingredients COLD, place on a lined baking sheet under the broiler on LOW for 2 minutes. The beef should be warm and the cheese bubbly.
Looking for more Instant Pot recipes to try? If you haven't made "hard boiled" eggs in an Instant Pot yet, stop everything and do it. Right now. You've never had peels come off so easily.
This post contains affiliate links. When you make a purchase, Foodlets receives a very small commission at no extra cost to you. Thanks for your support!