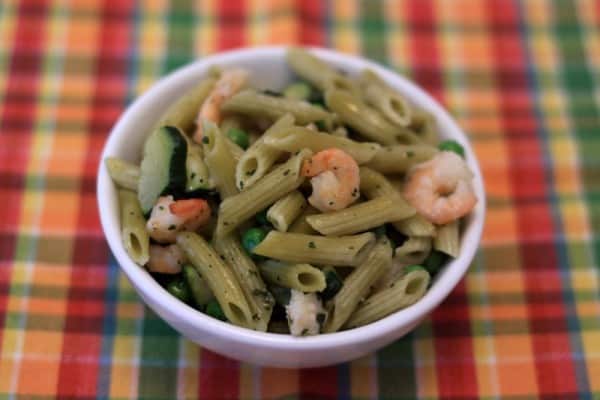 DON'T ADJUST YOUR COMPUTER SETTINGS. This pasta is indeed a bit green. That's because it's got built-in veggies (spinach and zucchini) and the even more exciting news is this: our kids love it.
Looking to create a healthier version of Shrimp Fettuccine Alfredo, I whipped up what turned out to be a simple, fast and versatile dinner in under 20 minutes. No cream involved. (And trust me, at 35 weeks with our third baby, certain people don't need cream…unless it's ice cream and that's a different story.) I started with a new kind of pasta from the store which claims to be 20% vegetables, plus the small size ensures a quick cooking time. Two things I like very much. And I'm not the only one. Both little guys made it a two-plate night.
Picky eater version: If you have babies or picky eaters who might be adverse to eating shrimp, just omit it from their portions. Fill in with white beans from a can or box. Just rinse the beans in hot water which will remove the salty solution they're stored in plus get them a little warmer.
PENNE WITH SHRIMP, PEAS AND ZUCCHINI
ingredients
1/2 pound (1/2 box) miniature penne pasta (whole wheat, spinach or regular)
2 tablespoons extra virgin olive oil
1 medium zucchini, sliced and quartered
2 teaspoons garlic powder (divided)
1 teaspoon salt
1/2 teaspoon pepper
2 tablespoon fresh basil, finely chopped (divided)
1 pound baby shrimp (fresh or frozen)
1 cup frozen (or fresh) peas
1 cup Parmesan cheese, grated
instructions
Bring a large pot of water to a boil and add pasta. Cook according to instructions MINUS two minutes.
Meanwhile, heat a large skillet over medium-low heat and add oil. Cook zucchini with salt, pepper and 1 teaspoon garlic powder for 5 minutes. Add shrimp and cook until pink, about 3 minutes. Add 1 tablespoon basil and stir. The pasta should be done at this point. Drain but reserve 1 cup of cooking water. Add pasta to shrimp and zucchini and stir. Add peas and 3/4 cup of Parmesan cheese. Stir and add pasta water to loosen as needed, 1/4 cup at a time.
Pile onto plates or bowls and garnish with remaining basil and Parmesan cheese plus a drizzle of extra virgin olive oil, salt and pepper.