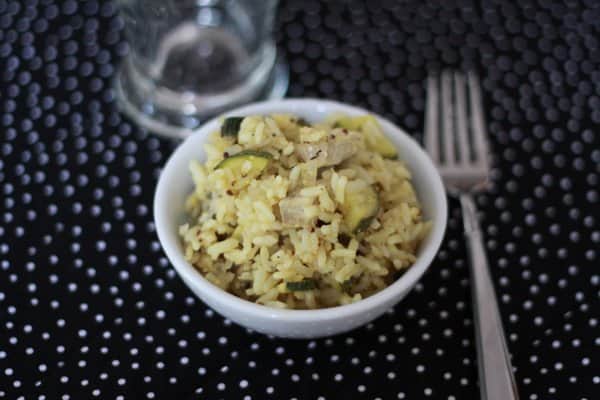 IT'S MESSY BUT THEY LIKE IT. We've had success with rice and baked risotto too, plus I know a little pork and mustard combo goes a long way with this crowd, so a combination like this one was just waiting for zucchini season to hit full swing. Here we are.

The nice thing about this kind of dish is the ease: throw it in a pot all together and let it bubble until the urchins are sitting politely at the table with napkins in their laps. JUST KIDDING. That poor rice would be boiled away to nothing if that were the case… But with five ingredients in a pot,  it really is easy to make. And this is how we did it.
STOVE TOP RICE WITH PORK AND ZUCCHINI IN MUSTARD SAUCE
ingredients
1 1/2 cups brown rice
3/4 pound pork, cut into bite-size pieces
3 cups chicken broth
2 tablespoons Dijon mustard or 1 tablespoon Dijon mustard and 1 tablespoon grain mustard
3 cups zucchini, chopped into bite size pieces
 instructions
Place first four ingredients together in a heavy bottomed pan uncovered. Bring to a boil. Turn down to the lowest setting and simmer until rice is tender and pork is cooked through, about 25 minutes. Add zucchini for the last five minutes.