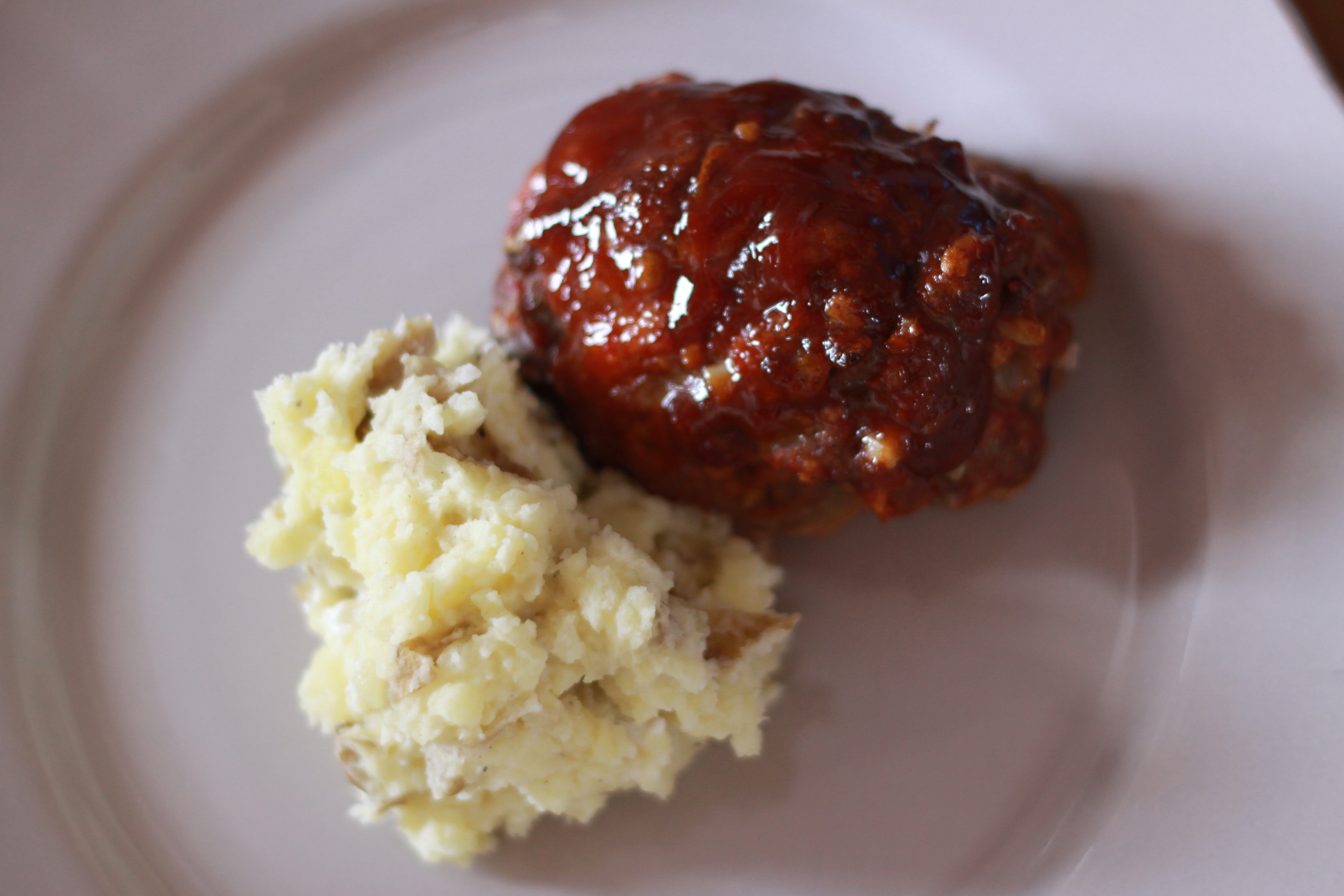 ANOTHER WIN! Trust me, I was due. One of my hopes here  is to update a few classics that I enjoyed as a kid and introduce them to my own family. This meatloaf has a secret but not so surprising ingredient: sausage. Lots of meatball recipes include a combination of ground pork, veal and beef. I'm not a big veal person, especially when pregnant, but I just can't pass up pork. The sausage added a great flavor but it did make the pan a little greasier so I wouldn't go overboard; and if your crowd eats spicy foods you could certainly try hot sausage. Phoebe has a delicate 15-month old palette and I come from Irish folk so we don't do a lot of spices here.
[youtube=http://www.youtube.com/watch?v=8skBHf8ll9I]
One bonus of cooking mini-meatloaves is a fast cooking time; a huge asset for the onset of afternoon crankiness. (Around this time Phoebe gets a little whiny too.)  After 30 quick minutes, dinner was ready! (And no one said anything like "yum-o" even once.) For the grownups, we just ate everything the regular way. With knives and forks and plates. For Phoebe, I mashed everything together and added steamed peas. And to add a little extra Phoebe-friendly flavor, I drizzled extra virgin olive oil on top. It's always a favorite. Thank you Italy.
Mini-meatloaf with Parmesan smashed potatoes
Makes about 6 generously sized meatloaves
1 tablespoon butter
1 small onion, finely diced
1/3 cup carrot, finely diced (about half of a medium sized carrot)
2 cloves garlic, finely diced
1/4 cup fresh parsley chopped well
1 1/2 pounds ground beef
1/2 pounds sweet sausage (turkey or pork). If using links, remove casings
1/2 cup oatmeal
2/3 cup ketchup (reserve 1/3 cup for sauce)
2 tablespoons steak sauce such as A-1
1 egg lightly beaten
1/2 teaspoon salt
1/4 teaspoon pepper
2 tablespoons brown sugar, optional
Preheat oven to 375 degrees.
Melt the butter in a skillet and saute onion and carrots together on medium low heat until onions are tender, about 5-7 minutes. Add the garlic plus parsley and cook another 2 minutes. Let cool.
In a large mixing bowl combine remaining ingredients (beef, sausage, oatmeal, 1/3 cup of ketchup, steak sauce, lightly beaten egg, salt and pepper), reserving half of the ketchup. Use your clean hands, it's just easier. But take care to not overdo it. Once everything is nicely combined form 6 mini loaves with your hands and set 1-2 inches apart on a baking sheet or 9 x 13 cake pan. (Be careful not to crowd the pan or the meatloaves won't cook evenly or brown nicely.)
If using brown sugar, combine with the remaining 1/3 cup ketchup. Use a brush to slather the ketchup mixture all over the top of the loaves. Some recipes suggest waiting until the end of the cooking process to add this topping for fear of burning. But since our loaves are so small the cooking time is much faster and shouldn't be in danger of burning at all.
Bake for 30-35 minutes.
Parmesan smashed potatoes
1 pound red or yellow new potatoes, cut in half (quarter the particularly large ones)

1/2 cup plain yogurt
1/4 cup milk
1 tablespoon butter
1/2 cup freshly grated Parmesan cheese

pepper to taste

Scrub the potatoes and cut in half, but leave the skins on. For any especially large potatoes, cut into quarters; the idea is to make everything basically the same size so it cooks evenly. Put the potatoes into a large sauce pan or stock pot and cover with cold water. There should be about 2 inches of water above the potatoes.

Bring to a boil then reduce heat to a simmer. Cook for approximately 25 minutes, checking the potatoes after 20 minutes. They should be fork tender.
When the potatoes are ready, drain the water and leave the potatoes in the colander with a clean dish towel on top for an extra 10 minutes. The extra bit of steam will soften the potatoes even more. While the potatoes are still warm, transfer back to the pan. Add the milk, yogurt, cheese and butter then mash with a potato masher until you see the consistency you want. I like them chunky, especially with the skins still on. Don't go too far otherwise your potatoes will be sticky. Add pepper to taste. The cheese will likely make the potatoes salty enough but add a little at the end if you like.