THESE DIDN'T WORK OUT. Not really anyway and it's my fault. I made them for a friend who's just had a new baby plus the playgroup. I know from experience that when you've recently given birth, you're a. tired b. hungry and c. usually packing a few extra lbs, which calls for smart eating. That's why I thought a low-sugar, high-nutrition snack would be perfect for both groups. And it would've been but these were not it. Why? Not only did I forget baking soda I also forgot baking powder. Why? I just didn't see either one in the recipe. I even thought to my obviously exhausted self at the time, "That's weird! What kind of cookie has no baking soda or powder?" So, they were super chewy and not really fluffy. So, rats.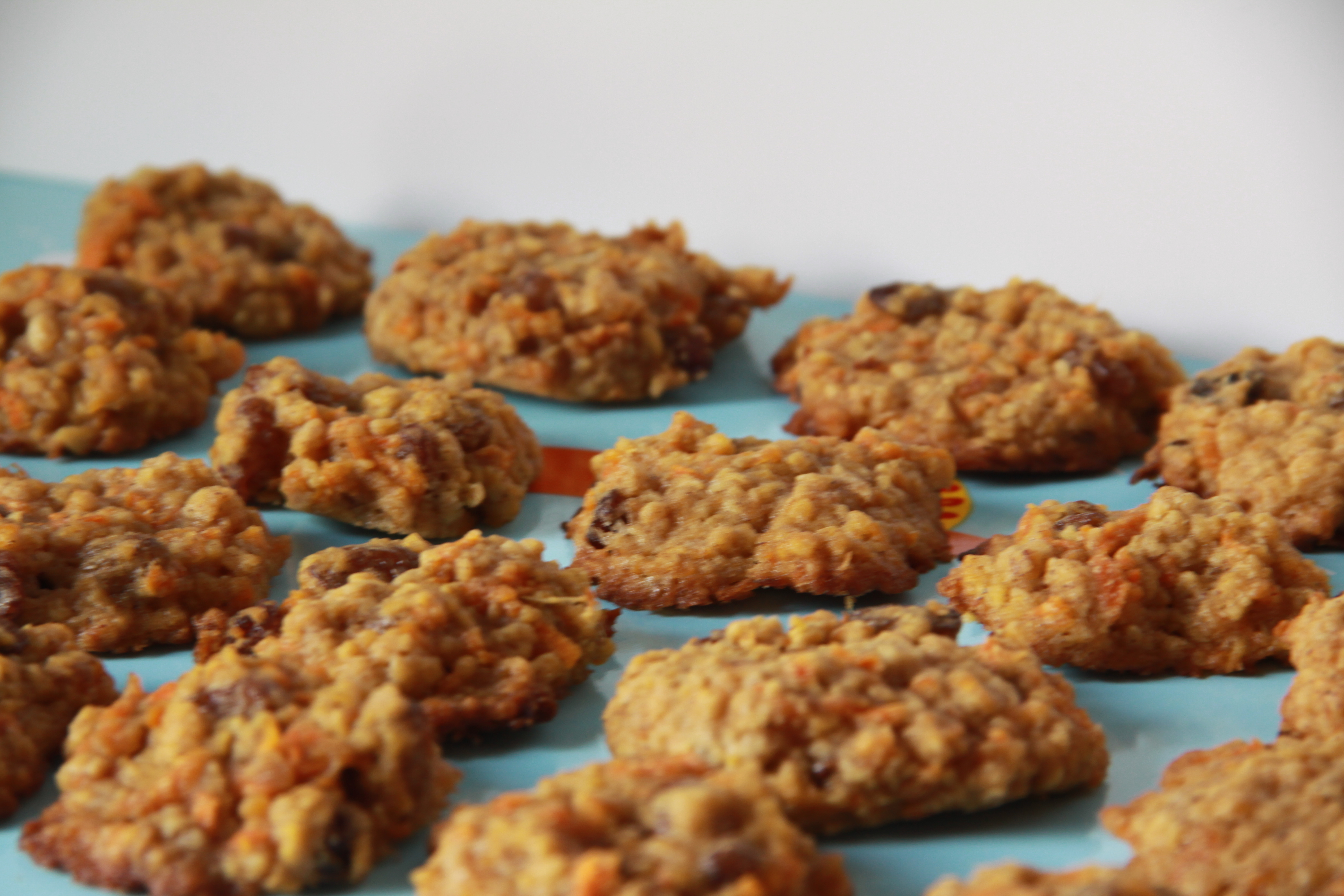 I've made these cookies before, years ago when I was training for the New York City Marathon and raising money for Fred's Team. The team donates funds toward cancer research in honor of Fred Lebow, the man who started the NYCM and sadly died of cancer years later. My version of fund raising came by way of a bake sale. Generous (and hungry) coworkers at iVillage made for the perfect afternoon audience and I remembered Martha Stewart's Carrot Cake Cookies being a particularly big hit. Maybe it was the cream cheese filling (because really, what's better?), maybe it was the fun of a hand-held carrot cake. Either way, these were a handful of goodness at $3 a pop. (Thanks again everyone!)
But I couldn't find that recipe online anymore. The only thing I could locate on MarthaStewart.com (my former place of employment) was a similar recipe from Everyday Food. Nothing against EDF, I've made and savored several of their dishes (and particularly enjoyed working with the magazine team), but their stuff is made for speed. It's designed to be simple and easy to make. I wasn't looking for a big job with these cookies but I did want to pull out all the flavor stops because there's one more thing about this mission. Phoebe doesn't like carrots. Most little kids don't seem to enjoy them beyond babyhood; the flavor just seems too strong. But mixed with raisins, her all-time favorite food, I thought they had a shot.
Sufficed to say, they were okay. But just okay isn't enough for a cookie facing an uphill battle in the first place. Maybe you'll try the version that I made, adapted from the Everyday Food recipe below. If you like carrot cake–and you add all of the ingredients–you'll probably like these.
CARROT AND RAISIN COOKIES
Adapted from Everyday Food
1/2 cup packed light-brown sugar
1/2 pound (2 sticks) unsalted butter, room temperature
1/2 cup honey
2 large eggs, room temperature
1 teaspoon pure vanilla extract
2 cups all-purpose flour
1 teaspoon baking soda
1 teaspoon baking powder
1/4 teaspoon salt
1 teaspoon ground cinnamon
1/2 teaspoon ground nutmeg
1/2 teaspoon fresh ginger
2 cups old-fashioned rolled oats
2 cups finely grated carrots, (about 4 large carrots)
1 cup raisins
1. Preheat the oven to 375.
2. Mix the butter in a stand mixer on medium for about a minute and add the sugar and beat for another 2-3 minutes. Add the eggs one at a time, mixing after each one. Add honey and vanilla then mix.
3. Sift together the flour, BAKING SODA, BAKING POWDER, salt, cinnamon, nutmeg and ginger. Incorporate until just mixed in then add the oats, carrots and raisins. Stir again but only until everything has come together.
4. Form dough in 1 inch balls then flatten out with your palm. Place on a buttered cookie sheet and bake for 12-15 minutes. Less time if you're making smaller versions for kiddies.