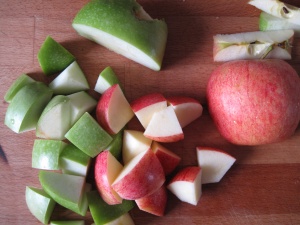 IT'S DINNER TIME AND  it's fall and that means…apples. This recipe was featured in my most recent Food Network magazine (which I actually love, for many reasons, but won't go into that now). It's simple, seasonal and really good!
For Honey-Mustard Chicken and Apples, you brown the chicken thighs (which are juicier, cheaper and more flavorful than white meat)  on the stove top then take them off to cook the apples and onions together. Put them all back in the pan, add some honey-mustard and a cup of chicken broth before tossing the whole thing in the oven for just a bit. Here the juices come together and the chicken finishes cooking in time for you to steam a few veggies to go along.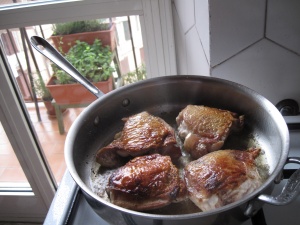 Now let's talk about Food Network magazine. I subscribed a while ago because we don't get the Food Network in Italy and I'm just a fan. And a former employee of HGTV, a sister network. I wanted to stay up on what people are cooking in the States–or at least what they're watching other people cook! The magazine itself is full of ideas, recipes, kitchen designs and clever layouts. I give it a thumbs up, and based on this recipe for Phoebe, a mini thumbs up too.