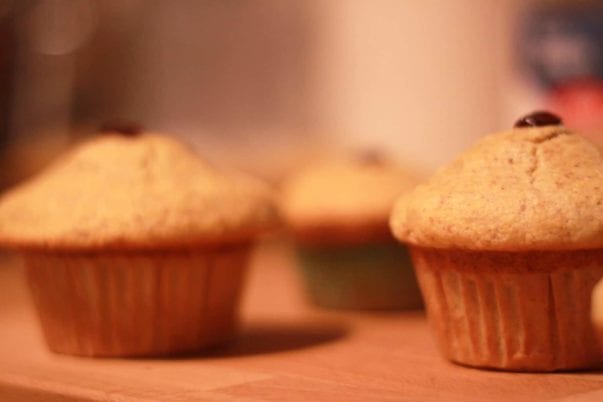 ANOTHER WEEK, ANOTHER PLAYGROUP, ANOTHER BAKED GOOD. This time we tried something even more healthy…but it didn't start that way. Barefoot's corn muffins promise to be moist and delicious, which is easy to believe when you consider the half pound of butter called for in the original recipe. That won't work for us so we started experimenting. And this time it worked!
First, I cooked up a bunch of fresh applesauce (four apples, 1/4 cup of sugar, 1/2 cup of water, 1/4 teaspoon of cinnamon simmering until the apples are mushy, about 15 minutes), cooled it off and substituted applesauce for half the melted butter. I changed the flour too, instead of three cups of white flour I used a blend inspired by The Sneaky Chef: one cup all-purpose flour, one cup whole wheat flour, one cup wheat germ. Plus cornmeal. Then we tackled the sugar. I cut the amount in half and for the jam filling I used a combination: sugar-free strawberry and regular blackberry. The original recipe uses regular raspberry jam but it's super sugary and not available in Italy anyway, so our combo evened out the flavor and the sweetness too.
CORN MINI-MUFFINS WITH JAM FILLING
Adapted from The Barefoot Contessa

This recipe makes enough batter for two dozen mini-muffins and six large muffins. Both freeze beautifully.
1/2 cup butter, melted and cooled
1 cup all-purpose flour
1 cup whole wheat flour
1 cup wheat germ
1/2 cup sugar
1 cup corn meal
1 1/2 teaspoons salt
2 teaspoons baking powder
1/2 cup applesauce
2 large eggs
1 1/2 cups milk
1 cup sugar-free or low-sugar jam (raspberry, blackberry or strawberry work best)
Preheat the oven to 350 F. Prepare one mini-muffin pan plus one large-sized muffin pan with paper liners.
Melt butter and cool, then add applesauce, milk and eggs. (Be sure it's really cooled before adding the eggs or you'll get a quick scramble!) In a large mixing bowl, whisk together flours, wheat germ, sugar, corn meal, salt and baking powder. Pour in the liquids and combine until just mixed through. Pour into muffin tins, filling all the way to the top.
Bake at 350 F for approximately 10 minutes (mini-muffins) and 20 minutes (large muffins). Cool on a wire rack.
When cool, use a pastry bag fitted with a medium steel tip or pressed cookie maker to fill with jam: plunge each muffin from the top, squeezing until you can feel resistance and see the muffin top start to rise. Pull out the point and allow a dollop of jam to flow up through the top. Store in the an airtight container in the refrigerator for three days or in the freezer for two weeks.