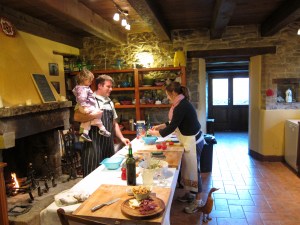 WE TOOK A TRIP to the Le Marche region of Italy this spring…and it was delicious. Our hosts were a young couple from the States, transplanted to the Italian countryside where they run La Tavola Marche, a beautifully restored villa turned B&B for food lovers.
During our stay I took a cooking lesson from Jason, a classically trained French chef, who showed me a handful of Italian dishes designed to delight any age group. Now, I cook a lot and consider myself fairly skilled but when I step inside a professional kitchen, something happens. Suddenly I no longer possess the skills to dice an onion and find myself asking silly questions, "Wait, am I using this measuring cup right?" Anyway, aside from my obvious culinary confidence problems, our afternoon together was a total treat, literally and figuratively.
Despite his French background he cooks local fare, prepared the local way, exclusively. When I asked Jason how he learned these recipes his answer was fascinating, and heartening to my ex-pat ears. He and his wife Ashley were something of a novelty when they first arrived in the countryside, he said. Young and foreign, they became a popular pair to invite for dinner. He'd ask if he could come early to help and along the way learned dozens of local recipes and techniques. "Now when people are preparing something special, they actually call me to see if I'd like to come over and learn how to do it." (Note: No one has ever asked me if I wanted to learn anything in Rome, but I digress.)
His first piece of advice to me was about the ingredients. "Something happened when I started making only regional dishes using what's in season now," he explained. "Everything got really simple and basic. You don't have to do as much with the food because it's all so fresh and vibrant." I'd heard this idea dozens of times and though I wasn't exactly skeptical, I wondered if it would be boring. Um, no. It was divine.
With those delicious dishes as inspiration, here are:
5 Italian foods kids love
1.PANNA COTTA. It's like pudding, with chocolate sauce and fresh strawberries, so what half-pint could resist?
2. PIZZA. But not delivery. Try it the Italian way with a thin crust (even better, make it whole wheat or kamut) and pile on the veggies. In our house this means yellow and red peppers, tomatoes, onions (really) and if you've got meat holdouts, just sprinkle on a little peperoni or turkey sausage. Use meat as an ingredient instead of the main course.
3. PASTA. Handmade is the thing around here but honestly, it takes ages and I'd prefer to serve whole wheat pasta anyway. That said, kids will eat pasta with just about anything on top, from plain butter to Parmesan cheese to red sauce. More on this in another post…
4. STUFFED TOMATOES. Most little guys like tomatoes so why not pack it full of the good stuff, meaning, the good-for-you stuff? We used rice but I'd try barley or even quinoa mixed with a little marinara sauce, cheese and herbs.
5. ROASTED VEGGIES. If your kids are reluctant to get up close and personal with a carrot, try this. Cut up a bunch of root or larger veggies (anything: potatoes, peppers, eggplants, zucchini, even cauliflower) into large pieces. Drizzle with olive oil, salt and pepper and put in a hot oven, 425, for about 35-40 minutes. Turn once. To make this dish even more kid-friendly, add a liberal sprinkle of breadcrumbs plus more oil on top. Suddenly veggies seem more like an Italian version of french fries.
Agriturismo Ca'Camone
Via Candigliano
61046 Piobbico (PU)
tel.  +39 331.525.2753