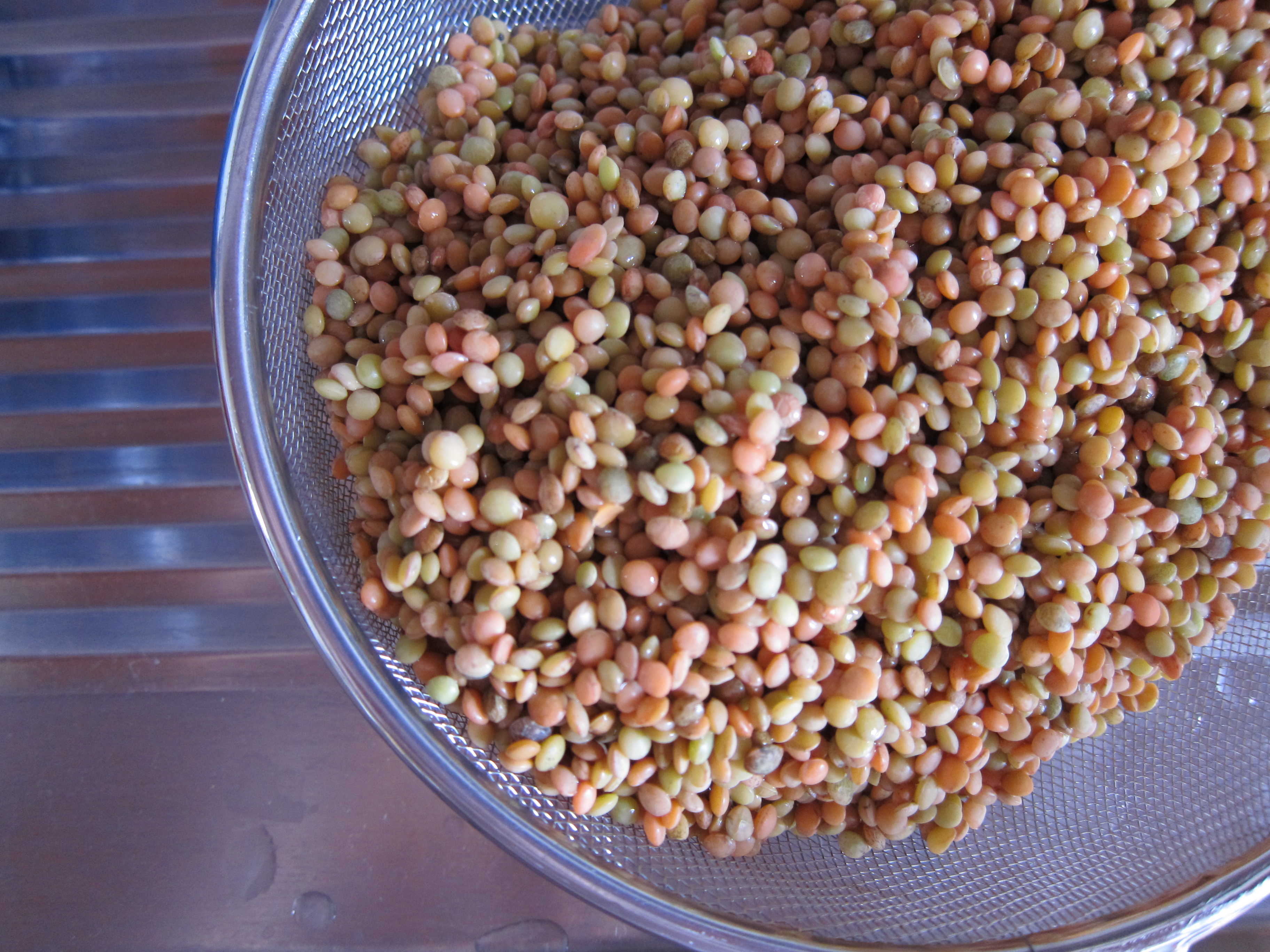 WE LOVED IT, PHOEBE DIDN'T. Such is life, especially when you've got a toddler. This lentil soup, originally inspired by the Barefoot Contessa, is a favorite for Paul and me but this time I added a couple of special ingredients: lentils that Paul got from the Salone Del Gusto food festival plus fresh turkey sausage. Lentils are such a great source of protein and fiber, plus this soup makes a perfect meal any time of year.
To top it off, we had the good fortune to slather toasted bread with fresh olive oil, picked and processed by hand from Paul's co-worker and friend David Bowen.
None of this mattered to Phoebe. She ate two bites and moved on to a banana. Two nights in a row.
ingredients
1 pound green lentils
1 pound turkey sausage (cooked)
1/4 cup olive oil, plus extra for serving
4 cups diced yellow onions (3 large)
4 cups chopped leeks, white and light green parts only (2 leeks)
2 tablespoons minced garlic (4 large cloves)
1 tablespoon salt
1 1/2 teaspoons freshly ground black pepper
1 tablespoon minced fresh thyme leaves
1 teaspoon ground cumin
3 cups medium diced celery (8 stalks)
6 cups medium diced carrots (6 to 10 carrots)
3 quarts chicken stock or canned broth
1/4 cup tomato paste
2 tablespoons dry red wine or red wine vinegar
Parmesan cheese grated on top
directions
Start by pouring the lentils into a large bowl and cover with water. Allow to sit for 15 minutes then drain. While you're waiting for the lentils, get started on the sausage.
Use a large stockpot and begin with olive oil over a medium burner. Cook the sausage until it's done, then remove to a plate. Add a little more olive oil then saute your onions, leeks, garlic, salt, pepper, thyme, and cumin. Cook for about 20 minutes, or until the vegetables are translucent and tender. Be sure to turn your burner down so you don't brown the veggies, you just want them to be soft and tender. Add celery and carrots and saute for another 10 minutes. Add the chicken stock, tomato paste, and drained lentils, cover, and bring to a boil. Once the soup is boiling, reduce the heat again and simmer uncovered for about an hour. Check for salt, pepper, cumin or herbs. When the lentils are tender you're ready to add the sausage and red wine. Serve drizzled with olive oil and sprinkled with grated Parmesan.