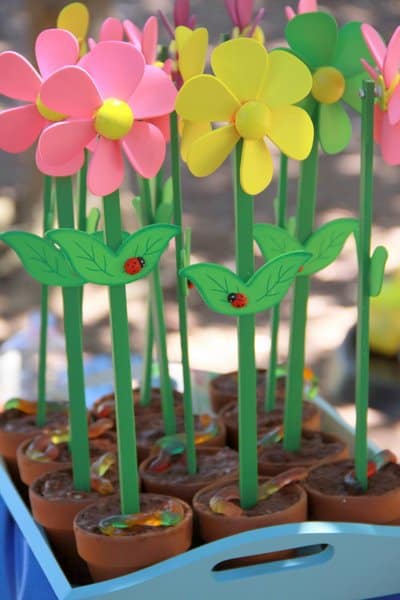 THE DIRT CUPS WERE a process. For Phoebe's second birthday I set out to create a garden party in Villa Ada, Rome's largest park. And the star of the show, other than the birthday girl's pretty fabulous tutu, was the "dirt cups", aka, brownies and pudding mixed together in tiny terra cotta pots with worms, dirt and a flower on top. One for every tiny guest. Here's how it went.
First find "cups"  at a nearby garden store then make low-fat-low-sugar-still-yummy pudding. Next bake brownies (secretly packed with spinach, berries and wheatgerm) and find those gummy worms to put on top (which I couldn't). Assemble. Wipe off the large drips, drops and chunks mutinously appearing everywhere but inside the clay pots. Chop off tails from gummy mice (which I did find here in Rome) and pretend they are worms. Arrange festively and count lucky stars that these adorable pinwheel flowers were so easy to find at the casa linga, the equivalent of a dollar store in the States.
I made the brownies twice: first using The Sneaky Chef "Brainy Brownies" recipe with "secret" ingredients spinach, wheatgerm and blueberries, then again substituting a mix of raspberries and blackberries for the blueberries. Those were actually much tastier.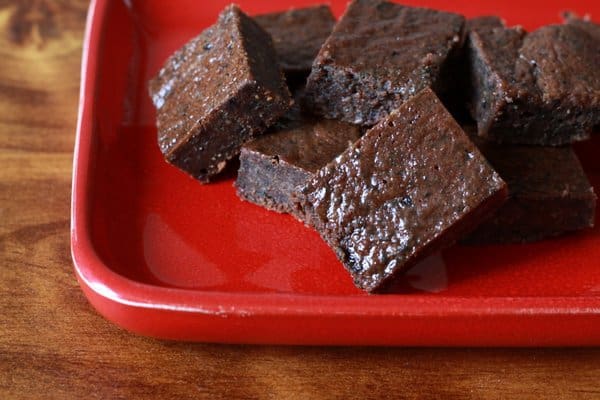 When it came to the pudding, I skipped a store bought mix. And by store bought, I do mean commissary bought. Italians don't do J-E-L-L-O. Instead I tried a make-it-from-scratch recipe from Oprah's own Bob Greene, which promised to be rich and delicious yet low in sugar and fat. All this from only five simple ingredients (chocolate, cornstarch, milk, cocoa powder and sugar).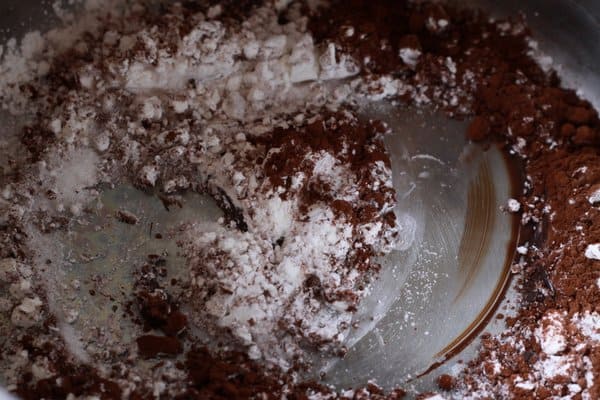 So, a top a double boiler, I put it all together. The result was pretty good. Not outstanding and I probably wouldn't make this again but for the parfaits on the way, this pudding was fine.
As usual, I had help.
And by help I do mean a toddler in the kitchen. But despite the mess, she makes an excellent taster (which goes particularly well when I'm cooking veggies; she eats much more produce at this counter than she ever does in her highchair.)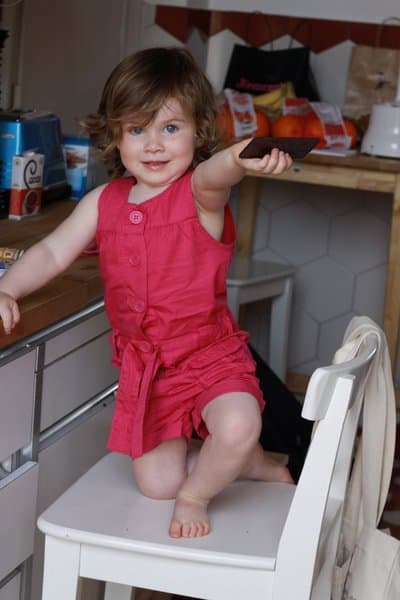 And the party turned out to be pretty fun too.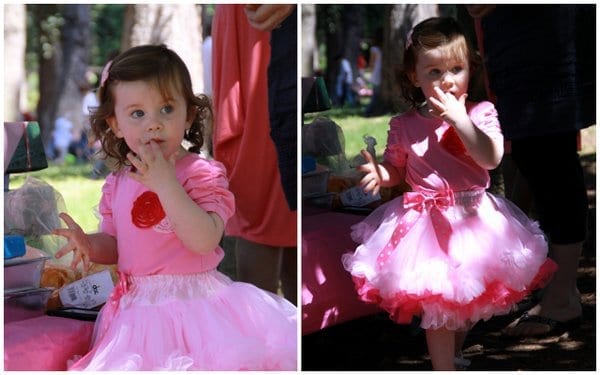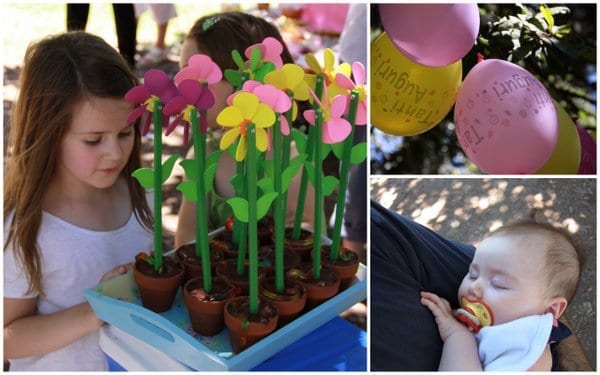 Also on the menu was a variety of kiddie-friendly, happy-adult foods:
Whole wheat peanut butter and jam sandwiches–cut in flower shapes
Pizza bianca + pizzatini
Tons of fruit: strawberries, apricots
Ginger peanut pasta salad with grilled chicken, fresh peppers and asparagus
Herb vinaigrette potato salad with crispy bacon
More on these last two soon. They're both variations on Barefoot Contessa dishes; still delicious just better for you.