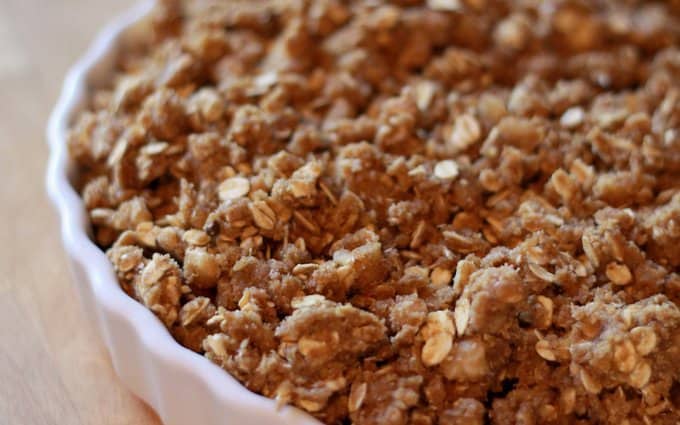 WE WERE HEADED FOR THE BEACH and needed to bring a dessert for lunch afterward. The requirements were simple enough: must be baked ahead of time and also hold up for an hour in the car. (And if it could not involve a 30-pound Le Creuset baking pan, even better.) There would be six adults, two toddlers and two babies which meant it better be something good.
Earlier in the week our babysitter arrived with a bag full of purple plums, freshly picked from a friend's tree. That's when I consulted my Food Network iPhone app and searched for plums + The Barefoot Contessa. She had a plum crunch recipe that looked divine but was also packed with sugar and butter, as usual. So I set out to update her recipe in a healthier way. It was still delicious, as usual.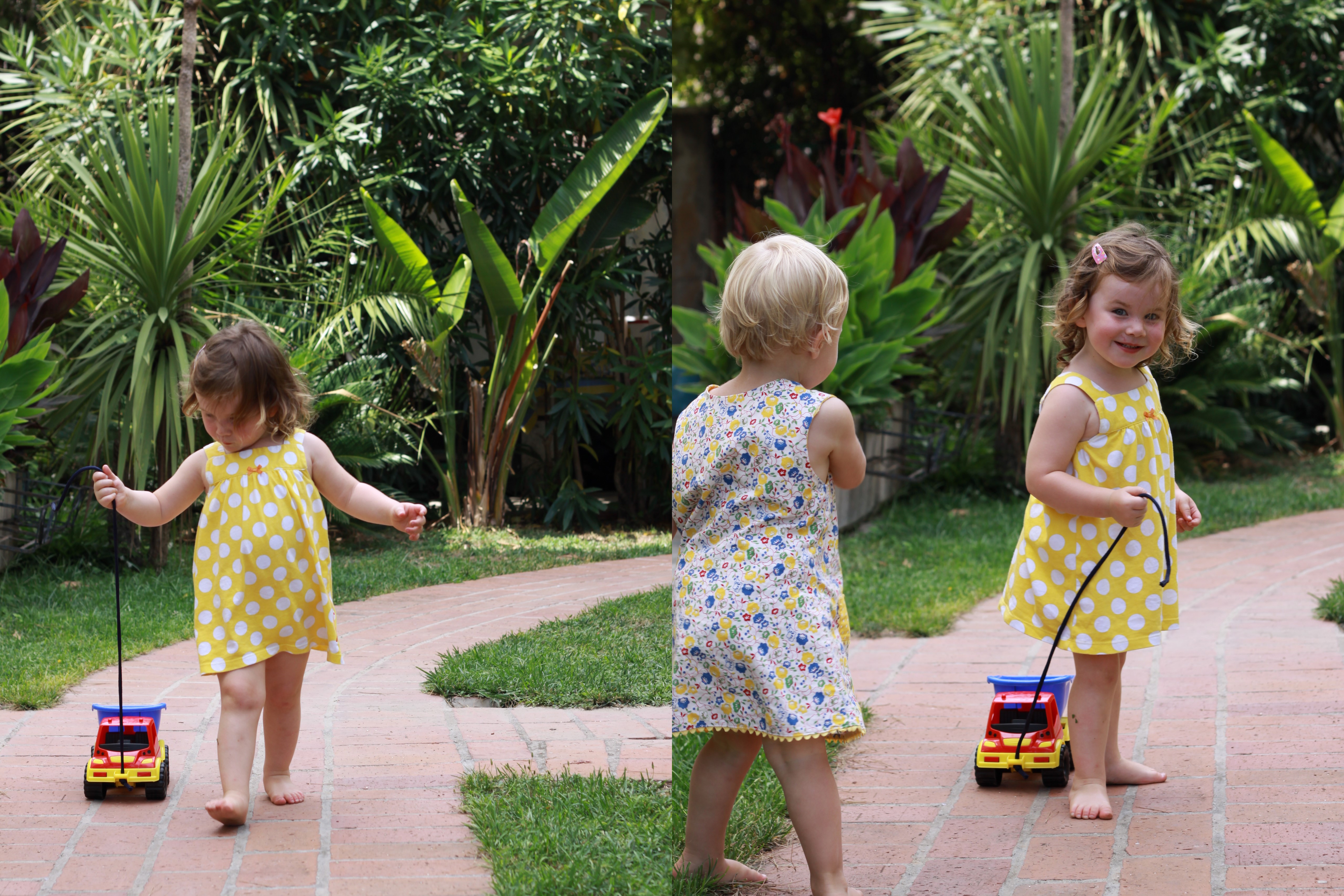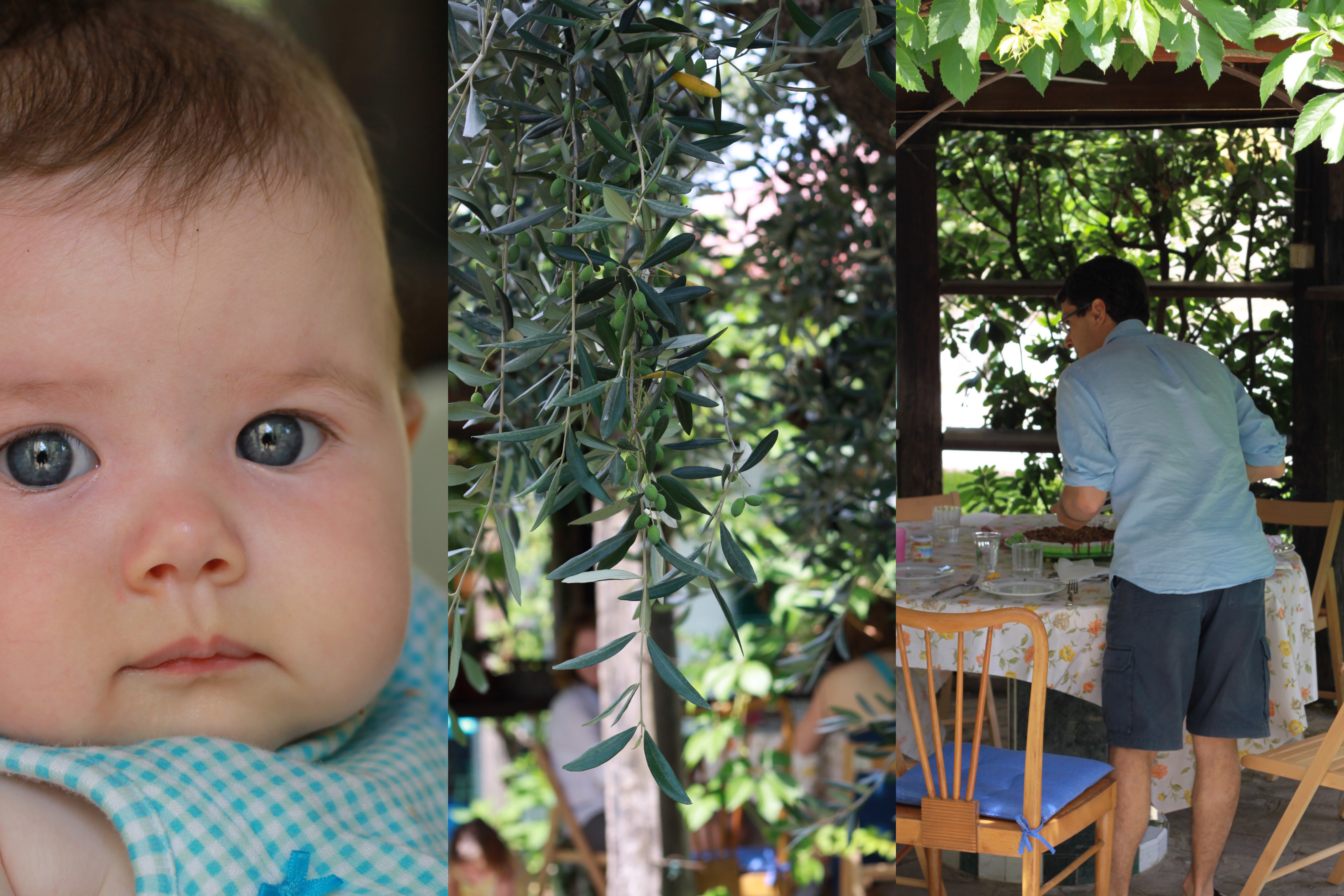 So crisp in one hand, baby in the other, off we packed up the car for a day in Nettuno again. Today we'd enjoy the sunshine with friends Molly and Giuseppe, their toddler Sabina and her new baby brother Luca. Molly's sister was visiting from Chicago and there to cook a multi-course lunch for everyone again was Giuseppe's former nanny, called Yaya (which rhymes with tata, the Italian word for nanny).
After everyone had their fill of sand, sun and saltwater, we headed back to Molly and Giuseppe's vacation rental for lunch. Under a vine covered gazebo we feasted on pasta with a creamy sausage and mushroom sauce, green salad and our favorite local dish roasted fish with potatoes. To Yaya's delight, Phoebe had two helpings of pasta. Holding up her plate saying, "more pasta peas", she was an Italian's dream lunch guest. Next came the crisp. Molly and I had two helpings citing a connection between breastfeeding and wheatgerm as a perfectly legit excuse reason for our indulgence. That's our story and we're sticking to it.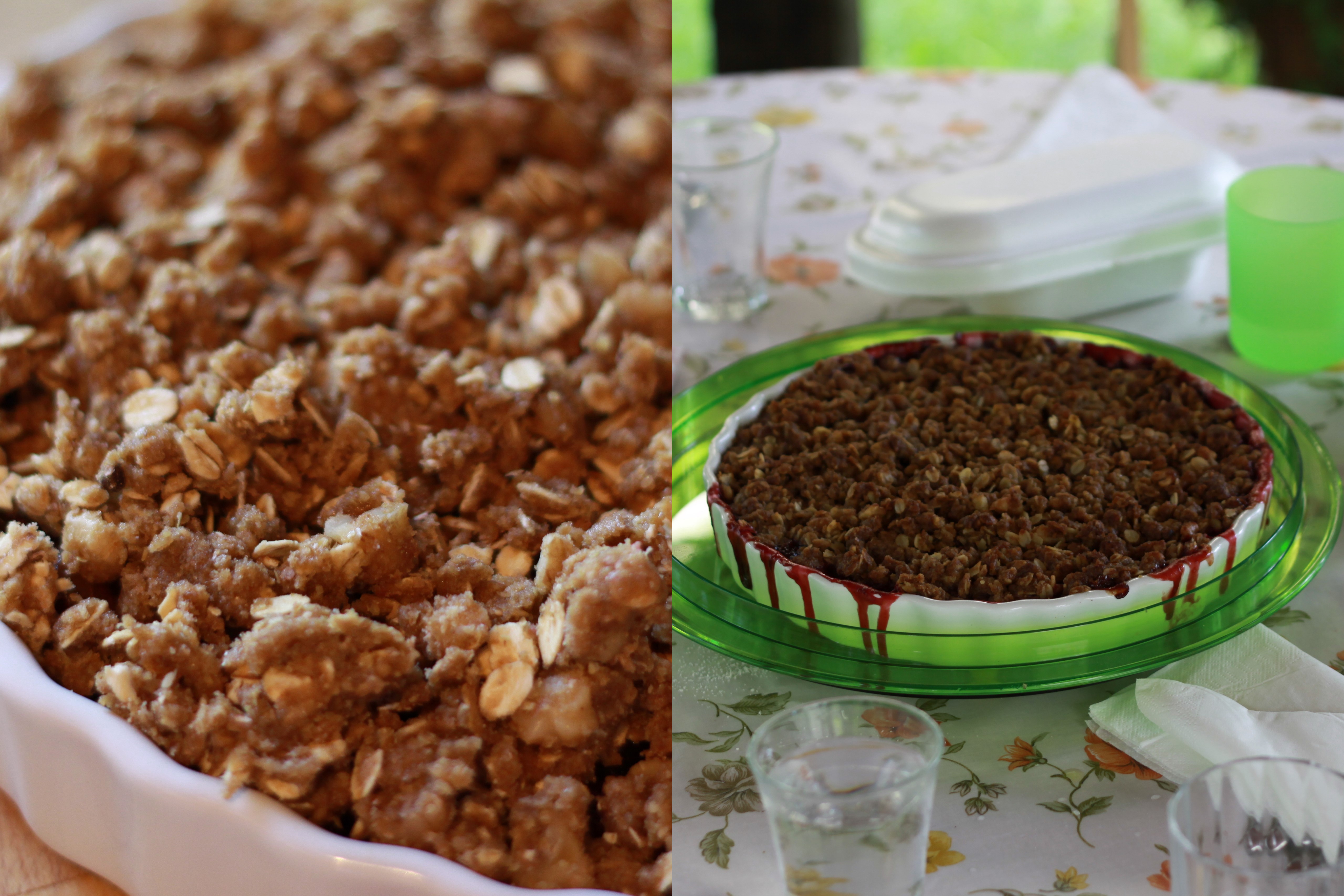 Plum & Blackberry Crisp
Adapted from Barefoot Contessa Back to Basics
No blackberries available? Try any berry you like.
Frozen berries are a great substitute for fresh because they're picked and processed at their peak. Look for organic and individually frozen.
The alcohol from the cassis will bake out in the oven but if you'd prefer a non-alcoholic version for the kids (and who could blame you?), try a dash of grape or apple juice instead.
ingredients
2 pounds fresh plums, pitted and quartered
1 pound blackberries (fresh or frozen)
6 tablespoons creme de cassis liqueur, grape juice or apple juice
1/4 cup whole wheat flour
1/2 cup brown sugar loosely packed
for the crisp
1 cup whole wheat flour
1/2 cup wheat germ
1 cup whole organic oats
1/2 cup cup brown sugar loosely packed
1/3 cup honey
1/2 cup chopped walnuts
1/4 pound cold butter cubed (one stick)
instructions
Preheat oven to 375 degrees.
Combine the fruit mixture in a large bowl. Stir gingerly but be sure to coat each piece of fruit with the flour, sugar and liquid. Pour into a 13 x 9-inch baking dish or 10-inch round tart pan.
Use your hands to combine the crisp mixture. The butter is key: it must be cold and it must be cut into small cubes. Then just squeeze it through your fingers until you see it starting to come together. The goal is to have little clumps that you can sprinkle on top of the crisp. Scatter on top.
Bake for 20-25 minutes until the top is golden brown and juices are bubbling. (For this reason, I put an old baking sheet on the rack below the crisp pan.)
Serve warm or at room temperature and by all means add ice cream or freshly whipped cream.