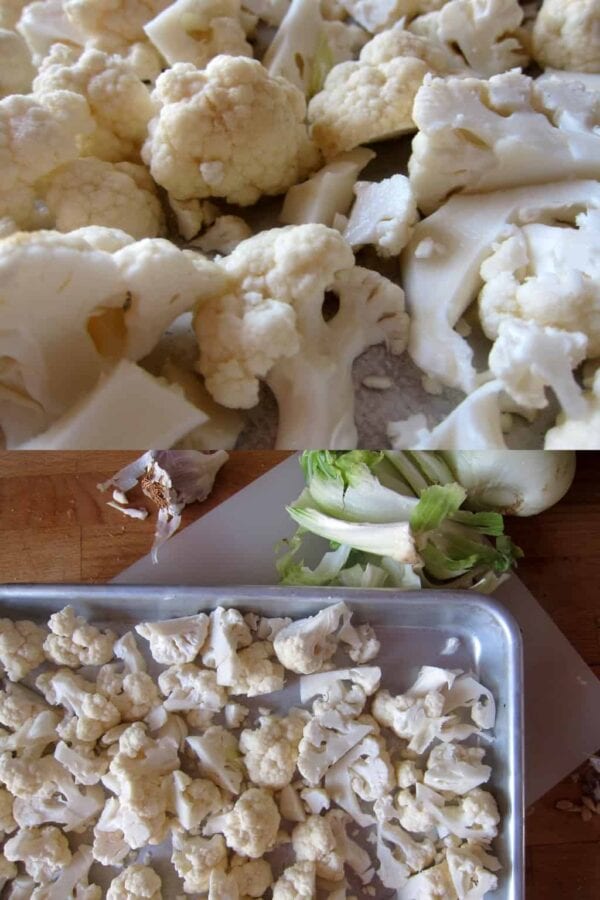 THIS IS A SECRET. Roasting cauliflower makes it delicious. Just cut up an entire head and assemble on a baking sheet.  Slather on the extra virgin olive oil and use your hands to coat each piece…
Flatten them out and sprinkle with salt and pepper. Go light on the salt if you're cooking for toddlers since too much salt isn't good for growing kidneys. Pop it into an oven at 425 for about 30 minutes, flipping once. When the cauliflower is browned at the edges, it's ready. Add a little more salt to the adults' plates and watch everyone ask for more. Really. On that note, a large cauliflower will feed a family of three or four. After you've tried this once, you might become a two-cauliflower family.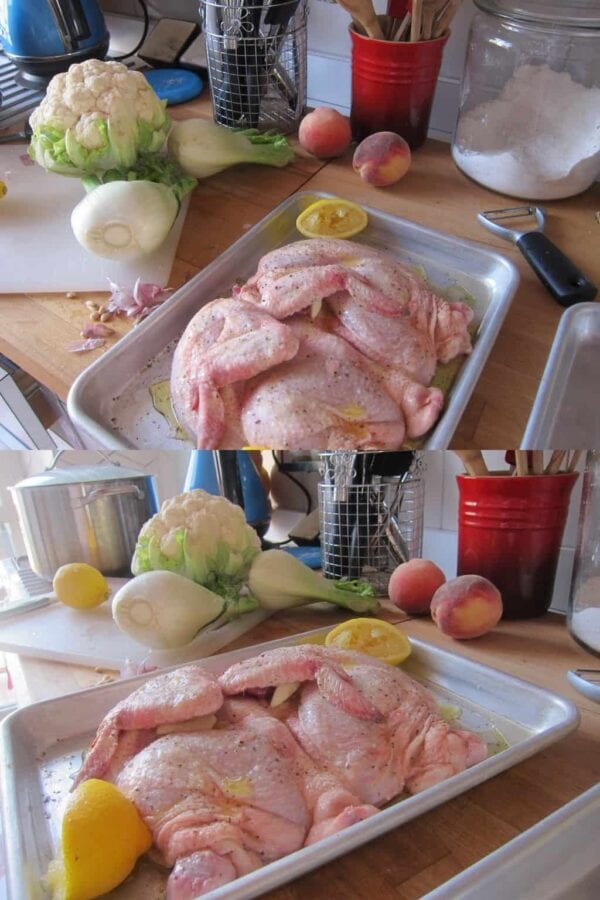 With the oven already fired up, roasting the bird was the only way to go. I tried a recipe inspired by Gwyenth Paltrow's GOOP. She took the bones out of her chicken, which I did not and here's why. When it comes to handling poultry (or meat of any kind) my policy is the less touching the better. But I did squeeze on a lemon, sprinkle with salt and pepper, drizzle on the extra virgin olive oil and wedge a few garlic cloves into the crevices. Also, my whole chicken is flattened above because that's how they come in our grocery store now. This is certainly preferred to the old way. Besides, there are kiddies in the kitchen and I can't be up to my elbows in chicken skin when I might need to hand someone a pacifier at any moment.
As it turns out, this dinner was a winner. You might say, winner, winner chicken dinner, though people could make fun of you for being old. Either way, I'm thrilled to report a successful dinner of roasted chicken plus cauliflower on this occasion. Again, a princess dress may have swayed the results but trust me when I say this: I'll stack the cards in my favor every time.