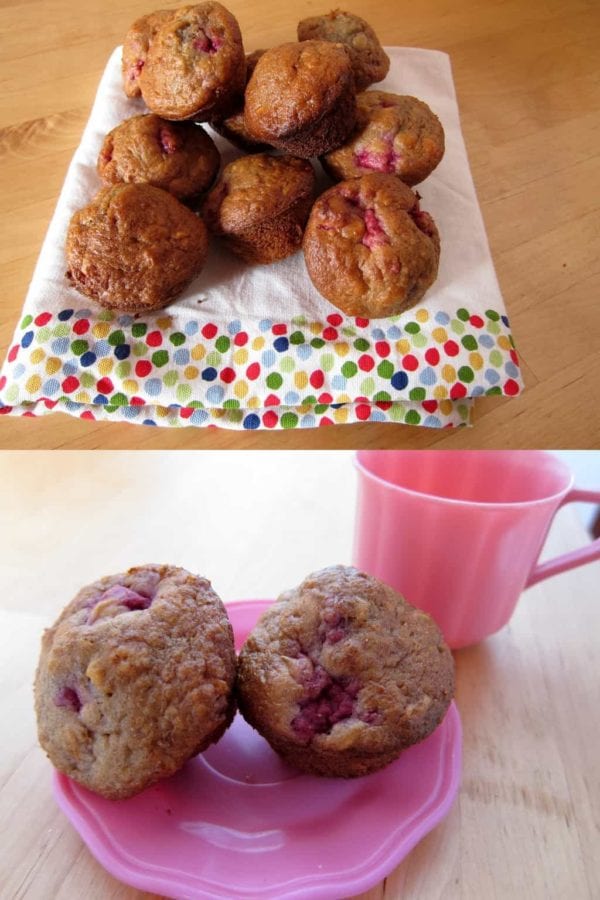 WE'RE GOING FOR COMFORT FOOD. Both babies have nearly gotten over their colds and Phoebe's pink eye is basically behind us but there are still lingering coughs at night, sometimes waking up the whole household. My own scratchy throat isn't helping but it was this exchange with the two-year old that pushed me into yesterday's muffin making process:
[Estelle starts crying in her room after Phoebe yells in the hallway.]
Phoebe: Her crying because I woke her up?
Me: Yes.
Phoebe: That's funny mommy.
Me: No, it's not funny.
Phoebe: It's a little funny.
Muffins it is.
These were adapted from a recipe for quick bread on the High Chair Times blog at Parents.com, a site that's new to me but one with tons of good ideas. The recipe was simple and included items already found in my kitchen, unlike the delicious but complicated looking banana bran muffins I'd been eying in my Barefoot Contessa at Home cookbook earlier this week. Anything that requires buttermilk substitutions will have to wait until everyone is a little less mucus-y. Which could be a while.
In the meantime, I switched a few things around: no blueberries, organic (frozen) raspberries instead. In went the wheatgerm and if I'd had any thawed, I'd have used applesauce instead of oil which I'll include as an option here.
As usual Phoebe was on hand but it's not always easy to have a renegade toddler in the kitchen. Trying to "help" she'd already filled two of the muffin cups with batter by the time I threw away the egg shell and turned back around. The problem: said cups needed to be oiled first. Out when the batter, hand wash the pan… Let's start again. Her enthusiasm simply cannot be harnessed. We're working on the whole "cooking together is a privilege so you need to listen" lesson but after the thousandth time her doughy fingers made their way into the raw batter despite my reminders to the contrary, it seemed my efforts were falling short. Mercifully all the batter was used in one go and, phew, the task was done. This may have been ambitious on a day when I wasn't feeling my best. Or really any day. But onward we go.
At least she liked them.
Oatmeal-Raspberry Muffins
Adapted from Better Homes & Gardens' Oatmeal-Blueberry Muffins
ingredients
1 1/4 cups whole wheat flour
1/4 cup wheat germ
3/4 cup whole oats (not quick cooking)
2 teaspoons baking powder
1/2 teaspoon baking soda
1/4 teaspoon salt
1 egg
3/4 cup milk
1/2 cup packed brown sugar
1/4 cup applesauce or corn oil
1 cup fresh or frozen raspberries
oil or butter for greasing the pan
instructions
Preheat oven to 400. In a large bowl whisk together flour, wheat germ, oats, baking soda and powder plus salt. Use your fingers to create a well, pushing the dry ingredients to the edges of your bowl until you can see several inches of the bottom of your bowl. If you've ever made homemade pasta, this will look familiar. If you haven't, this technique will save you from washing two bowls.
Working quickly, add the egg, milk, brown sugar and apple sauce. Mix until just combined then fold in the berries.
Pour the batter into prepared mini-muffin pans (or regular sized muffin pans) and bake for 10-12 minutes or until a toothpick comes out clean.