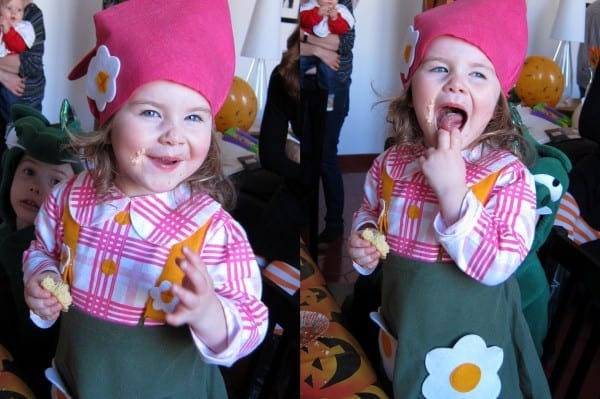 DESPERATE FOR A LITTLE TRICK-OR-TREATING, we hosted our own Halloween party for ex-pats this weekend. The result: 13 kids, 15 adults and countless cupcakes. Costumes for the Mathews crew included one garden gnome (and if you've never heard a 2-year old try to say "gnome" I highly recommend it) and one flower. Monster Mash played in the background while kiddies decorated cupcakes and ate mummy pizzas with orange punch. Next came a round of trick-or-treat, the inside version. Using every available bedroom, office or bathroom door, our fairies and superheros made the rounds of our apartment, knocking and squealing until their bags were bursting with candy.
On the menu for more mature palettes:
I can take no credit for dreaming up any of the above, except the veggies on a stick and sadly those were the weak spot of this get together. Sorry guys, next time those will get a dash of vinaigrette at the end to boost the flavor and add a little moisture. A dried out potato just doesn't say "party!" But on to what worked…the sandwiches. And the carrots. And the guacamole (thanks Cori!).
For the prosciutto carrots, the secret is making a zingy balsamic vinaigrette to coat the carrots in, add a leaf of basil and wrap the whole thing in pork. I make these for every party, even when it's not my party. Don't worry I'm not a party food crasher but these are my go-to dish when someone does ask me to bring a starter. And every time, someone ask what's in them? Here's what I say. My favorite combination for balsamic vinaigrette: combine one clove of minced garlic, one tablespoon Dijon mustard, a quarter cup of balsamic vinegar plus salt and freshly ground pepper. Whisk in enough olive oil to make the whole thing thick, about 1/2 -3/4 cup. The mustard will emulsify the dressing, making it creamy and thick but also adding a tangy-ness you'd be missing otherwise.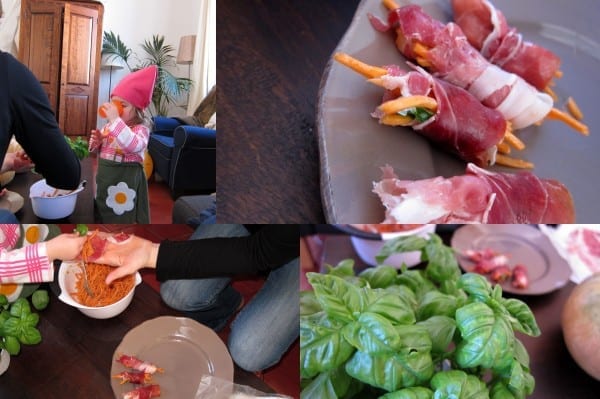 The secret of the sandwiches, whose platters were soon so empty you'd never know they existed at all, were the spreads. (Note to self, make more next time.) But first, I roasted the bird and beast. My beloved Barefoot Contessa supplied another delicious recipe with her Herb Roasted Turkey Breast. Moist and flavorful, she used a trick that I learned during an Italian cooking class this year: put a cup of white wine in the pan while your poultry cooks and you'll never eat dry turkey (or chicken, or game hen or…) again. Adding mustard aioli was my idea. Combining regular mayonnaise with two cloves of minced garlic, the same fresh herbs from the turkey marinade (thyme, sage and rosemary), salt, pepper and of course, the mustard, created a zippy spread. Atop pizza bianca (baked pizza dough with only olive oil and salt as toppings) with a cold slice of tomato…heaven.
The roast beef was roasted, of course, with a little butter on top plus salt and pepper. It turned out fine but Barefoot's blue cheese spread transformed an otherwise ordinary sandwich into a party-worthy treat. I doubled the amount of blue cheese but otherwise stuck to her fabulous formula. When my friend Amy asked, "Whoa, what's in this?" I had to laugh. Nothing healthy, that's for sure.  A mixture of sour cream, mayo, blue cheese and even Worcestershire sauce, it's a knock out that even prompted Phoebe to say, "Wow, that IS good."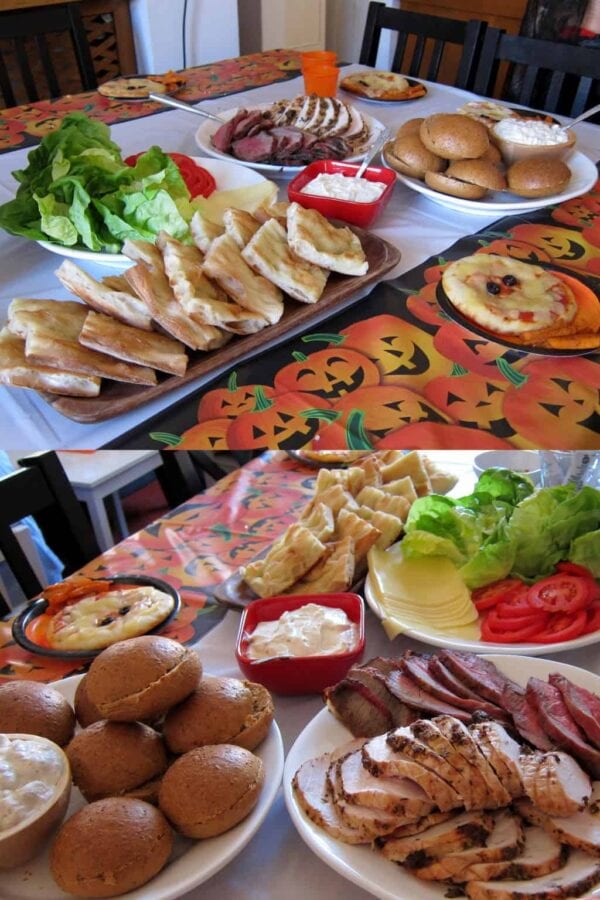 I'm not going to say that the mummy pizzas were a big hit. That's because they weren't. Each kiddie got an individual pizza with two olive eyes and cheese strips arranged in mummy fashion. Most took one look at the olives and wrote off the entire thing. Serves me right. The oldest member of the pizza eating group was six. They have no idea what mummies are, they just saw something they didn't like perched on top of an otherwise average looking lunch. Ho-hum…
The cupcakes were a little more exciting though. Like I said, they don't really do Halloween or cupcakes in Italy so it wasn't easy to find fun toppings but I scoured the stores and found sprinkles and tubes of icing. Add a few Cheerios, a Tic-Tac or two and we were set.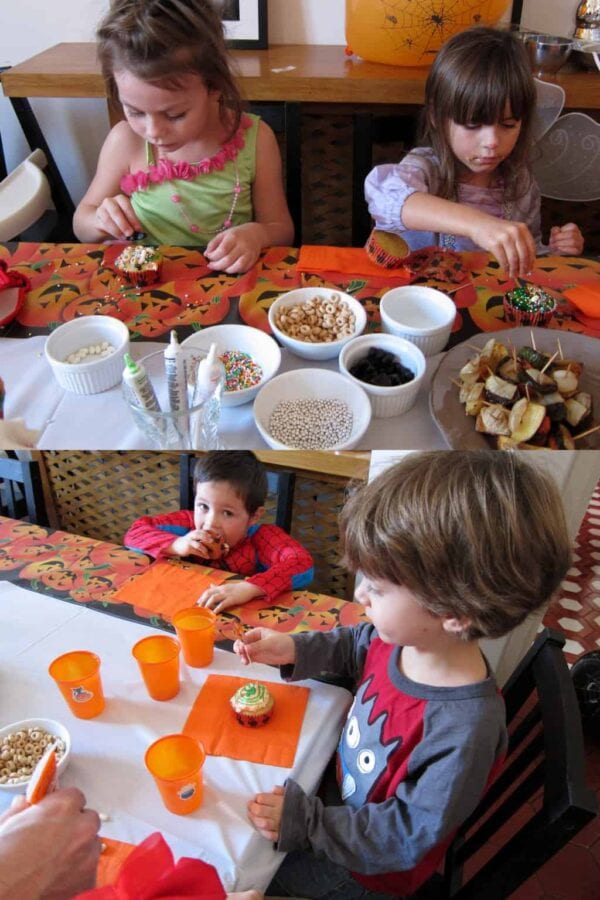 A few kids did more than one but the controversial move, mine again (what is my problem?), came when I suggested the kids create their confections and put them on display until after lunch. As one dad said with a shrug, setting the bar pretty high. And it was. A few partially eaten cupcakes later (calling Phoebe…), lunch was served and the cakes made their official we're-ready-to-eat appearance. Happy Halloween!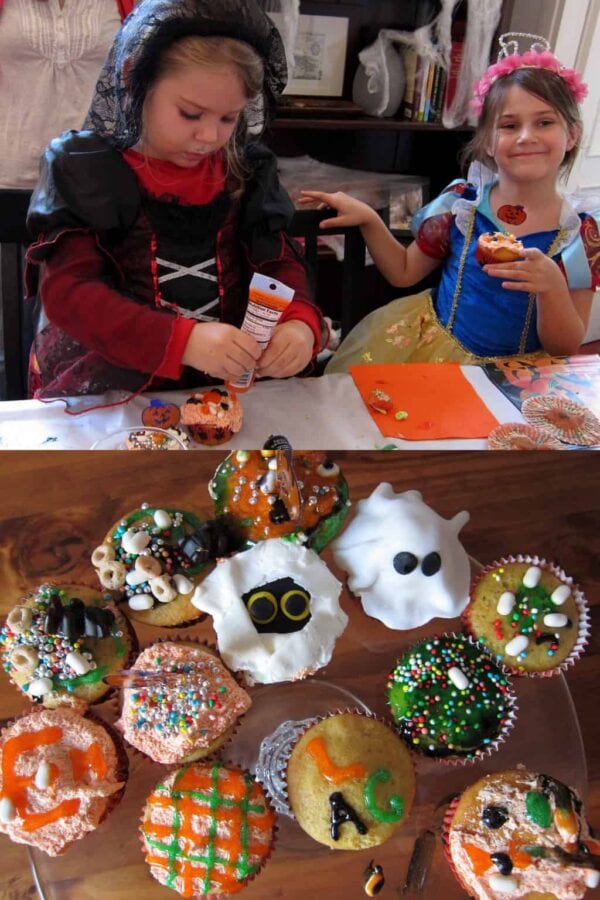 HEALTHIER BOX-MIX CUPCAKES
Adapted from The Sneaky Chef to the Rescue
ingredients
1 box yellow cake mix (Duncan Hines, Betty Crocker…)
1/3 cup apple sauce
1/2 cup wheat germ
1/2 cup pureed chickpeas (garbanzo beans with just enough water to liquify)
1/2 cup water
3 eggs
instructions
Heat oven to 350. Combine the whole thing, ignoring the instructions on the box. Fill a muffin pan with paper liners and add batter three quarters full. Bake for 15 minutes or until the cupcake tops spring back, but aren't yet brown.