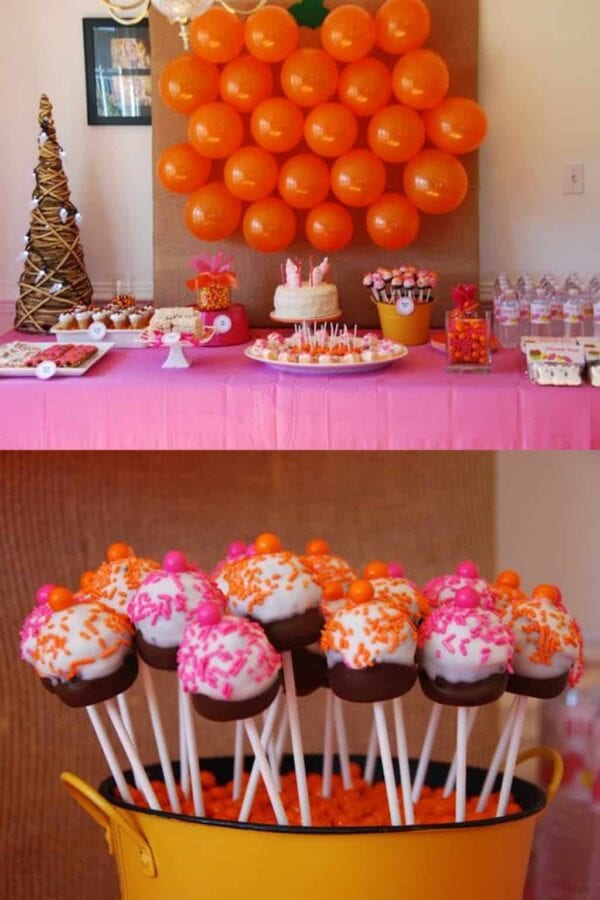 NOTHING COULD BE SWEETER than a candy store birthday party. "Rian's birthday is the day before Halloween," says mom Amber Schotemeyer from her Virginia home. "She wanted to do a sweet shop party so we tied it in with a sweet Halloween theme." Here's how they pulled off the best bash of the year.
Age of birthday girl: 8
Number of party guests: 13 kids and 6 parents
On the menu:
Ice cream cone cake pops
Oreo cupcake pops
Chocolate dipped pretzel
Halloween Chex mix
Chocolate dipped marshmallows candy corn
Rice Krispies treats
Rock candy
Sixlets
Candy corn cake
The cake: To create the look of candy corn when the cake is sliced, Amber made a white cake with three colored layers (one yellow, one orange, one white) all covered with buttercream frosting.
Recipes and resources: Where did you find your inspiration?
We looked at tons of websites and blogs for ideas: Etsy, Love from the Oven, Jenny Cookies, My Little Cupcake Pop and Martha Stewart.
Games:
We did the mummy wrap game with toilet paper.
She loved  trying to eat donuts on a string with hands behind your back. I made applesauce donuts dipped in cinnamon and sugar.
We also had a fun scavenger hunt were they got to find 8 treats: Chapstick, bracelets, candy, nail polish, pencils…
Sounds super sweet! Does Rian have a big sweet tooth?
She is funny, loves the idea of  sweets but doesn't need to eat all of them. Not like her mother, ha! Rian liked the Oreo cupcake pops and had a piece of cake. I didn't try to make anything less sugary but think I should have. (Foodlets note: We've got low-sugar, low-fat tips below, keep scrolling…)
How much did the birthday girl help?
She did help a little bit on planning the party and picked out some of the treats to be made. She also chose a couple of the games we played.
What was the biggest hit on the menu?
The hits were cake, Oreo cupcake pops, Rice Krispies treats and chocolate covered marshmallows. I think they liked most everything but  it may have been too much for them though.
Any misses?
Halloween Chex mix and chocolate covered pretzels.
How long did it take to prepare everything?
It took a while to prepare for the party, maybe a couple of weeks just looking for things and buying all the stuff we needed. I knew it was not gonna be easy. I think I was in the kitchen from 8am to 2 am the day before. It was fun though!
What was the hardest part?
Getting the colored chocolate fluid enough to dip things in. I had to work fast and melt a lot which took some time. I even tried the trick of adding Crisco but for some reason could not get the orange chocolate to liquify. I had no problem with white and regular chocolate.
 And the easiest?
The easiest thing was the party favors. We made Halloween s'mores packs with graham crackers, ghost Peeps and chocolate bars.
Most expensive?
Probably buying all the fun ingredients.
 If you threw this party again what would you do differently?
If I were to do it again I would not do it exactly the same. I wouldn't  make as many things and I'd put some healthy items in there!
What did Rian enjoy the most?
The games! I think for the most part it turned out how I hoped. Rian had fun so that was really all that mattered. It was a learning experience that's for sure.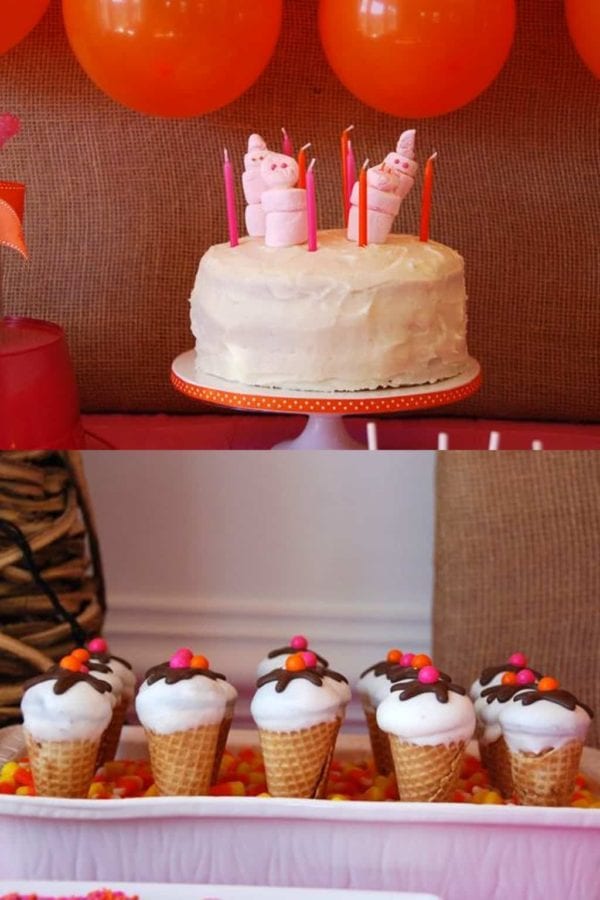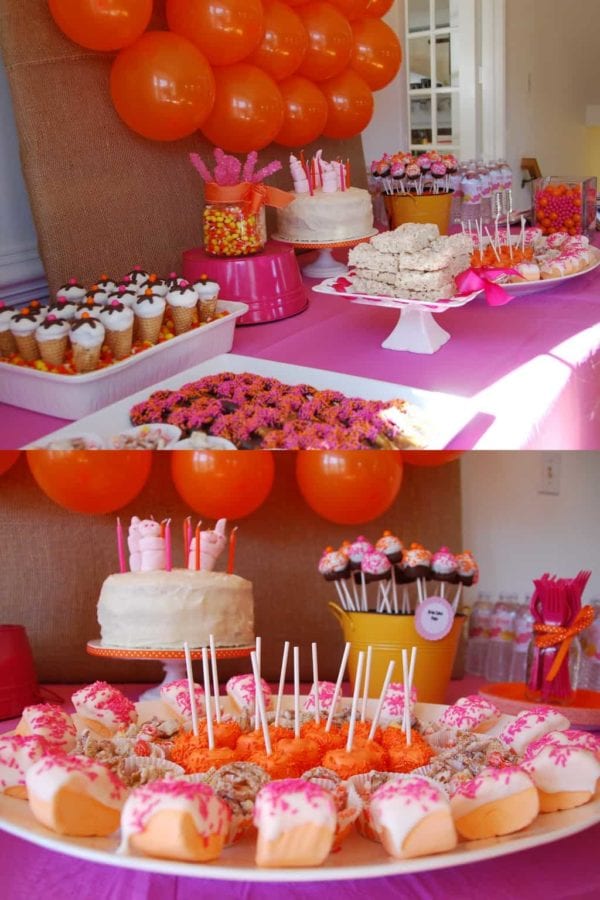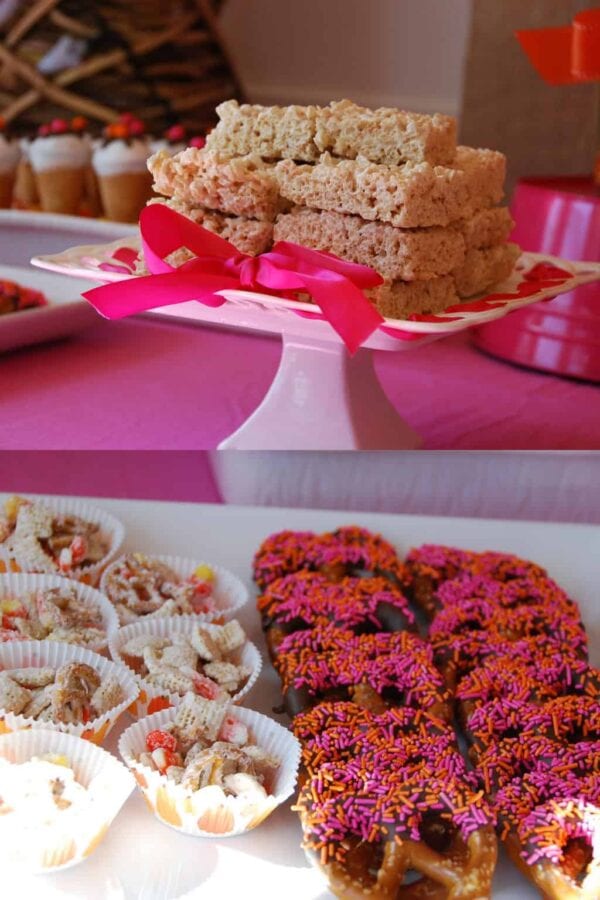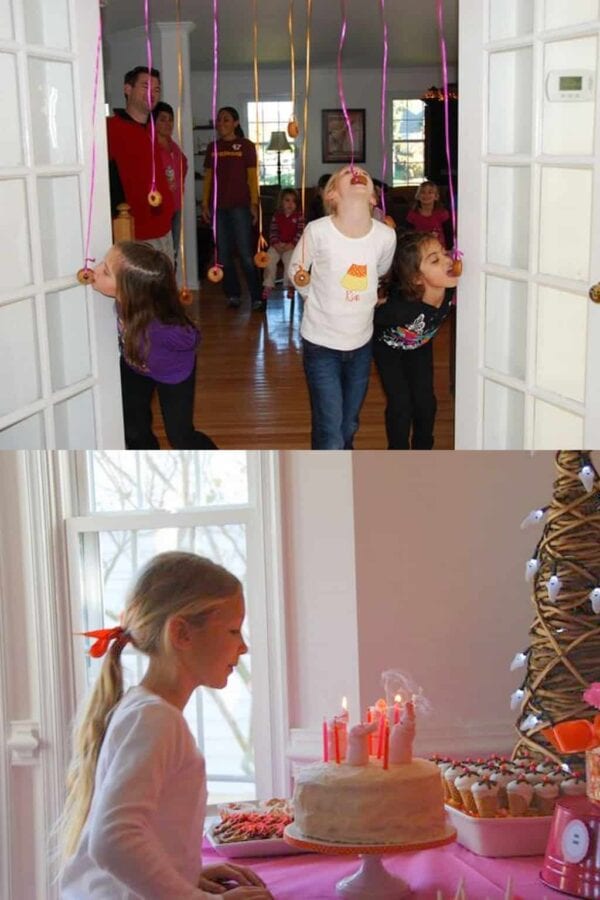 And as promised, a better-for-you birthday party tip…
Lower-Sugar, Lower-Fat Frosting Alternatives

Courtesy of the Food Fairies of Rome
Some frosting alternatives with less sugar and fat are: Opting for a cream cheese frosting, where you combine 50% buttercream frosting and 50% cream cheese (at room temperature then whipped until fluffy). You could also prepare a simple swiss meringue (halve this recipe and you can even leave out the butter altogether) or 7-minute frosting with egg whites and sugar. These are so much airier and fluffier than the buttercream that a small amount goes a long way. Of course these still have plenty of sugar, but the trick is to know how to apply it so it looks like a whole lot more! If you use a pastry bag and a nice star tip, you can pipe a meringue-shaped blob of frosting on top which would look great for a candy shop theme!
MORE IDEAS FOR PARTIES AND TREATS: