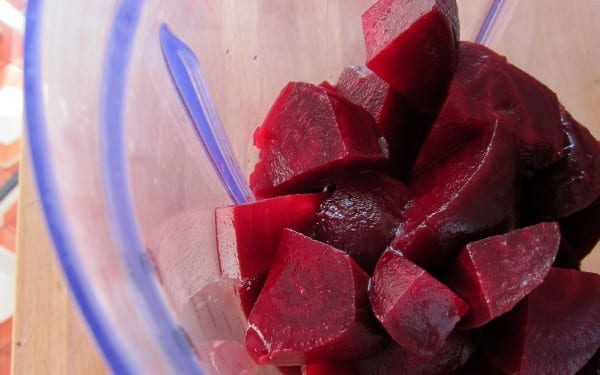 NOTHING IS EASIER. Except maybe frozen peas, but let's get back to the beets. Since we've got both a baby and a toddler here, one who is very into "cake", these beets are doing double duty. At 9 months, Estelle eats them, mixed with whole wheat baby cereal but we've also thrown these beets into our most recent baking foray: brownies.
The trick is using already roasted beets straight from the grocery store. They're freshly cooked and ready to go. If this is not an option in your area or you'd rather just roast the beets yourself, you should! It's not hard, just a little messy. And don't be deterred; babies are much more likely to eat roasted vegetables than steamed any day. They're not suckers, even the under one set knows some sweet carmelization when they taste it! Just get the oven going at 375. Coat your beets in olive oil (don't peel them yet), wrap in foil and pop into the oven for 45 minutes. Fork check for tenderness and add 10-15 minutes of cooking time as needed (beet sizes and oven temps both vary). When they're done let the beets cool before peeling and chopping. Seriously, let them cool first otherwise you'll have really red AND really sore fingers.
Pop the whole thing into a blender or food processor with enough water to liquify. I start with about half a cup of water and add as needed.
Now a note about flavor, and food that gets spit out. Beets can be intense, so consider mixing them with milder foods such as ground chicken or adding this puree to applesauce (or any other mashed fruit) to make an even-better-for-you dessert.