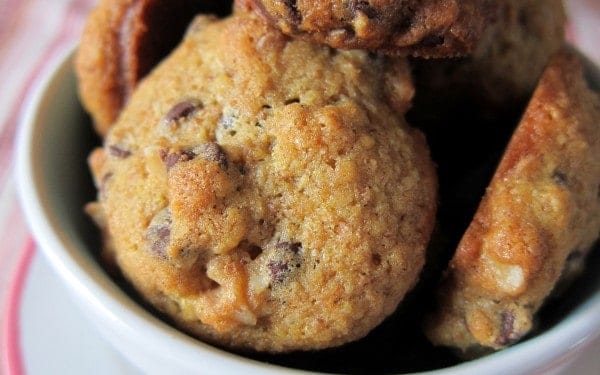 IT WASN'T THE COOKIES' FAULT. After whipping up a batch of The Sneaky Chef's "Unbelievable Chocolate Chip Cookies" (pictured above) and another batch of "Chocolate Chip Cookies" from Weelicious, the whole family came down with the flu. Before things took a turn for the worse, we had just enough time to come up with this verdict:
Sneaky Chef: Classic chocolate cookie taste (butter, sugar, chocolate) all with only 1/2 cup of sugar involved. These cookies were thick and hearty with oatmeal and wheatgerm, making sugar crashes less severe. BUT with all that extra fiber came "a texture" says my husband.
Weelicious: Somehow mine turned out flat and crispy, not at all like the gorgeous photo on Weelicious. They were however very tasty. Like a buttery, lace cookie studded with chocolate chips. BUT I don't think these are great for kids, at least kids who tend to melt down after tons of sugar. They're just a classic recipe, which can be great, but I'd prefer something with a little more staying power for the little guys. (We did take her advice though and froze the second half of the dough. Maybe a cooler temperature will help them keep their shape when we bake them off.)
Winner: Sneaky Chef
The good news is we've bounced back around here. For the most part. Coffee is on the menu again (otherwise this post would not exist) and cookies are next. Wish us luck.