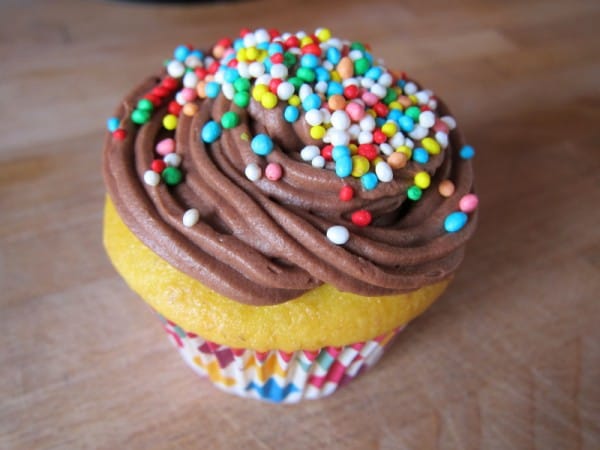 HAPPY FIRST BIRTHDAY ESTELLE! We took it easy this year (certain people are very tired because somone keeps waking up every night "complaining" about new teeth coming in) but still had a blast for Estelle's big day.
A family celebration, complete with wheat germy cupcakes (plus secret ingredients: applesauce and carrots) and homemade butter cream frosting were the proverbial and literal icing on the cake. This weekend there will be lunch at a restaurant with friends and banana-chocolate cake pops–look out David Lebovitz, we're transforming another one of your recipes and I'm pretty sure you'll be horrified–but for now, we're focusing on a certain someone's first taste of chocolate.
[nggallery id=12]
BETTER FOR YOU CHOCOLATE BUTTER CREAM FROSTING
Speaking of chocolate, the technique for making frosting is simple. Combine four ingredients, all at room temperature: butter, cream cheese, powdered sugar and sweetened cocoa powder, in nearly equal proportions. We only frosted 8 of our 24 cupcakes (the rest were bound for the freezer) so I offer a ratio instead of a recipe here. Start with the butter and cream cheese, using handheld beaters or a standing mixer, beat for 2 minutes. We used about 1/3 cup of each. Then slowly add powdered sugar, about 1/4 cup. Mix again. Last comes the chocolate powder, up to 1/4 cup. Add the sweet stuff slowly though, only adding as much sugar as absolutely needed. Taste and texture will improve as you reach the right amount.
Sprinkles by Phoebe.
BETTER FOR YOU CUPCAKES FROM A YELLOW CAKE MIX
adapted from The Sneaky Chef to the Rescue
Neither one of our girls likes carrots (right now) but I'm determined to get a little beta carotene in there somewhere, somehow, some way…
ingredients
3 eggs, room temperature
1 box yellow cake mix such as Betty Crocker
1/2 cup carrot puree (steamed carrots blended with enough water to liquify)
1/3 cup applesauce
1/4 cup wheat germ
instructions
Using a handheld mixer or standing mixer, combine all ingredients and mix on low for 30 seconds. Increase speed and beat 2 additional minutes.
Pour into a buttered muffin pan, or use cupcake liners.
For cupcakes, bake for 20-25 minutes. Test for doneness by pressing your finger onto the top of a cupcake; if it springs back immediately, they're done.