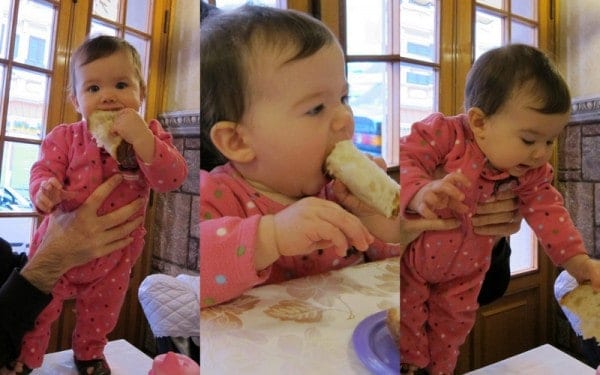 WE LIVE IN ITALY, so it goes without saying that we love eating out. (Who doesn't enjoy a plate full of pasta?) And while restaurants in Italy aren't marketed as "family-friendly"–there's usually one broken high chair and never, ever a changing table–the vibe is always friendly and welcoming. With that said, we still need a strategy if we're going to enjoy the outing. Looking for a fresh perspective and winning ideas, I asked a few state-side parents to share their best suggestions for stress-free meals on the town:
Always bring your own crayons and a blank note pad so that when they have destroyed the restaurant supplies, you have backup.
Never sit the two kids next to each other…fighting will occur 97% of the time. Alternate which parent sits with which child and remember the pattern..they always do.
Do not order them soda. They don't need the sugar and the last thing you need is a hyper child in a public place.
Don't ignore the kids. Talk to them and talk as a family. If you want to have an important discussion with your spouse then get a babysitter.
– Tracy D'Egidio, mother of two in Virginia
We started with a small town café for Sunday breakfasts. They're extremely tolerant (as are Mexican Restaurants).
No electronics. We usually bring a reading or activity book for each of the kids to help them pass wait times. When they were younger, sugar packets were an impromptu counting or organizing session.
My biggest rule for my kids when we go out is to remain seated. There is no greater pet peeve for me than a child running laps around a restaurant!
-Jennifer Nelson, mother of two in Washington
 Take them out to lunch or breakfast. The time is better suited for our crew and the atmosphere is more casual.
We talk about the prices on the menu, the way the food is prepared, and calculating the tip. This helps the kids stay occupied.
The second their behavior begins to disrupt the other people eating, it's time for action. The point is to enjoy a meal together in a new venue. And if kids start acting up, we are not really enjoying our meal.
-Kate Burleigh, mother of three in Ohio
We stick with family-friendly chains when our spirited preschooler is with us. Starbucks can be especially great for a mother-daughter snack. (They have lots of little snack packs with things like fruit, cheese, and a hard boiled egg in them.)
-Emily Lapkin, mother of two in Vancouver, BC
Our older daughter orders favorite dishes from the regular menu–sushi, pasta, fish or ribs–but the little one is very picky and sticks with simple things like chicken fingers, yogurt, fruit, fresh veggies, etc. Places that serve breakfast foods all day are a big hit with them. Soup is also a good go-to choice as it is usually nutritious and fun to dip crackers into.
Once they are done eating, if an adult at the table is finished, we'll take them to look at the dessert case at the front of the diner to ooh and aah over the sweet treats.
We talk about the day, what they are going to eat or what we are going to do after the meal. Many of our meals out are with adult friends or family so we are often catching up on what has been happening at school, etc. The girls are definitely integrated into the conversation and seem to enjoy the adult company.
I will admit that from time to time we do pull out the iPhone or iPod to play a game or watch a video but that is ONLY if we are at the end of a longer meal and the kids are getting antsy.
-BethAnn Gisel Meier, mother of two in Wisconsin
I usually order, then take our girls to the ladies room to wash hands and wander by the fish tank or any other point of interest;  it just makes the wait for food go faster.

We generally do not order off the kids menu. It's not that much cheaper in most places and every thing on it is usually junk! We usually order an adult meal for them to split.

We expect them to try everything, eat what is on your plate (we portion small to start) and yes, I am the mean mom that makes them get water.
-Jenn Ware Apps, mother of three in Washington
My only add would be: Take your kids to restaurants. The only way they learn how to behave in a restaurant is if they have the experience. Base your choice of restaurant on ages and how long your kids can sit still. (I don't think there's a hard and fast rule here — different kids can handle different situations and that's okay.)
-Tami Forman, mother of two in New York
But if you happen to be eating in…
KID-FRIENDLY DINNER IDEAS TO TRY: