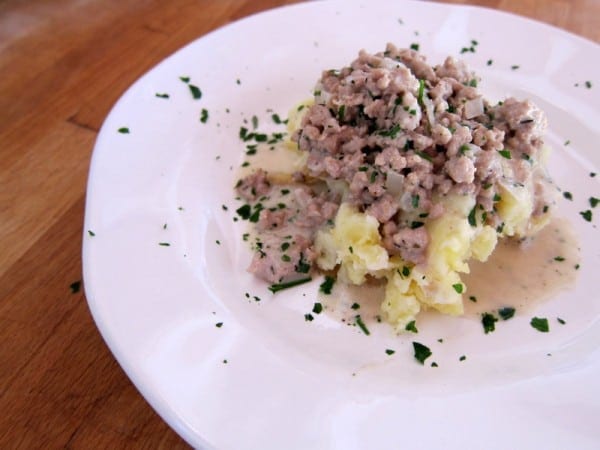 OLD SCHOOL AND PERFECT for cold weather, I made a variation of Shepard's pie this week with steamed broccoli on the side. I also learned something in the process: toddlers are excellent at mashing potatoes. Destroying something with no regard for making a mess along the way? Why didn't I think of this earlier?
Actually, with a house full of little girls, our lives are more about diapering baby dolls than mass destruction but the fact remains: Phoebe's been talking about mashing those potatoes for days now, so, noted.
But the meal was only a so-so hit with the wee ones. I loved it, but then again I am starving almost every second of the day. (Our third baby is a boy and apparently a very hungry one!) And I've taken to feeding Estelle as I prepare dinner, at least one course. She gets so tired and hungry at the end of the day and try as I might, I just can't convince her that "dinner will be ready in a few minutes". So she eats in stages. This was also a later night at work for Paul, which doesn't always bode well for our ladies-only dining experience.
By the time dinner was indeed on the table, Phoebe only had a couple of bites of potatoes, exactly one heavily prompted bite of "meat" but actually ate three servings of steamed broccoli. "More broccoli please!" While I wish she would've enjoyed the main event I'm not sure if ever there were sweeter words to a parent's ears.
MASHED POTATOES WITH PORK GRAVY
In Italy, all potatoes have thin skins and I never peel them. Use your favorite boiling potato for this recipe.
Serves 4 moderate portions
ingredients
4 medium-large potatoes (Yukon Gold or Russet), chopped into large chunks (peeling is optional)
1 small onion, yellow or white, diced finely
1 pound of ground pork
3 tablespoons butter
1/4 cup flour (whole wheat)
1 cup whole milk or cream, plus 1 cup (for potatoes)
1 tablespoon garlic powder
1 teaspoon fresh thyme, chopped finely
1 tablespoon kosher salt, another teaspoon plus more for seasoning
1/2 teaspoon pepper plus more for seasoning
2 teaspoons fresh parsley, optional
1/2 cup Greek yogurt
instructions
Scrub and peel (if you like) potatoes before cutting into large chunks. Put in large pot and fill with enough water that potatoes are submerged with about four inches on top. Add 1 tablespoon salt and bring to a boil. Cook until potatoes are fork-tender.
Meanwhile, add two tablespoons of butter to a large sautee pan; cook onion on very low heat until translucent, about 8 minutes. Add ground pork and cook until browned evenly. Sprinkle in garlic, thyme, salt and pepper. Then make a well in the center of your pan, add the last tablespoon of butter plus flour. Cook for 1 minute. Add milk or cream and bring to a boil, stirring constantly. Once the gravy is thick, turn off burner and cover with a lid (while you finish the potatoes).
Once potatoes are tender, about 20 minutes, drain water completely and return to pot. Add the yogurt and cup of milk. Mash to your preferred consistency.
For babies and toddlers, serve as is. For adult portions, add more salt and pepper as desired.
Make a base of potatoes and ladle gravy on top. Sprinkle with parsley (if you don't have toddlers who will take one look at it and say, "But I don't like salad.")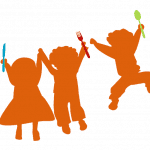 EASY IDEA: I added the broccoli florets to the potato water for the final 5 minutes of cooking time. They float on top, making it easy to retrieve with a slotted spoon instead of using another pan.
MORE DINNER IDEAS TO TRY: