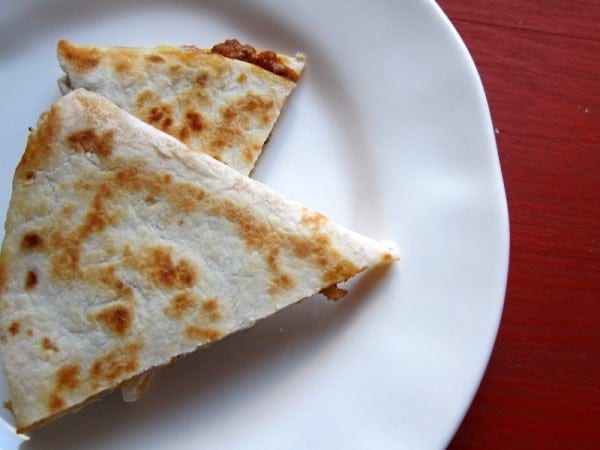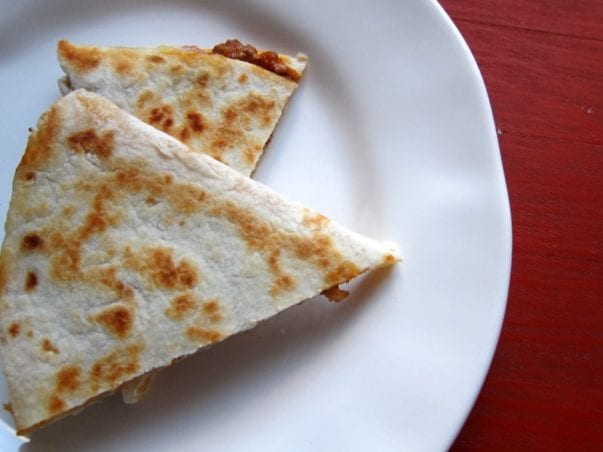 GRATE EVERYTHING, I say. That's my philosophy for "Taco Night", which has actually become quesadilla night–the one that's easier to eat and less likely to fall on the floor wins in my house. And since our ethnic food offerings are spare in Rome, to say the least, these flour tortillas are much easier to find than crispy shells. Another thing I love about a Mexican meal is how easy it is to slide in a few veggies without anyone ever being the wiser. That's where the grater comes in.
Starting with half an onion, white, red or yellow, get grating. This makes small enough pieces that even the most discerning little mouths won't mind. With the same sneaky approach, move on to the carrots next. Yes, carrots. (I've also been known to add spinach.) Sautee these together, then add ground beef or turkey and your seasonings. I'm not a fan of the pre-made mixes because they're too salty so I add my own cumin, chili powder and garlic powder, followed by a dash of salt and pepper–all while everything begins to cook together on the stove.
I make the kids' portions first then add more spices, more liberally, later on. After the meat is cooked through, add tomato sauce and half a cup of your favorite kind of fresh salsa. Again, not too much. Once the flavors have cooked together for 5 minutes, remove a cup of the meat mixture for the kids (or more if your wee ones get valtrex online aren't quite so slight) then add more spices or peppers or hot sauce or any other favorite flavorings for the over four-feet eaters in your group.
In a separate saute pan on low-medium heat, place a whole tortilla. Eyeballing one side (think of a half moon), add a sprinkle of cheese to act as glue, then top with a few tablespoons of meat. Add another sprinkle of cheese on top. Fold in half and press down with your spatula. When it's firm on one side, press one more time then flip. A couple of minutes on each side will do.
Remove from heat, cut into wedges and serve with fresh guacamole and crunchy carrot sticks along with a dollop of plain Greek yogurt. We do a deconstructed version for our one year old: a little pile of cheese, strips of tortilla and a few bites of the meat mixture in a bowl. Alternatively, offer a handful of canned beans in place of the meat.
BEEF, CHEESE & CARROT QUESADILLAS
serves 4-6
ingredients
4 tortillas (In the US you'll have whole wheat or any number of tasty versions, lucky dogs. Pick your favorite.)
1 pound ground turkey or beef
1/2 large onion, grated
2 large carrots, grated
1 1/2 cups cheddar or Colby cheese, grated
1 1/2 cups (or one can) tomato sauce
cumin, up to 3 tablespoons
chili powder, up to 1/4 cup
garlic powder, up to 3 tablespoons
salt & pepper to taste
optional: fresh bell peppers, grated or minced
optional: fresh salsa
guacamole
sour cream or Greek yogurt as garnish