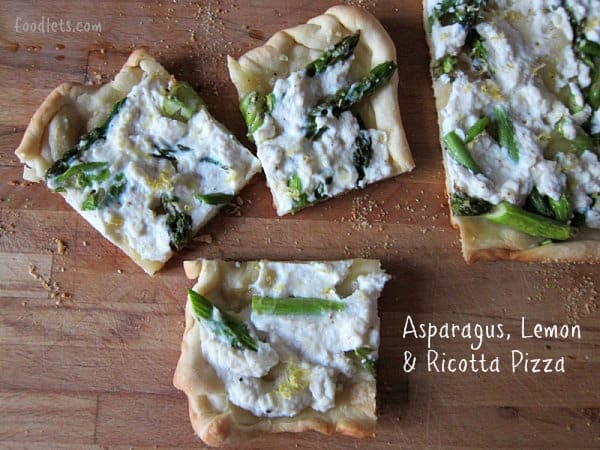 NOTHING SAYS SPRING IS HERE LIKE the arrival of asparagus. And it's delicious, so I'm in. Actually the little guys did pretty well with the asparagus pizza. They each ate a piece or so, and in this house, that's a win. (Plus Phoebe loved helping make this simple dish.) Mixed with creamy ricotta full of garlic, salt, pepper and lemon zest, this pizza was fresh and hearty at the same time.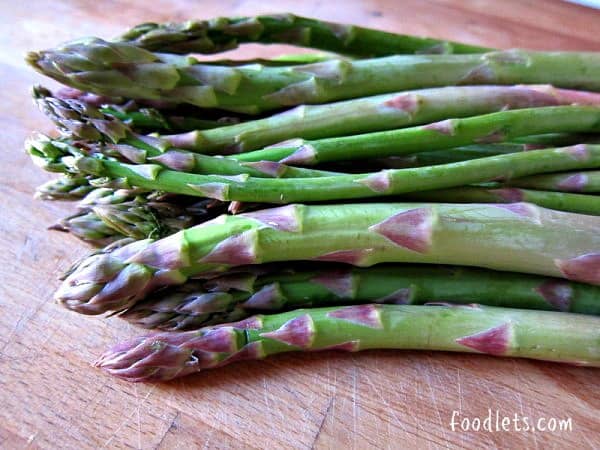 It all starts with the asparagus. Thinner stalks would be better, but this is what I found at the grocery store so that's what we used. (It's actually the beginning of  wild asparagus season in Italy; hunters hike up into the hills, armed with long handled shears clipping individual stalks to use in all manner of primi, secondi and snacks. And it's free!)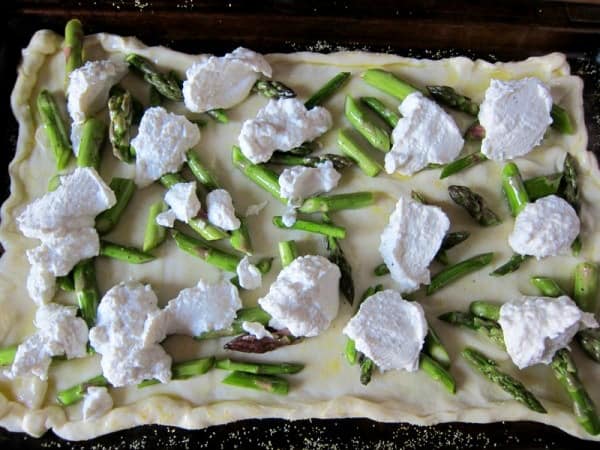 The whole thing was incredibly simple. I bought a pizza dough (whole wheat would've been better but this is what I found at the grocery store so that's what we used) and unrolled it onto a baking sheet sprinkled with corn meal. On went the asparagus then dotted with the ricotta mixture. I smoothed out the cheese because it wasn't really melting into the nooks and crannies of the pizza. Next time I'd even add a layer of mozzarella for a more classic pizza texture.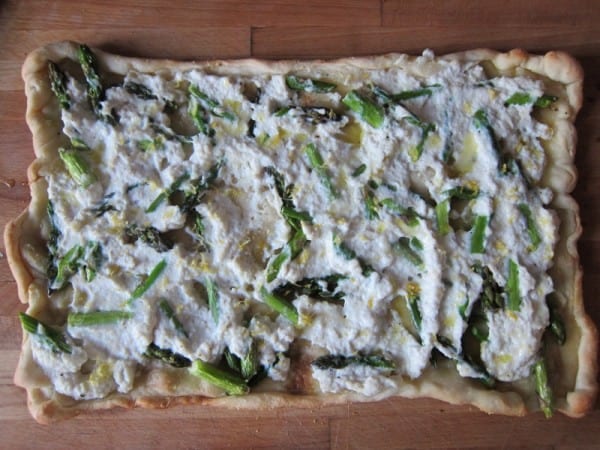 We served our pizza with prosciutto (a huge hit, every time) and strawberries for dessert. Not a bad springtime meal!
 PIZZA WITH ASPARAGUS, RICOTTA & LEMON
Adapted from The O Magazine
ingredients
corn meal (for sprinkling on the pan)
store-bought pizza dough, preferably whole wheat
olive oil to drizzle
1 1/2 cups (or half pound) asparagus, cut into 1-inch pieces
12 oz ricotta cheese
3 garlic cloves, minced
1 teaspoon fresh thyme, minced
1 teaspoon salt
1/2 teaspoon pepper
(optional) 1 cup mozzarella cheese
zest of one lemon
instructions
Preheat the oven to it's highest setting, usually about 500+ degrees.
In a small bowl, combine ricotta, garlic, thyme, salt and pepper.
Sprinkle a handful of cornmeal onto a baking sheet before smoothing out the pizza dough on top. Roll and pinch the edges slightly to create a crust. Drizzle olive oil on the dough and brush the crust (or use your finger to spread oil on every surface). Arrange asparagus evenly across the pizza.
Drop spoonfuls of ricotta evenly across the pizza. Smooth out with the back of your spoon. Drizzle with olive oil and if using, sprinkle a layer of mozzarella cheese on top.
Bake for about 10 minutes, or according to instructions on pizza dough package.
While cooling, sprinkle lemon zest and a touch of salt and pepper. Slice and serve.