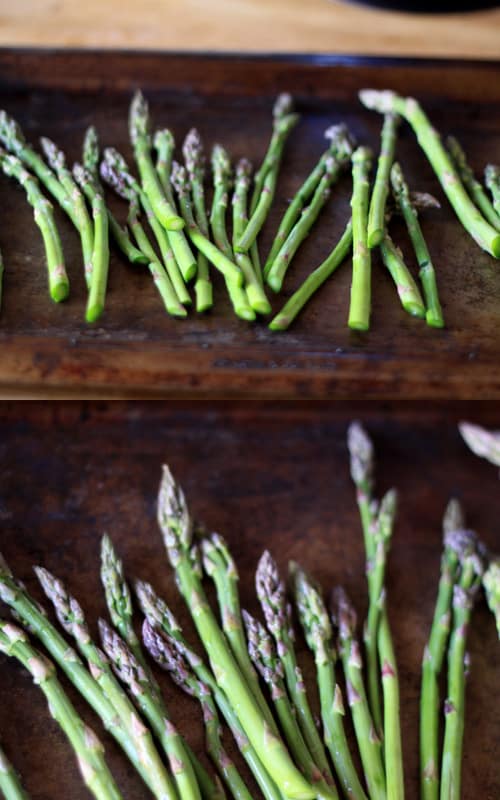 IF ONLY EVERY DISH WAS SO EASY. To prepare roasted asparagus, you need a baking pan, extra virgin olive oil, salt, pepper and asparagus. Balsamic vinegar is optional, a hot oven is not.
The great thing about roasted veggies is how sweet they become. And if we know anything about the tender palettes of tiny eaters, we know they like the sugary stuff. So, why not meet them where they are? The vegetables will still be nutritious but this way they'll actually get eaten!
Start by heating your oven to 425 degrees. Next, hold one piece of asparagus in your fingertips and snap it. Using that stalk as a measurement, line up the rest of the bunch and cut off those brittle ends.
Put the trimmed asparagus on your baking sheet, drizzle extra virgin olive oil, salt and pepper. If you want to add balsamic vinegar (I usually do), drizzle about a teaspoon of that too. A little goes a long way so be more sparing than with the olive oil. Use your hands to just roll the stalks around until they're coated.
Pop in the oven and cook for about 5 minutes. Shake, flip or otherwise move the asparagus on the pan and cook for another 5 minutes. When it's a bit shriveled and definitely getting dark on the ends and edges, it's ready. Remove from the oven and hit with one more small splash of balsamic vinegar.