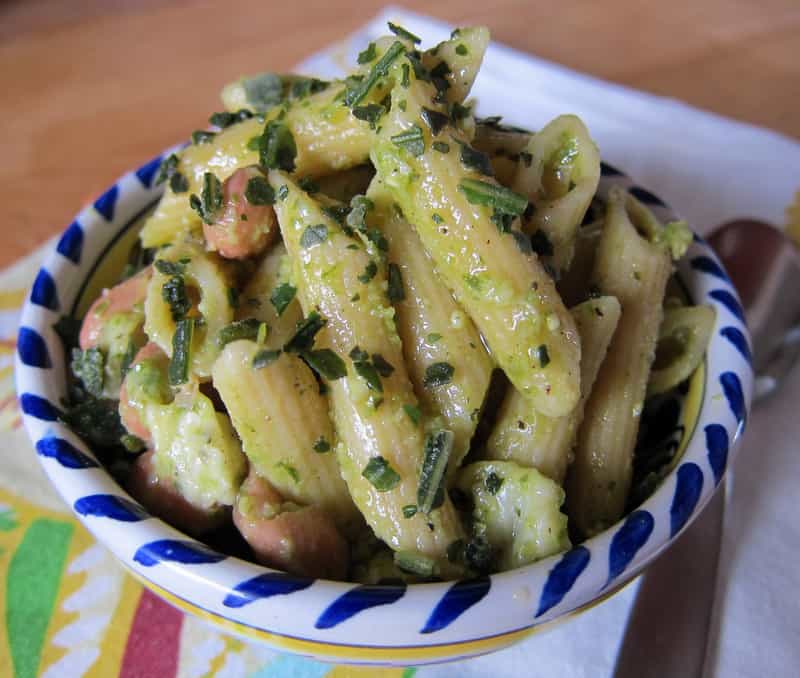 THIS DINNER WAS DONE IN 15 MINUTES. As if that wasn't enough of a mini miracle for this mom, it was also eaten. Happily. Heartily. And so another spin-off series begins… Get ready kids. There's more pasta on the way! And more, and more…
The longest part of this dinner prep was actually boiling the water for our whole wheat penne pasta (and of course you could use whatever shape or variety your family enjoys). I cheated and used a jar of store bought pesto, poured in a little extra virgin olive oil, added a can of beans plus a fresh ball of mozzarella cheese, cut into chunks and melting into gooey deliciousness.
Phoebe actually added everything and to her delight, stirred the whole thing too. I sprinkled fresh basil on top plus a bit of extra virgin olive oil as garnish. The kids loved it but I thought it was even better with a splash of fresh lemon juice and a pinch of salt on top.
PICKY EATER VERSION:
If you have a baby who's not ready for pesto (it does include pine nuts) or an otherwise picky eater, serve this dish deconstructed. Estelle's plate included cut up pasta with a size of beans and cubed cheese. Or, try the whole wheat pasta drizzled with extra virgin olive oil and grated Parmesan cheese.
WHOLE WHEAT PENNE PASTA WITH PESTO AND BEANS
ingredients
1/2 pound (1/2 box) whole wheat penne pasta
2 tablespoons salt
1/2 cup pesto
1 12 oz. can of beans (pinto, cannelloni, etc.)
1 teaspoon salt
1/2 teaspoon pepper
1/4 cup extra virgin olive oil
1 cup mozzarella cheese, shredded or cubed
fresh basil for garnish (optional)
juice from half a lemon for garnish (optional)
instructions
Bring a large pot of water to boil. Add salt then pasta. Cook pasta according to instructions on the box, minus one minute. Drain.
Using the same pasta pan, pour the pasta back in. Add pesto, beans, salt, pepper and half the extra virgin olive oil. Mix. Add cheese and mix again, letting the cheese start to melt. Spoon into bowls and garnish with a drizzle of oil, basil and lemon (if using).