WHEN I SAW PHOEBE CLOSE HER EYES and suck up each noodle in this simple stir-fry one by one, I knew we had a hit.
Even better, she actually ate ALL the vegetables. Including sworn enemies such as zucchini and carrots.
So, yes, we'll be making this again.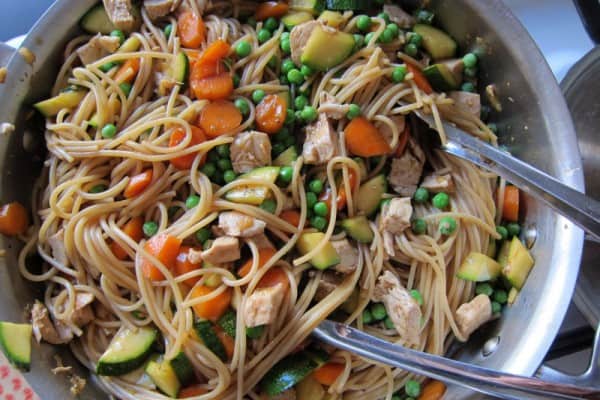 It's just a variation of toddler-friendly Asian noodles that I made a while ago, but I got brave this time and included freshly grated ginger, then mellowed it out with honey. And my secret weapon is one scant teaspoon of BBQ sauce. It just gave the whole thing a slightly smokey and sweet flavor in the background. Don't add too much though; BBQ sauce can quickly overwhelm everything.
Even our baby, Estelle, was making her way through the noodles though she's a pea girl at heart so I loaded her up.
With this kind of dish, it's easy to include something for everyone; give each person lots of what they like and just a bit of the other stuff. Phoebe actually said one of her newest lines again at this meal, "Now I know I like zucchini!" And I'll tell you this. She's had zucchini approximately 952 times but for some reason, the stars aligned and on this night we had a breakthrough.
I like to think the sauce had something to do with it, too.
Here's how it looks when you make it, and the recipe follows below: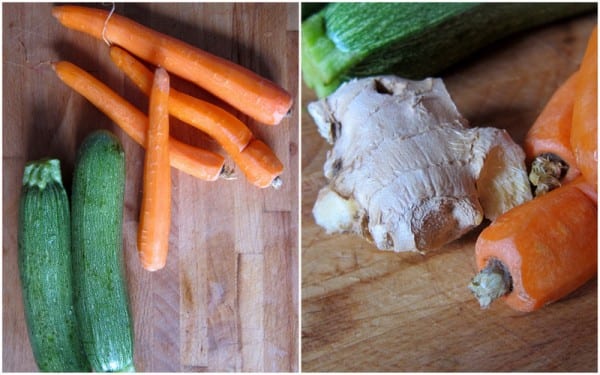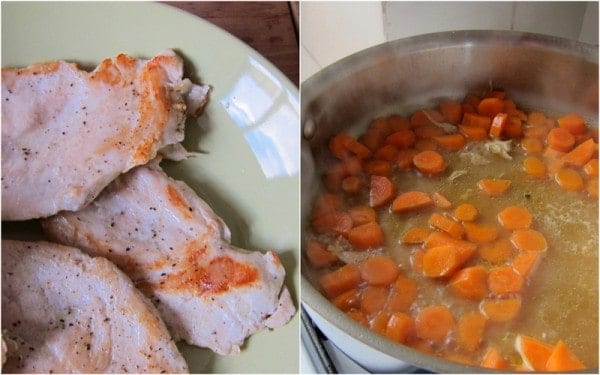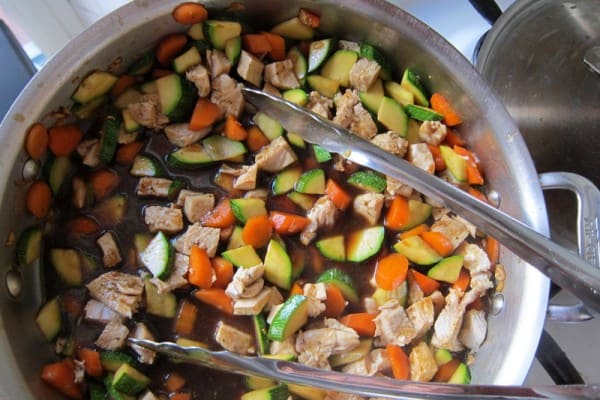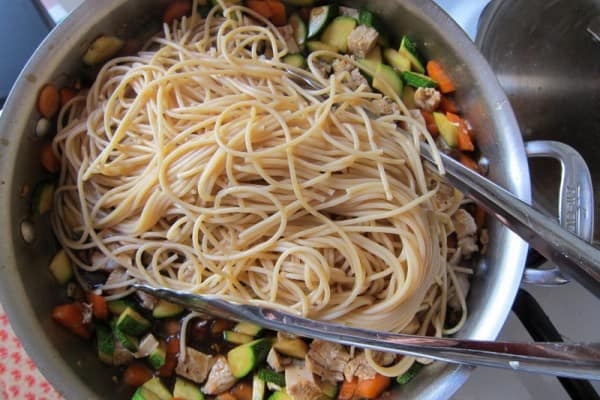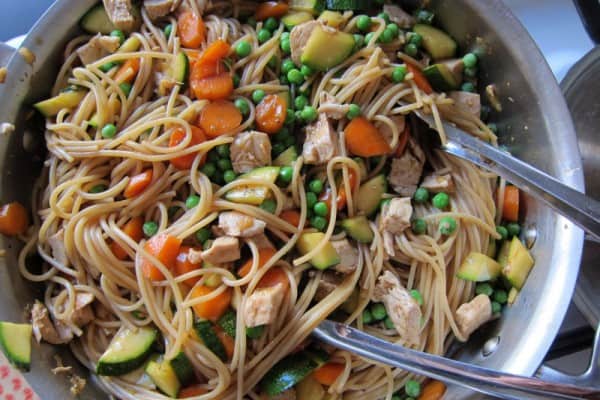 Print
chicken & vegetable stir fry with noodles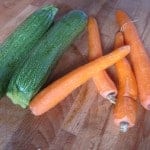 This ratio of veggies and chicken to noodles is much higher than you'd get from take out–and much better for you! Use any combination of veggies your family likes, plus one or two to try out (or try again). I like a box grater for fresh ginger but I also chop it up a little after grating just to make the pieces smaller/undetectable.
Ingredients
2 tablespoons olive oil
1/2 pound (1/2 box) whole wheat spaghetti
1 pound boneless chicken breasts or thighs
2-3 tablespoons fresh ginger, finely grated
1/2 cup soy sauce
1/4 cup honey
1 teaspoon BBQ sauce
1/2 teaspoon pepper
1-2 cups carrots, diced
1-2 cups zucchini, diced
1 cup peas
Instructions
Bring a large pot of water to a boil. Add noodles and cook according to instructions MINUS 2 minutes.
Drizzle oil in a large saute pan and turn heat to medium-high. Meanwhile, sprinkle salt and pepper on one side of chicken. Place chicken in pan (S&P side down) and sprinkle the other side. Cook about 3 minutes on each side, until golden and crispy at the edges. Remove to a plate and when cool, cut into bite size pieces.
Using the chicken pan (including all the drippings and brown bits) add about 1/4 cup of water and saute carrots first. Stir, being sure to scrape all the bits off the bottom. After 3-4 minutes, add ginger, soy sauce, honey and BBQ sauce. Add zucchini and cook for 2 minutes. Return chicken to pan plus peas. Add drained pasta and stir.
Fill each kid's plate or bowl with whatever they like most, but do add more veggies so they can taste everything. Adults may like freshly grated pepper, an added dash of salt or soy sauce.
Like this one? Be sure to LIKE FOODLETS ON FACEBOOK so you'll never miss a new idea or tip.