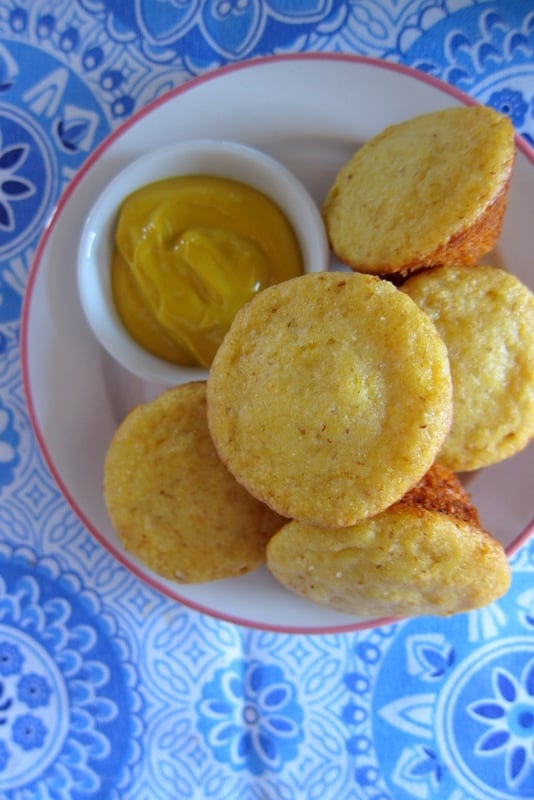 IS IT ME OR ARE CORN DOGS having a moment? I've seen tons of ideas all over Pinterest, including this gorgeous batch of fried mini dogs from Food Glorious Food, and decided to give it a whirl. The results were mixed: one-year-old Estelle liked them, nearly three-year-old Phoebe wasn't thrilled. And so it goes…
The real star of this dinner turned out to be the beans. Easy and delicious (not to mention very good for you), they take about 5 minutes to prepare: Cut ends off beans. In a large saute pan over a medium-high setting, heat 2 tablespoons extra virgin olive oil and 2 tablespoons water. Add 2 minced garlic cloves then beans. Use tongs to rotate the beans every minute or so, making sure they cook evenly. Add 1/2 teaspoon salt and 1/4 teaspoon pepper. When beans are slightly soft but still crunchy and bright green, they're done. About 5 minutes. If you like, squeeze the juice of half a lemon for extra flavor, and serve.
Now, back to the dogs. I thought they were okay but I've made a couple updates to the recipe below for an even tastier batch next time. The fried version might feel more grown up but I just couldn't bring myself to feed the little guys even moderately deeply fried anything for dinner. So, it was a mini muffin variation for us and here's how it works. As always, I made updates for a low-sugar, low-fat, full-flavor variation of a popular favorite.
CORN DOG MINI MUFFINS
Makes 48 mini muffins
ingredients
1 pound sausage (turkey, chicken or pork), cooked and cut into 1″ pieces
1/4 cup butter, melted and cooled
1/4 cup unsweetened applesauce
1/4 cup sugar
1/4 cup honey
2 eggs
1 cup buttermilk (or plain yogurt)
1/2 teaspoon baking soda
1 cup cornmeal
1/2 cup all purpose flour
1/2 cup wheat germ
1/2 teaspoon salt
1/2 cup mustard
instructions
Turn on oven to 375.  Fry sausage in a skillet and set aside. Melt butter in microwave or small sauce pan.
In a large bowl, combine butter, applesauce, sugar and honey. Add eggs and stir. Add buttermilk (or yogurt) and whisk to incorporate.
Using a sifter set on top of your mixing bowl, add baking soda, cornmeal, flour, wheat germ and salt. Fold together.
Grease muffin pan generously (using butter or non-stick spray) and fill each cup half full. Add a small squirt of mustard and a piece of sausage. Top with more batter until cup is nearly filled.
Bake for 8-12 minutes, or until cornbread is golden brown. Cool in mini muffin tin for 5 minutes before serving.