FRESH AND SIMPLE. What better way to cook kid-friendly vegetables in the springtime, especially when the whole process takes 10 minutes?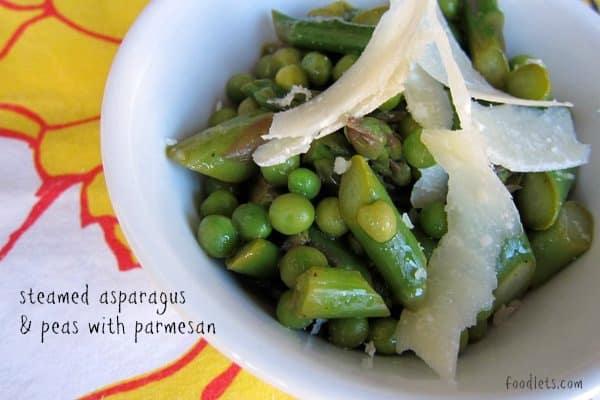 Our dinner table is divided these days: there is one pea fan, one asparagus fan. This dish combines the best of both, in an effort to help them both try a bit of something previously rejected (and rejected and…) plus they're just a delicious combination for those of us who enjoy everything.
Variations:
Picky eater version: This time, the "picky eater" version isn't about leaving out questionable ingredients. The trick is adding a little more: an extra couple of cheese shavings, a little more lemon juice or an extra pinch of salt–depending on what your eater likes, do all three.
Baby food version: Combine olive oil, peas, asparagus and enough cooking liquid to liquify. Blend.
STEAMED ASPARAGUS & PEAS WITH LEMON & CHEESE
ingredients
1 pound fresh asparagus
2 cups frozen peas
juice from half a lemon
2 tablespoons olive oil
salt & pepper to taste
freshly grated or shaved Parmesan cheese
instructions
In a medium sized sauce pan, add about 2 inches of water and bring to a boil. Meanwhile wash asparagus and snap off brittle ends by holding one end of the spear in each hand. Once boiling, add asparagus to the water and cook for 2-3 minutes. Drain water (set aside if making baby food) and add olive oil plus peas (directly from the freezer is fine). Stir and add salt plus pepper.
Serve garnished with fresh lemon juice and cheese.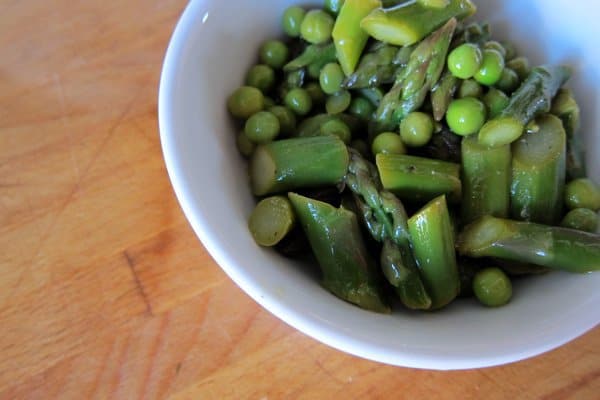 Meanwhile, your assistant may or may not be "taking your picture" with her snorkel mask. Depends on your kitchen…